by
posted on November 30, 2022
Many great stories begin with shooting cans with a rimfire 22LR. Seventeen-year-old Carson Herding of Phoenix, Arizona began shooting cans in the desert with his father when he was five years old. As he grew older he expanded his horizons, hunting for squirrels, then deer, with his dad and grandfather.
Carson began to care about marksmanship after tiring of plinking. "I got involved in marksmanship after shooting so much I just thought there had to be more to it. The range just kinda got boring, and I needed a new excitement." He found the answer in competitive shooting after observing a USPSA match.
"I started with an FNX 45 Tactical in Limited. I wasn't good at first, but practiced with the timer. there was something about being on the clock that I liked. Next thing you know I was competing every week." This focus and drive to improve is what keeps Carson engaged. He is always looking to learn and enjoys the stress of competition. "Even when you think you're on top, someone will always outwork you," he said. "It is up to you to train to be the best."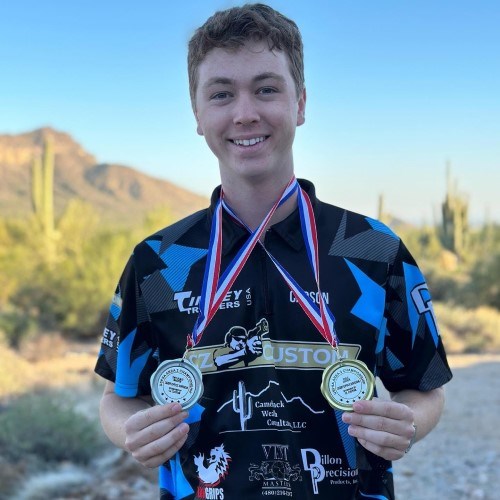 In order for Carson to perform to the best of his abilities, he also needs to be able to depend on his gear. He has several sponsors, including Dillon Precision, Hunters HD Gold, CZ Custom and Timney Triggers. Carson wears Adidas rubber baseball cleats to each match for extra traction, as well as Hunters HD Gold Aviators with ruby lenses and SoundGear's Phantom electronic ear protection. His belt system is based off a Dominate Defense Belt, and he uses Double Alpha Academy mag pouches and other accessories. His holster is a CZ custom on a Henning holster hanger. He loads ammo for his CZ Custom A01-LD on a Dillon 1100. Carson says this pistol is "the best on the market" for carry optics, "the flattest shooting pistol I have ever used," and "has the best trigger anyone could ask for."
His hard work has paid off, earning him several titles including third overall at Area 2 and High Junior in Area 2 two years running. He's also been high junior at the Arizona state match, Northern Arizona Classic, New Mexico section, Area 1, Area 3 and Superstition Mountain Mystery 3 Gun. Carson has been third overall in Carry Optics in Utah, seventh overall at Two-Gun Nationals and 12th master at Carry Options Nationals. He's previously claimed top master honors in Area 2, but placed second Master this year.
Trust and comfort are key to Carson's success. He advises new USPSA competitors to choose a gun they like, regardless of what everyone else is using. "It is more enjoyable when you are shooting something you love." He also encourages those curious about USPSA to go talk to people at a match. "I have never met someone who is not helpful in this sport. If people aren't helping you, you are helping them," he said. "Even as a solo sport there is so much teamwork that goes into it. You find that everyone truly loves to be there because they have a passion for the sport."