by
posted on April 14, 2021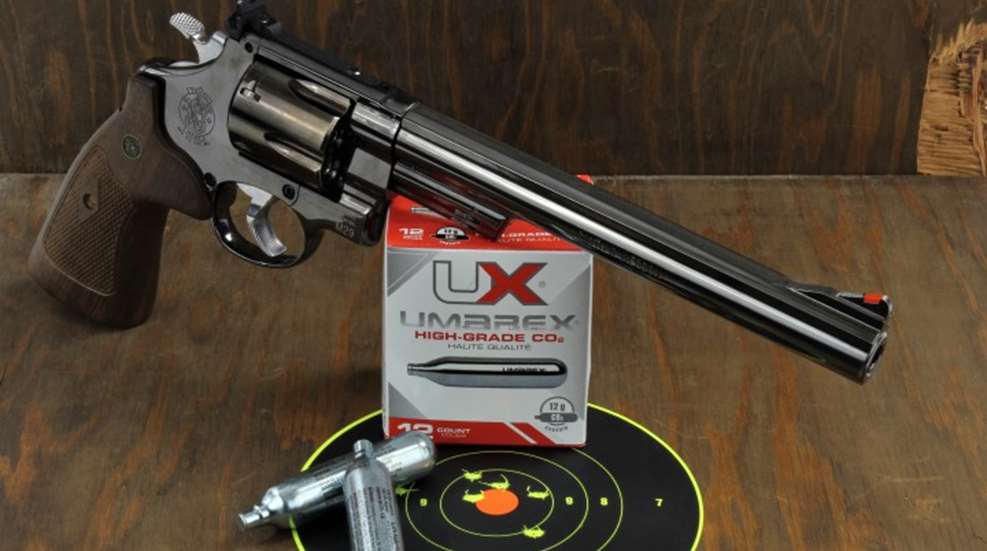 Growing up in the 80s meant that you had to use your imagination far more than kids these days do. If you enjoyed air guns that were built to mimic a standard powder burner, you had to do a little work to get the experience completely there. Sometimes you had to ignore the thumbscrew hanging out of the grip, or pretend the magazine system was more realistic than what was on board. Umarex gets it, and the company is entrenched in making realistic replica guns that fire .177-caliber steel BBs. These air guns generate repeatable accuracy…and not only do they look the part, but work the part too. The latest in the lineup is the fully-licensed Smith & Wesson Model 29 and needless to say it "Made My Day."
The Umarex M29 is like the original in just about every way, except that it doesn't rock your wrists with .44 Magnum recoil. This replica is built from an all-metal frame, barrel and cylinder, and is complete with "wooden" grip stocks. Okay, so the grips are faux, but I was 100 percent fooled until I took them off to gain access to the CO2 compartment.
This gun is powered by a single 12-gram CO2 cartridge and uses the pressure exactly how a live firearm does. When I say exactly, I mean exactly. The cylinder must be loaded with at least one of the six included cartridges. Each cartridge houses a BB in the "primer" area and a metered burst of CO2 pushes it through the body, across a cylinder gap, and into a forcing cone before it zips down the 8.38 inches of barrel. As you press the trigger, the cylinder advances and the air gun fires with the hammer drop. This double action is true to the original and, just like Eastwood's, can be cocked and fired in single-action mode. After firing all six rounds the cylinder can be swung out, and the now spent cartridges can be ejected with a conventional ejector rod. Once in hand, the cartridges can be refilled with standard BBs and reused indefinitely.
As this air gun replica doesn't pack the punch of a live firearm, it has the added advantage of being able to be discharged within enclosed spaces. (It's important to remember that air guns and BB guns are not toys, and that the Three Rules of Gun Safety still apply.) All I needed was an archery bag to use as a backstop, and testing this air gun was the perfect way to spend a rainy afternoon.
Before getting into some accuracy testing, I wanted to get a feel for some of the finer detail that I might have missed on my cursory glance. It was during this time that I noticed that the rear sight is indeed adjustable, and not just screwed on to look the part. I also took the time to appreciate the aesthetic details such as the embedded S&W emblems and the use of an Allen screw instead of a thumbscrew to puncture the CO2 cartridge. It seems trivial, but these are the details that make it feel real to me. After I was done gawking I popped a fresh cartridge and got down to business.
From a rested 12-yard position I fired my first shots and made a few adjustments to center up my group. My best five-shot group measured 1.06 inches. I was thoroughly impressed, mainly because this was a smoothbore pistol and I was expecting a shotgun pattern. I gobbled up a good chunk of my BB container and got more than 90 shots out of that single CO2 cartridge. I attribute this elevated round count to the breaks that I took while I refilled the cartridges and then reloaded the cylinder. As for velocity, I measured an average of 389 FPS from shots 11-20 off of a fresh CO2 cartridge. Velocity was extraordinarily consistent through these shots and several dozen more, making for a barely noticeable point of impact change until I reached the very end of the air.
With the ammo market being especially exhausted these days, owning an Umarex M29 is a great way to maintain your skills if you own an authentic M29 or a similar revolver. BBs cost less than a penny apiece, and a CO2 cartridge is only about 50 cents. So for around $1 you can send 90 "rounds" downrange in the name of working on your grip, trigger squeeze and follow-through. To do the same in .44 Rem Mag it would cost you close to $100—and that's if you can even find some! Best of all, you don't have to leave the comfort of home to enjoy a little trigger time with the Umarex M29. If you do decide to bring it out in public, be sure to keep in mind that it looks nearly identical to a conventional handgun, so don't display it openly or you might get some unwanted attention. Let that closing warning serve as a testament to how well Umarex did with hitting the mark of realism.  For more information visit UmarexUSA.com