by
Evan Brune, Associate Editor, Shooting Illustrated
posted on October 5, 2016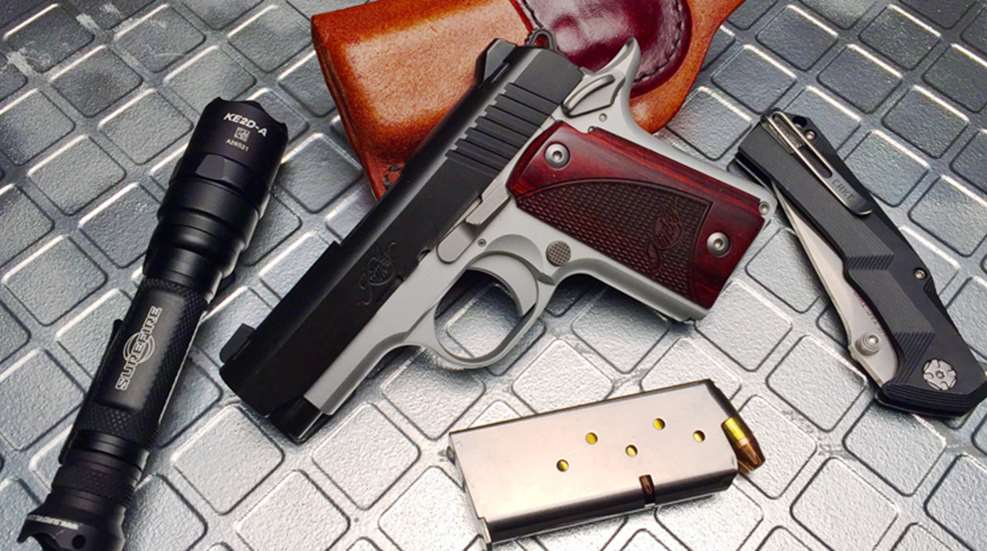 Choosing a concealed carry gun is always a balancing act. Compromises, priorities and preferences all must be decided upon, and each variable differs from individual to individual. For those who prefer 1911-style controls in a pocket auto and find the .380 ACP a bit anemic for self-defense, Kimber recently introduced its Micro 9. (To watch a video about 2017 updates to the Micro 9, click here!)
The Micro 9 follows in the footsteps of its cousin, the Micro 380, as one of Kimber's diminutive 1911-style handgun offerings. The Micro 380 and the Solo marked Kimber's first foray into the world of true pocket autos.
Despite the company's penchant for the 1911 design, Kimber's first small-size auto, the Solo, didn't share many features with the 1911. It was striker-fired and lacked the 1911's characteristic barrel bushing and grip safety. Fast forward to late 2012, and Kimber returned to the 1911 design with its Micro 380, with a few slight exceptions. The gun does not feature a grip safety or barrel bushing, but it is hammer-fired and features all of the same controls found in typical 1911s, like a same-side thumb safety and magazine release.
However, some people consider the .380 ACP too underpowered for personal defense use, despite significant advances in bullet design. For these individuals, 9mm tends to be the smallest round acceptable for a carry gun.
For those wanting 1911-style controls in a single-action, hammer-fired pocket auto chambered in 9mm, there are very few options on the market. Most 9mm pocket autos today feature double-action or striker-fired triggers and do not come with 1911-style controls.
The LC9s, for example, includes a trigger safety along with a manual safety. The Kel-Tec PF9 features a double-action trigger pull that serves as a built-in safety. This leaves 1911 shooters with few options. Luckily, Kimber stepped in with the Micro 9 in early 2016 as an easy carry option for those individuals.
The Micro 9 is a truly small handgun. Measuring in at 6.1 inches in length and 4.07 inches in height, the gun is just barely bigger than its tiny .380 ACP cousin, which measures in at 5.6 inches in length and 4 inches in height. (For comparison, the Ruger LC9s measures in at 6 inches overall length with a height of 4.5 inches. The Kel-Tec PF9 comes in at an overall length of 5.85 inches with a height of 4.3 inches.)
This puts the Micro 9 in the pack as one of the smaller 9mm pocket autos on the market today. The impressive numbers don't end there, though. Constructed with an aluminum frame and a steel slide, the Micro 9 weighs in at 15.6 ounces with an empty magazine.
To compare, the Ruger LC9 and the Kel-Tec PF9 weigh in at 17.2 ounces and 12.7 ounces, respectively. Even with its all-metal construction, the Kimber falls right in the middle of the pack with the two other 9mm pocket autos, and both of those options have polymer frames. This is definitely a gun people can carry. It also falls in line with other pocket autos as far as ammo capacity. The Micro 9 holds up to 7 rounds of 9mm in a single-stack magazine. For comparison, the LC9 and the PF9 hold 8 and 7 rounds, respectively.
The important question still remains, though: Is it shootable? Pocket pistols have a nasty reputation for being unfriendly on the range. This is where all of those compromises in size, carry weight and capacity start becoming evident. Generally, a gun that's easy to carry is harder to shoot well, due to excessive felt recoil and less grip area.
For the most part, the Kimber Micro 9 was pretty easy to shoot on the range. Unlike some other pocket guns, the Micro 9 features prominent front and rear sights that make for easy target acquisition. Some of the best groups measured about 1.5 inches from 7 yards offhand...not bad for a pocket pistol.
There are a few things to watch out for when handling the Micro 9, though. For one thing, it should not be considered a regular range gun. Anything that weighs 15 ounces and is chambered in 9mm is going to be a bit of a handful, and the short grip on the Micro 9 gives shooters less purchase area. In rapid-fire strings, shot groups tended to trail slightly upwards in a line as the gun worked loose from my three-fingered grip. All shots still landed within a torso-sized area, but it is something to keep an eye on. In addition, there are two sharp edges on the front face of the magazine well that can dig into one's ring finger. Because the gun is so diminutive, those with larger hands will have to keep an eye on where they place their thumb on the left side of the pistol. Any excessive pressure on the slide stop will cause the slide to lock open in the middle of a magazine.
Finally, there was one jam with the Micro 9. To be fair, though, we gave it a hard time by randomly placing bullets of different grain weights throughout the magazine. Stick to bullets of one grain weight, and you shouldn't see any issues.
All in all, the Kimber Micro 9 is a great option for those looking for a 9mm pocket pistol with 1911-style controls. Suggested retail prices start at $654, while the Crimson Trace laser grip-equipped option starts at $894. www.kimberamerica.com