by
posted on February 16, 2022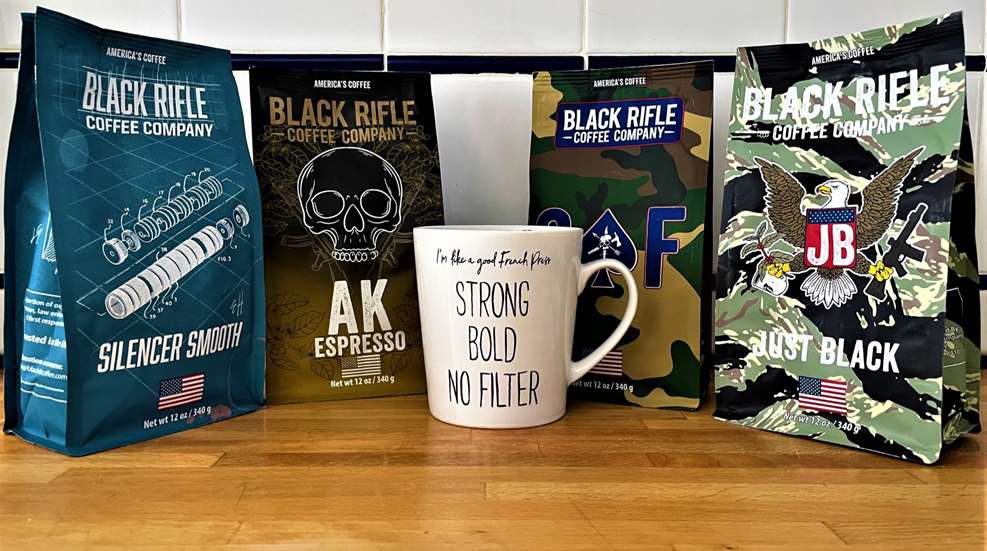 Nothing gets you ready for an early morning trip to the range better than a hot cup of joe. Many shooters find that it just seems to taste better when the company that sourced and roasted those beans also supports gun rights. I've found that the fine folks over at Black Rifle Coffee Company do both of those things very well, so this review is a taste-test of some of their most popular blends. 
Silencer Smooth
Silencer Smooth is among the lightest roasts BRCC offers, with tasting notes of caramel, citrus and milk chocolate. Noted as a Columbian Arabica blend, a mug full of this coffee serves as an excellent accent for sweet baked goods like a morning croissant or danish (and tobacco aficionados may find a mild cigar will pair well there too).
CAF
With tasting notes of milk chocolate, clove and maple syrup, the CAF blend proved to be quite the morning treat. Smooth on the palate, you are sure to enjoy a cup of this alongside a nice stack of pancakes hot off the griddle. This blend is a nice option for those who prefer a nice balance in between a lighter blend of coffee and those blends that'll put hair on your chest!
Just Black
This blend is the original, classic roast created by Black Rifle Coffee Company. This mild blend that started it all has tasting notes of milk chocolate and walnut with a buttery smooth finish. If you are looking for a well-rounded blend that will go great with just about anything, look no further.
AK-47 Espresso
What do you get when cocoa beans from Brazil and Columbia get together and have a baby? AK-47 Espresso! With tasting notes of dark chocolate, dried fruit and grapefruit this espresso blend is guaranteed to wake you up and clear the fog so you can hit the ground running and tackle anything that stands in your way. If you are feeling adventurous, try a cup of the AK-47 Espresso with a twist of lemon, which I always find delightful.
Freedom Fuel
The name says it all with this blend. Amongst the bolder of BRCC's blends, Freedom Fuel boasts tasting notes of dark chocolate, anise (liquorice) and walnut. This blend is a favorite amongst those who find themselves working long hours or perhaps those who regret volunteering to pick up an overtime shift or two. This blend pairs perfectly with piquant desserts such as tiramisu.
Coffee Saves
The Coffee Saves blend from BRCC seems better suited in a locked display case with a plaque that reads "In case of emergency, break glass" than it does in your kitchen pantry. Featuring tasting notes of nuts, raisins and milk chocolate, this medium blend of beans is ready at a moment's notice to give you that little push you need to tackle any obstacle that lies in your way. This well-balanced blend is a great complement to a slice of coffee cake or pumpkin pie.
BRCC Instant Coffee
If you are an avid hiker you know there is nothing better than a little cup full of motivation in the morning before you tackle another day full of strenuous hills and rocky terrain. Ounces are pounds and pounds are pain, so keeping your gear light is key. BRCC's single-serve instant coffee packets are great to toss in your pack, and have quickly become my go-to when hiking the AT. Simply boil some hot water over a fire or on your camp stove, add a packet of grounds, stir it, and you're good to go! Made from a blend of Columbian beans, this medium-dark blend is sure to please.
Ready To Drink 300
If you have ever found yourself reaching for an energy drink early in the morning after a late night, be sure to check out BRCC's Ready To Drink 300. Packed inside this 15oz can is a triple shot of BRCC's delicious Columbian brew, 300mg of caffeine per can, a variety of vitamins and antioxidants… essentially a can of get-up and go when you need it most. Available flavors include caramel vanilla and rich mocha.
Combat Cocoa
Great to enjoy on a snowy winter day, or for kids who want to imitate their mom or dad, BRCC offers up single-serve pods of Combat Cocoa. Speaking of single-serve options, these pods are also available in a wide array of traditional caffeinated blends such as Blackbeard's Delight, Tactisquatch, Lava Panther and many more. Each box contains a dozen pods, so grab a few varieties and stock up for the next time you get snowed in! BlackRifleCoffee.com