by
posted on February 6, 2019
Ah, February: Spring seems a million miles away, most hunting seasons are closed and the accumulated salt and sand on your winter truck has basically replaced all the chrome. If you're looking for a bright spot in the midwinter gloom, might we recommend that you check out these three giveaways that are going on right now? All of them are free to enter, and all of them are awesome. Whether you're looking for a beautiful new NRA Special Edition Kryptek Minotaur truck, a capacious and rugged new gun safe to protect your investment, a new Steyr Scout rifle chambered in 6.5 Creedmoor or just enough Black Rifle Coffee to keep you caffeinated for pretty much forever...one of these giveaways might just make it feel like the first day of spring.
1. NRA Big Truck Giveaway
The NRA Special Edition Kryptek Minotaur Truck is, as they say, a backcountry beast! (
Here's a video of said beast doing its thing
.) The truck itself, which is pictured above, is enough to make you the envy of your entire block, but what if you live in the 'burbs and don't have a place to take the Minotaur out for a stroll? That's why NRA is also including $50K in cash...that ought to be enough to grab yourself a nice little patch of land. The giveaway is open now, and will continue through March 29, 2019. 
You can find more details about the giveaway here
!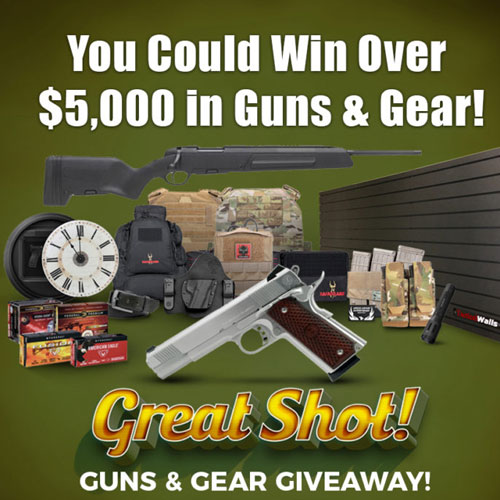 2. Great SHOT! $5K Guns & Gear Giveaway

As you may know, one of the biggest highlights of the year for "gun guys and gals" is the Shooting, Hunting, and Outdoor Trade (SHOT) Show. The only problem is that, unlike the NRA Annual Meetings & Exhibits, the SHOT Show is only open to industry insiders. However, it looks like one thing is open to all, and that's this massive, $5K dream SHOT Show swag bag. Featuring a
Steyr
Scout rifle chambered in 6.5 Creedmoor, an
American Classic
.45 ACP 1911,
Federal Premium
ammunition to feed both and gun-concealment solutions from
Tactical Walls
, this is a swag bag to render those industry insiders absolutely green with envy. It's open through February 28, 2019.
You can find out more and enter here
!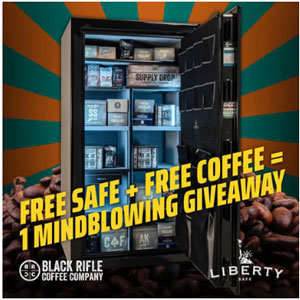 3. Liberty Safe & Black Rifle Coffee
Do you like coffee? Do you like black rifles? How about having a nice safe place to store a whole bunch of both? If so, you'll love the
Liberty Safe
& Black Rifle Coffee giveaway, which is going on now through February 25. You can win Liberty's Lincoln 40 model. This safe offers 90 minutes of certified fire protection, Liberty's exclusive super strong locking bars, heat-activated expanding fire door seal, interior lighting system, velvet-lined jewelry drawer, outlet kit, premium door storage panel and more. Plus, the giveaway winner will get to choose from any of the available Lincoln 40 color options. Said safe will arrive at your door stuffed to the brim with 
Black Rifle Coffee Company
's AK Rounds, Big Brown Rounds, Ground and Whole Bean Coffees, Hazelnut, Chocolate Rounds. and more. The total approximate retail value of the prize package is $5,350.
You can find more details and enter here
! 
Good luck, and don't worry: Spring is on its way. But for some of us, it'll be sooner rather than later...