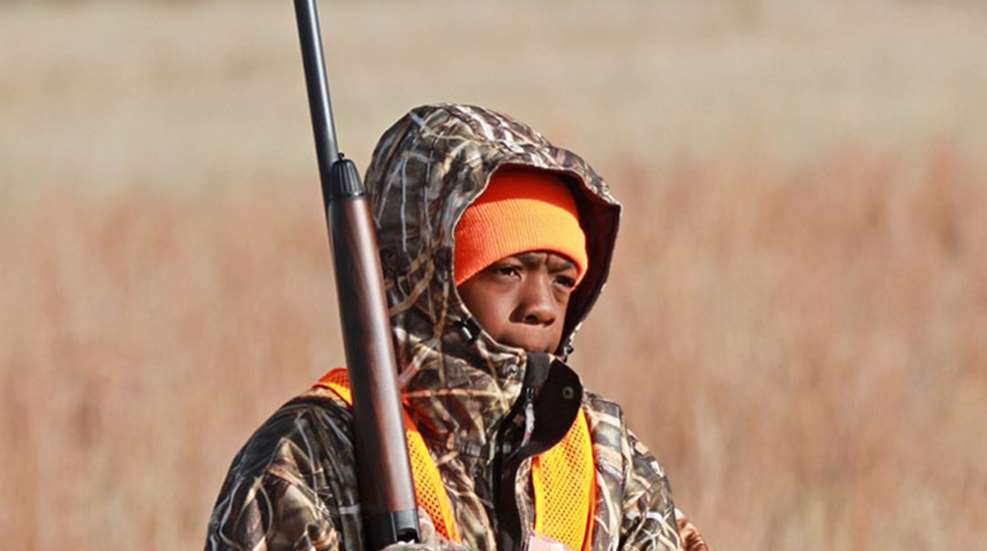 When Gov. Sam Brownback ran for election a few years ago, he promised the people of Kansas that if elected, he would place a greater emphasis on hunting tourism in Kansas. Shortly after Brownback became governor, he honored his promise. In 2011, the first Kansas Governor's Ringneck Classic was held in Oakley.
Since then, The Ringneck Classic has rotated to several host cities in northwest Kansas and next year, returns to Oakley. "It was never intended to stay in one location," said Jim Millensifer, Board Member for Ringneck Classic Inc., a 501(c) 3 created shortly after the first Classic.
"At the end of the first year, it became clear to us that we needed to create our own Northwest Kansas Conservation Foundation (NKCF), not just to promote tourism, but also to promote the sport itself," said Millensifer. The Classic board works with other environmentally conscientious entities—Pheasants Forever, Ducks Unlimited, The Kansas Livestock Association and The Nature Conservancy—to identify and enlist conservation easements in northwest Kansas. It also champions wildlife habit projects.
The Classic is about more than having a great experience afield in wild pheasant habitat. It's also filled with opportunities to introduce new hunters afield, take youth hunting and show appreciation to military members.
This year, I attended the Classic, based in Goodland, Kansas, Sherman County. The community opened its hearts and pheasant fields to more than 80 hunters and several dogs. Celebrities such as Buck Taylor (Gunsmoke) and Julie Golob (Team Smith & Wesson) joined Billy Thompson and Larry Brunson (former Denver Bronco standouts) in the field and at events that raised money for worthwhile projects, including an annual scholarship to one student who will be majoring in a wildlife-related field.
Proceeds from the event get split, with 60 percent going to local beneficiaries of the host city, and 40 percent going to the aforementioned projects. Every year, The Classic also chooses four youth to attend the hunt, all expenses paid.
Because a picture is worth a thousand words, here is The Classic in photos.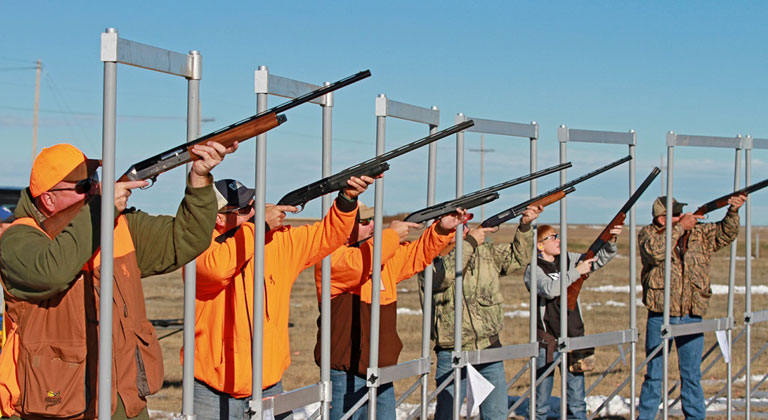 The day before the hunt, several of the hunters met at the Goodland Gun Club for some 5-Stand Wobble, Skeet and this event, Crazy Quail. Federal Premium donated all the ammunition for the clay tournament and hunt. (Image by Rick Dykstra)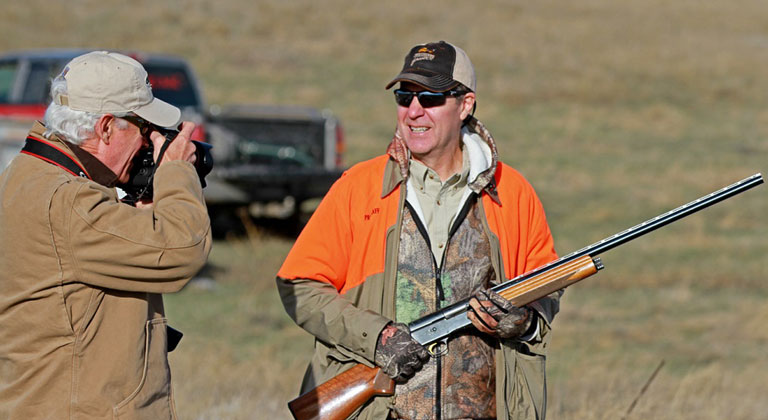 Gov. Brownback grew up in western Kansas, hunting small game. (Image by Rick Dykstra)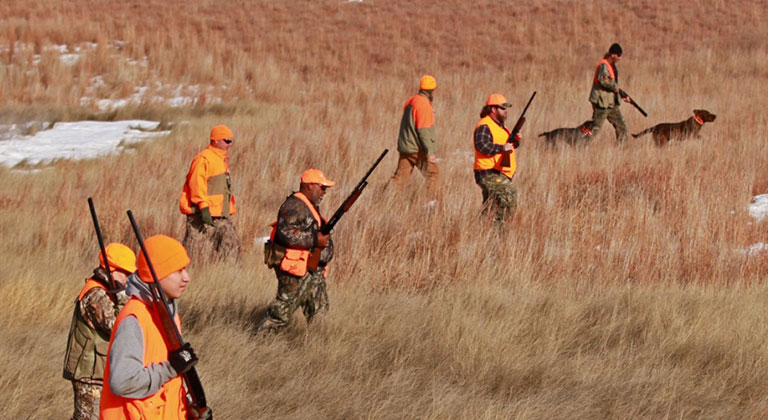 The governor's son, Mark, joined members of Freedom Hunters for a hunt across another wild pheasant field. Freedom Hunters is a military outreach program dedicated to honoring those who protect our freedoms with a mission to salute the noble work of men and women of our Armed Forces. Freedom Hunters provides opportunities for select active duty and combat veterans, families of fallen heroes, children of the deployed, as well as those wounded or injured, on outdoor adventures. For Paul and Scott, of the Freedom Hunters, it meant the world to among this group of avid hunters and conservationists. Paul said, "This hunt restored my faith in mankind." Also in the field were the youth from Pass It On, a non-profit organization with a mission to match adults with a passion for the outdoors with children who want to learn about the outdoors.  (Image by Rick Dykstra)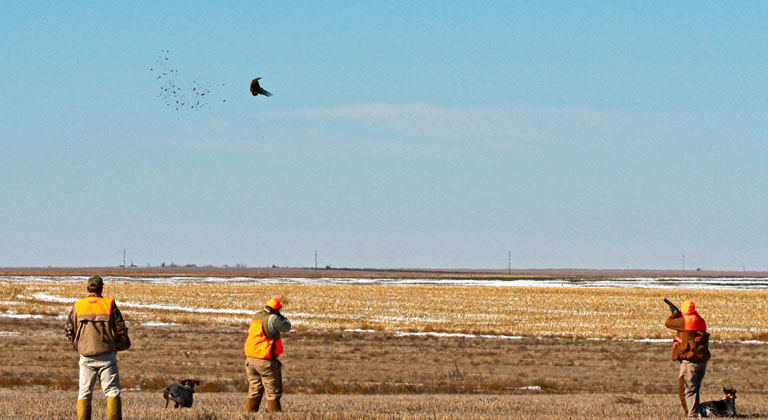 A small snowstorm had blown in a few days before The Classic, which made the setting even more gorgeous with strong contrasts in the landscape. (Image by Rick Dykstra)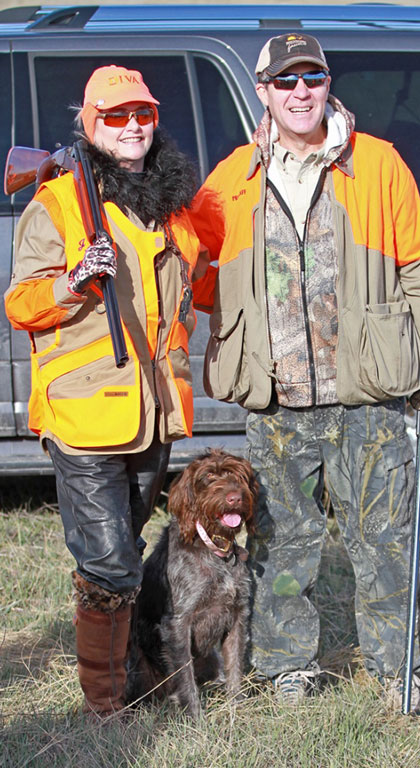 Gov. Brownback may have met his political-wits match in Judy Rhodes, founder of DIVA WOW (organization that promotes shooting and the outdoors to women). "When Governor Brownbeck told me I looked great to pheasant hunt, I replied, 'If you don't look great, you can't shoot straight!' … During lunch, he told me he had been using my lines all morning," said Rhodes. Rhodes was happy that the governor asked to shoot over her dog, a Drahthaar named Shaka, during the afternoon hunt.   She said, "I was his wing-DIVA!" (Image by Rick Dykstra)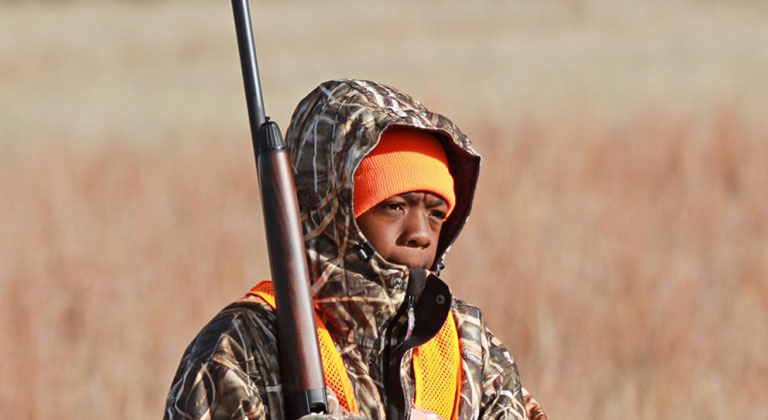 One of the youth hunters, with an intense look on his face, afield. The Ringneck Classic awards four hunts to the Pass it On program, which sends two youth and two mentors to this hunt and auctions off the other two hunts at its annual event to raise funds. The Ringneck Classic also holds an essay contest and chooses two winners each year. "In addition to inviting the youth and paying all expenses, we also award each with a lifetime membership to Pheasants Forever," added Millensifer. (Image by Rick Dykstra)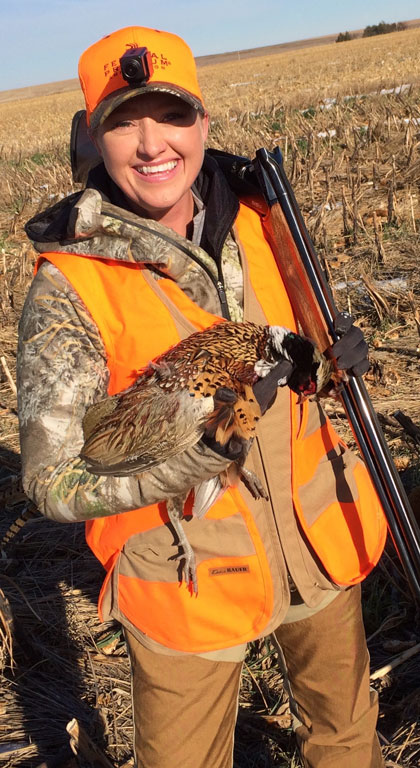 Smith & Wesson's team captain, Julie Golob, who reps for Federal Premium and Benelli, went afield for her first wild pheasant hunt, carrying a new Benelli 828U. "My first pheasant hunting experience couldn't be more memorable," remarked Golob. "Not only did I hunt with veterans from the Freedom Hunters, I also had the opportunity meet and hunt with Gov. Brownback. Upland bird hunting proved to be a social, group effort with lots of bonding and memories made." (Image by author)