by
posted on February 2, 2015
Want a shotgun for personal defense? Weatherby's PA-459, PA for "pump-action" and 459 for California's penal code reference number 459 for burglary, packs some pow in a middle price range. In fact, Ed Weatherby says this is the gun he will use should he have to defend his family or himself at home. It is part of the WBY-X line of products.
It may look like a run-of-the-mill black shotgun, albeit with a sweet pistol grip, but this basic black boomer comes with some special features:
Pistol Grip Buttstock
Designed specifically for threat-response situations, the PA-459 is built with a 13½-inch length of pull (LOP), and an ergonomic pistol grip. This short length of pull is perfect for women and youth shooters, and is built for fast shouldering and for indoor shooting in close quarters. The synthetic stock comes with a rubber textured grip area and recoil pad.
Extended Forend with Integral Picatinny Rail
Weatherby mounted an extended forend on the gun in order to add a Picatinny rail underneath, so you can customize the gun with a laser or light. It also added rubber textured grasping grooves.
Drilled/Tapped and Mil-Spec Rail
If you want to customize the PA-459, no problem. The top of the receiver is drilled and tapped and comes with a mil-spec Picatinny rail, so you can add accessories of your choice. Have we mentioned that you might consider this gun for competition, too?
Rear/Front Sight
Of course, you'll need to be able to get on the target as fast as possible in a threat, and this LPA-style rear ghost ring site that you can adjust for windage and elevation, coupled with a fiber-optic blade front sight, which greatly aides in low light situations. The front sight comes with side wing protection. If you're shooting slugs, it's the perfect combination. Did we mention that you can take this gun out hunting, too?
Extended Slide Release Button
Because you don't want to have to look for the slide release, Weatherby made it big so that you can find it quickly-even in the dark. It lies in front of the trigger guard.
Chrome-Lined Barrel
With a 19-inch chrome-lined barrel, ideal for close quarters, Weatherby finished the barrel with an extended ported cylinder choke tube.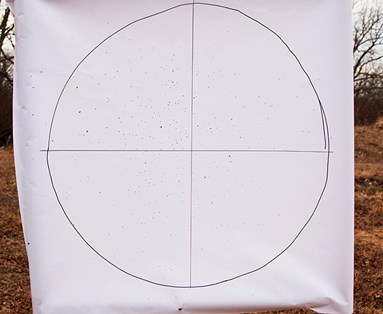 The PA-459 comes in 12 and 20 gauge, and Weatherby constructed its receiver of aircraft-grade alloy to reduce the overall weight. In 12 gauge, it accepts 2¾-inch and 3-inch shells. You can load 6 +1 in 3-inch shells and 7+1 with 2¾-inch shells. In 20 gauge, it takes 5 + 1 rounds of 2¾-inch and 4 + 1 in 3-inch loads.
The PA-459's overall length is 39 inches, and I really enjoyed the balance of the gun while shooting all types of loads through it. I started in an offhand, standing position at 30 yards from the target, and then worked closer in. The gun produced even, tight patterns at each distance. As with any 12-gauge gun weighing 6½ pounds, you should expect a bit of a recoil thump with each shot, but a 1-inch recoil pad helps somewhat. The 20-gauge version weighs 5¾ pounds. Both models come with swivel studs.
You may purchase an add-on of Weatherby's Threat Response Accessory Rail for the ability to rapidly mount a flashlight or laser sight. It attaches to the magazine endcap and allows for left, right or under side positioning.
The Weatherby PA-459 comes with an extended ported cylinder. MSRP: $499. Visit www.weatherby.com, www.weatherbynation.com or its Facebook page at www.facebook.com/Weatherbyinc.
Photos by Jason Baird