This week, Palm Pistol visited the NRA headquarters here in Virginia for a demonstration on their innovative handgun. We met the inventor, Matt Carmel, received an in-depth look into the mechanics of the gun and headed over to the range to test it out. I can honestly say it's a truly unique and safe handgun.
The Palm Pistol is very easy to use. To load, unlatch the barrel, insert a .38 special then close it until it snaps. Note: To correctly close the barrel once it's loaded, you must be fully depressing both safeties that are above and below the barrel—those two black, ridged buttons. Once properly closed, the shooter places their pinky and ring fingers on the safety below the barrel, and their middle and index fingers on the safety above the barrel. The thumb then pushes forward on the trigger cover to reveal the red trigger. Aim, using a laser because there are no front sights, depress both safeties and push down on the trigger to fire. Don't worry about recoil because there's hardly any. It weighs next to nothing and is fit to be held by smaller hands.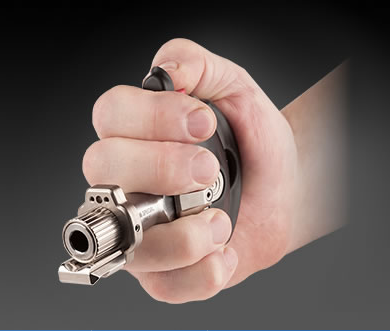 The point of this pistol is to eliminate difficult tasks that can be a burden for aging seniors, those with arthritis or with limited hand strength or control while being as safe as possible. Loading cartridges into a magazine, locking or racking a slide or pulling down on a single-action hammer can all be very difficult if you have limited mobility in your hands or body.
The Palm Pistol passed a drop test and won't discharge while in a purse or pocket due to its trigger guard and double safety design. The trigger is covered, preventing accidental depression. However, for the Palm Pistol to fire, both safeties and the trigger must be fully pressed down, not just the trigger alone.  Since safeties are on opposite sides of the device, an accidental discharge is near impossible.
In addition, the Palm Pistol features a stricker block, disengaged sear block, latch safety, loaded chamber indicator, cocked striker indicator, handguard and a grip assist ramp that holds the stock in an easy-to-grasp and raised position. It has a Picatinny rail for attaching accessories like a strike bezel, extra round carrier, light or laser.
The Palm Pistol is made in the U.S. In fact it's fully assembled by two men, Matt Carmel, the inventor, and his son. It has an MSRP of $1,350 and comes with a one year warranty.
It is a bit strange at first since it's not the way you fire a typical gun, but is easy to understand. With a little bit of practice and dry firing, it's a device that can be mastered.
Visit PalmPistol.com for more information and be sure to check out the Palm Pistol Specification and Owner's Manual documents.