by
posted on November 15, 2017
My first dedicated competition firearm was a Ruger Red Label over/under. That was the gun with which I broke my first 25 and 50 straight clays targets, and it was the gun I carried each time I stepped to the line as a collegiate club shooter. With an extremely limited budget at the time (I had to put the gun on layaway at the local hardware store and work most of the summer to afford it), that Red Label didn't have the luxury of being a dedicated competition gun. If I was going hunting for upland birds, small game or waterfowl the Ruger was with me.
Times have changed. The Red Label went out of production, reappeared briefly, and has been dropped again. I'm a little more financially stable so I don't have to rely on a single gun for every discipline, but one thing that has not changed is my appreciation for over/under shotguns. If you're planning to hunt upland birds, shoot clay targets or even hunt ducks and geese, stackbarrels are suited for the job. They offer the quickest one-two punch in the world of scatterguns, they're robust and reliable, their nose-heavy balance promotes a smooth swing and now, more than ever before, there are affordable options for shooters.
Here's a look at nine of the best stackbarrels for every budget.
Entry-Level: $500 to $800



Stoeger Condor: The Condor is a great choice for those looking for an affordable over/under. It has understated high-polish bluing, ventilated top and mid-rib, A-grade satin walnut stock and interchangeable choke tubes (except .410). You can choose from 12, 20 or 28 gauge, or .410 bore, and there's even a 12/20 combo gun that comes with barrels chambered for both gauges. There's also a youth model for young shooters. The Field version costs $649, or you can opt for the Supreme version with AA-grade walnut and ejectors for $649. 



Mossberg International Silver Reserve II Field: The Silver Reserve is available in 12, 20 and 28 gauge and .410 bore, and all models come with satin-finish select black walnut stocks, silver receivers with wraparound scroll engraving, chrome-lined chambers and barrels and a tang-mounted safety/barrel selector. The field version of this gun comes with extractors and five interchangeable choke tubes. The Silver Reserve II utilizes Beretta/Benelli Mobile Chokes so finding a replacement tube is never an issue. These guns look great and perform well, and with prices starting at $773 they're a real bargain.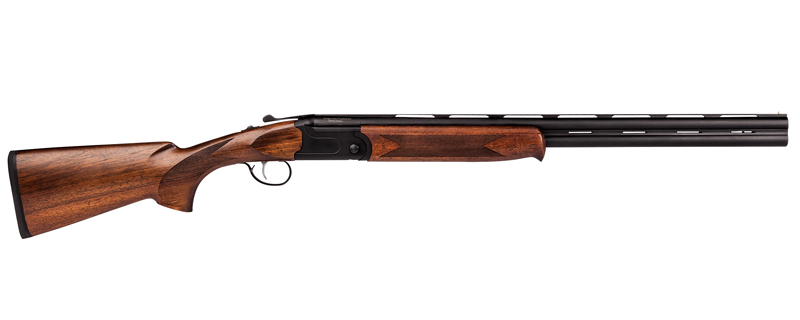 Stevens 555: The 555 comes with carbon-steel barrels and an alloy receiver, Turkish walnut stock, a durable matte finish on all metalwork, extractors and a tang-mounted safety. The alloy receiver keeps weight to an absolute minimum; the 12-gauge version of the gun weighs in at just 6 pounds. It's available in 12,20 and 28 gauge and .410 and comes with five interchangeable chokes. At $692 it's a basic but functional over/under. 
Mid-Priced: $800-$1,500



Franchi Instinct L: Italian gunmaker Franchi offers a line of mid-priced over/unders that look as good as they shoot. These guns feature color case receivers, fiber-optic front bead sights and A-grade satin walnut stocks with a Prince of Wales grip design. Franchi not only made these guns durable but also cut weight; at under 7 pounds, the Instinct L is light enough to carry all day in search of birds. These guns feature auto ejectors, excellent wood-to-metal fit and finish, and three choke tubes. Price on the 12 and 20-gauge models is $1,399. There are 28-gauge and .410 versions, too, which carry an MSRP of $1,699. 



CZ Redhead Premier: CZ-USA's Redhead Premier over/under is perfectly suited for hunting upland birds and competition. These guns feature CNC-machined silver receivers, excellent Turkish walnut stocks, laser-cut checkering, solid mid-ribs, and barrel selectors. The 12 and 20-gauge versions feature independent auto ejectors while the 28 gauge and .410 models come with a single extractor. All of these guns come with five interchangeable choke tubes except the .410 version, which features fixed improved cylinder and modified chokes. $959-$1,057.  



Weatherby Orion I: The Weatherby name might be most closely associated with bolt-action rifles and ultra-fast magnum cartridges, but the company has been selling shotguns for over 60 years. Their latest over/under is the stylish Orion I, which comes with an A-grade walnut stock with Prince of Wales grip and that characteristic Weatherby high-polish finish, a low-profile machined black receiver, auto ejectors and three interchangeable choke tubes. Currently these guns are available in 12-gauge with either 26- or 28-inch barrels, but there may be sub-gauge versions appearing in the future. Regardless, the Orion is an excellent shotgun worthy of the Weatherby name, and at $1,099 it's a lot of gun for the money. 
Premium ($1,500 +)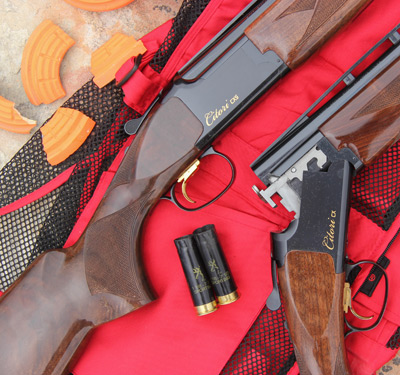 Browning Citori/Citori 725: Few guns can claim a royal heritage like the Citori. Based on John Browning's original Superposed shotgun—the firearm that made over/unders popular in this country—the Citori line has evolved into one of the most highly-respected and sought-after stackbarrels of all time. Great triggers, excellent walnut stocks, a tried-and-true boxlock action and a long list of available models make the Citori guns a top pick for anyone looking for a competition or field shotgun. Recent additions include the Citori CXS which shoots a 50/50 pattern and is perfect for sporting clays, skeet and field use, and the ever-expanding Citori 725 line that offers the same Browning reliability in a new lower-profile receiver. Prices start at $1,649.99 for the compact Micro Midas and $1,989.99 for the classic Citori Lightning.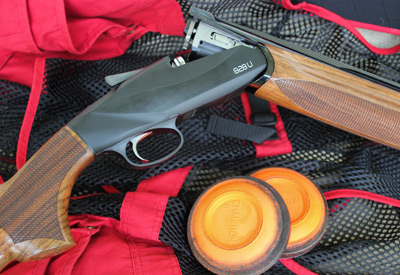 Benelli 828U: Benelli virtually reinvented semiauto shotgun design, and the brand is looking to do the same to the over/under market with their stylish and solid 828U. The 828U's patented steel locking system is extremely durable and safe, and the design has allowed Benelli to use an aluminum receiver that is lighter than most competing models. The triggers are reset when the top lever is moved, so the 828U offers smooth operation and the ejector system is located in the barrels. This design reduces wear, promotes longevity and helps make the 828U one of the lightest, handiest and hardiest over/unders to come along in years. Five drop and four cast shims allow for a perfect fit, and the Progressive Comfort recoil-management system keeps kick to a minimum. It's available in 12-gauge with either 26- or 28-inch barrels and your choice of an engraved nickel or anodized receiver. $2,499-$2,999. 



Barrett Sovereign Rutherford: The Barrett name is most closely associated with rifles, but the brand's new line of Italian-made over/unders are exquisite. The boxlock Rutherford features a four-lug design for maximum longevity through thousands of rounds, and the list of features is quite long; scaled, coin-finish receivers, auto ejectors, A+ walnut with a superb finish, rounded grip and fine checkering, blued barrels that are rated for steel shot, barrel selectors, a tang safety and much, much more. Available in 12, 16, 20 and 28-gauge, the Rutherford is an exciting new over/under that's beautiful and built to last. $2,200-$2,520.