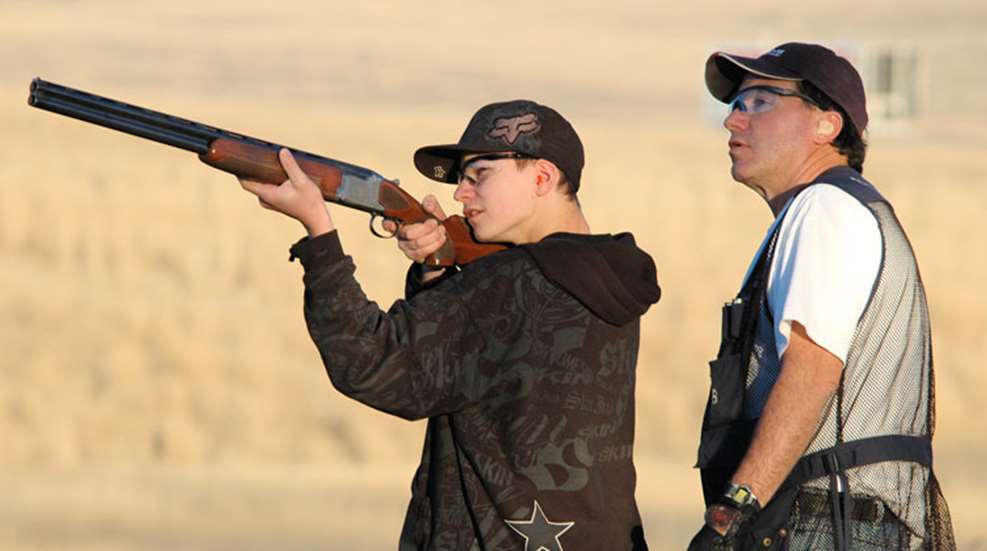 Youth shotgun competitions are among the fastest-growing of all scholastic shooting sports in the country. Each year roughly 30,000 young shooters compete in state and local clay target matches, and the number of colleges fielding teams for national shoots has topped 100. Teaching youngsters to shoot shotguns teaches responsibility, safe gun handling, eye coordination and persistence. No matter whether they are shooting in the back yard for fun, or trying to win a scholarship or an Olympic medal, kids can benefit greatly from the shotgun sports.

But how do you find the right shotgun for kids? Today many children start shooting clay targets before the age of 10, and there are very few kids that young who can handle an adult-sized gun. Here are some key points to consider when purchasing a child's first shotgun.
1. Action 
For years, the idea was to buy kids a single-shot, break-action shotgun with an exposed hammer. While this is a safe and simple design, single-shots don't allow shooters to break double targets in competitions, and most kids are better served by softer-shooting semi-auto shotguns, many of which utilize gas operating systems that lessen the punch of recoil. Over/unders don't soften recoil, but they offer a repeating action that will work for competition. Pumps are fine, too, but they make hitting doubles more difficult.
2. Gauge 
Traditionally, kids have shot 20 gauge guns or .410s. Though it's less popular than either of those guns, the 28 gauge is a great compromise; it patterns well and is great for hunting and clay target shooting yet recoil is moderate. The downside of owning a 28 gauge is cost of ammunition. Aguilla's innovative Minishells are another option if you own a break-action 12 gauge. These shortened shells function in over-unders, side-by-sides and single shot guns and reduce noise and recoil to levels far below standard 2 ¾ inch 12 gauge target loads. There are also a number of companies like Winchester and Fiocchi that offer lighter loads aimed at reducing kick.
3. Recoil Pad
Recoil is transferred to the shooter primarily through the recoil pad, and having a suitable pad can make a gun shoot far more comfortably. Avoid shotguns with hard plastic plates and look for guns that offer plenty of cushion to protect a young shooter's shoulder. Many large, soft pads will hang up in a short-armed shooter's clothing when they try to mount the gun, particularly the top rear portion of the pad known as the heel. For this reason you often see sporting shotguns with a "radiused" heel, which means the tip of the heel has been trimmed and rounded so it doesn't snag. If your gun doesn't come with a pad that has a radiused heel, it's usually simple to remove some of the heel by sanding. 
4. Length of Pull 
Short arms require shotguns with a short length of pull (LOP), which is the distance from the trigger to the rear of the recoil pad. Standard shotguns (which are built for average-sized adults) are usually too long for kids, and as a result the child can't properly handle the firearm. Whereas most adults require a LOP from 13½ to 16 inches, kids often need LOPs that measure from 11½ to 13½ inches. Youth guns from Mossberg, Weatherby, Tristar and others offer either replaceable stocks or additional length of pull spacers that allow the gun to "grow" as the child does.
5. Weight 
Weight is a tricky consideration when choosing a gun for a child. Light guns are more manageable, but perceived recoil increases as weight drops. The trick is to find a gun that is light enough for the child to handle safely and effectively that has enough heft to absorb some recoil. Again, gas-operated semi-autos are going to be more effective at lessening (actually lengthening) the push of recoil, and this allows guns to be built lighter without being too punishing. There are several 20-gauge semi-autos that weigh between 5 and 6 pounds, which is comfortable for most kids. If you're getting a light over/under a 5½ pound 28 gauge with a short length of pull and good recoil pad works well.   
6. Barrel Length and Balance 
Most youth guns have a shorter barrel than full-sized guns to reduce weight and keep the gun's balance between a child's hands. Muzzle-heavy (read: long-barreled) shotguns can be very hard for kids to maneuver, and if a child has trouble cleanly and quickly mounting the gun, or their horizontal swing is choppy or wavy, it's possible the gun has a barrel that is too long. Youth semiautos and pumps usually have a barrel that is 22 to 24 inches, and compact over/unders, with their shorter receivers, have barrels that are either 24 or 26 inches. Tristar offers a new youth gun with a particularly innovative barrel; the last two inches is removable so the barrel can be extended from 24 to 26 inches.     

Image courtesy National Shooting Sports Foundation