by
posted on January 23, 2018
As a pencil artist with no formal art training, Lisa Tomlin wanted to make a living with her art, but she wasn't sure how to go about it. She recalls admiring photos of engraved guns. Still, recalls Tomlin, "as attracted as I was, I never pursued it as a career. I just didn't think it was something that was within reach."
But the call to create was a constant pull. So when a friend saw Tomlin's drawings and introduced her to Ken Hurst, a former Master Engraver for Colt and Winchester who was running his own 40-man hand-engraving shop, she decided to apply for a job. "I submitted some artwork and he took me on as an apprentice," explains Tomlin. "I worked for him for several years—until he shut down—and then I went out on my own."
She hasn't looked back since, creating works of art on steel on a daily basis. "I design everything. I draw everything, and I don't like to repeat jobs," she explains with pride. "Since I've been on my own, I haven't done two jobs alike."
On the Job
Tomlin describes a typical workday as one that revolves around some combination of engraving, designing artwork for her next project and working with customers via phone, e-mail or in person.
She engraves by hand. "I still use the hammer and chisel method, with the occasional use of an air-powered tool to help with the background work," Tomlin explains. "The tools I use are those used by engravers throughout the centuries."
Traditional hand engraving is slow, detailed work. By way of example, Tomlin selects a pinkie-fingernail-sized bird she drew as part of a larger design for an upcoming project. She transfers the design to a piece of practice metal, clamps it into her vise and prepares to cut the design into the metal. "I use chisels and a little teeny hammer and I just peck, peck, peck," says Tomlin with a grin.
Soon, she has a perfectly etched bird. However, explains Tomlin, when she starts working on the customer's knife and doing a fully fleshed-out job, she'll spend an entire day on that one little bird—and maybe a month on the knife.
Such attention to detail coupled with amazing artistry is the reason Tomlin is featured in C. Roger Bleile's 2010 book, American Engravers: The 21st Century. She is the only female among the almost 40 top contemporary engravers contained it its pages.
Tools of the Trade
Although there are ready-made engraving tools, Tomlin likes to make her own. "Ken Hurst taught me to make my tools, and that was harder than learning to engrave," says Tomlin. "Well," she corrects herself, "I shouldn't say that making the tools was hard. Learning to sharpen the tools was harder than anything. If your tool's not just right, it doesn't follow the line you've traced."
So she keeps a watchful eye on her tools. When one becomes too worn or ragged to use, Tomlin makes a new one, removing the old cutting steel, buying a new carbon steel bit, shaping it to her preferences and fitting it back into its wooden handle. As for not using power tools for engraving, Tomlin says, "It's not that I can't use them, but they take all the fun out of it."
Favorites and Not-So-Favorites
Tomlin clearly enjoys her work. Her face glows as she displays an engraving technique or talks about her next project. "See the inlay in this knife," she says, pointing. "It's a dinosaur bone from a client's ranch in Texas. So I'm going to do dinosaurs on this knife!" In fact, drawing animals is something Tomlin particularly enjoys. "I love all parts of engraving," she explains, "but when it comes time to do the animal scenes is when I really get lost in my work."
Tomlin is also a true people person. "I guess that's the most interesting part of my job," she says, "the people I work for. Some are famous, some not. But all are interesting, with unique lives and stories, and I find it delightful when I get to meet them in person."
Among the well-known people for whom she's engraved guns are former President George W. Bush, General Norman Schwarzkopf and Chuck Yeager. "He's a fascinating person," Tomlin says of Yeager. Yeager's gun—a rifle—features gold on the muzzle and down the entire length of the barrel, the plane he flew when he became the first man to break the sound barrier and other engravings of his life and military career.
Tomlin also engraved a revolver for her dad, which has since found its way back into her possession. "I took a concealment class, and he let me use it," she explains. "I love that gun. I shot it when I was eight years old, and I didn't want to qualify with any other gun. So I used that, and he said 'just keep it.'"
As to her less-than-favorite parts of the job, a pet peeve is working on metal that is too hard. "I can spend more of the day sharpening my tools than actually engraving," she explains. Also, confesses Tomlin, "I sometimes miss working around others on a daily basis, but I enjoy listening to audio books and music as I work."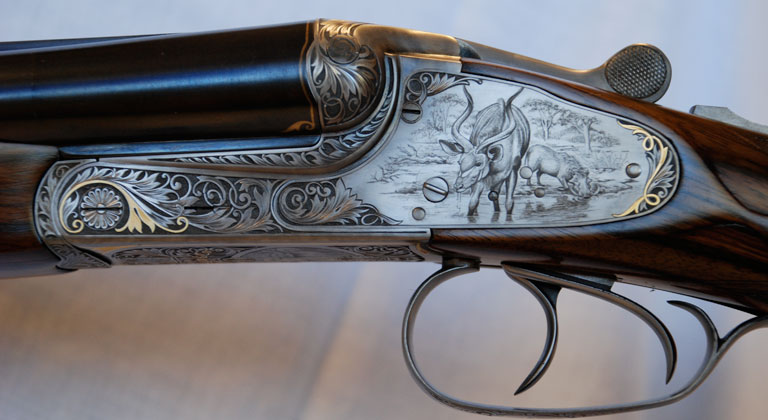 Like Mother, Like Daughter
In Italy and other parts of Europe, the art of hand-engraving guns is a long-established tradition. Master engravers have been passing on the craft to their children and grandchildren for centuries. But in the United States, young people often decline to follow in their parents' career footsteps. So when Tomlin's daughter, 19-year-old Kelly, recently told her she, too, wanted to be a gun and knife engraver, Tomlin was thrilled.
"I grew up my whole life watching my mother do this for a living and was always interested enough to constantly ask her questions about what she was doing and why," says Kelly. "I believe it's what sparked my interest in art."
Like her mother, Kelly loves to draw in pencil and knew by the time she reached high school that she wanted a career in art. Now a sophomore art major at Liberty University, Kelly plans to start interning with her mother during her summer break from classes. "It makes me kind of nervous," says Kelly with a giggle.
"She's so hard on herself," says Tomlin. "But I show everyone her first practice plate. It's so much better than my first practice plate."
Judging by a nearby pencil sketch of a wolf that Kelly completed for a class assignment, her eagerness to learn engraving and Tomlin's enthusiasm to teach her, this talented young artist can look forward to a bright future as an engraver, and perhaps the start of an American gun-engraving dynasty.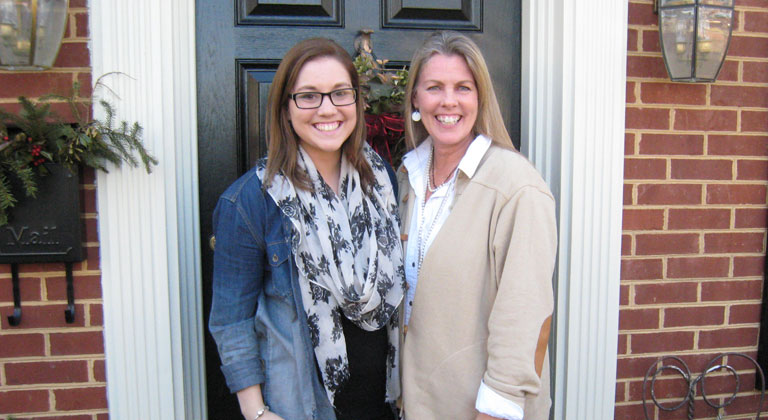 Job Outlook
For most fine artists—painters, sculptors, potters and the like—making a living from their art can be really tough. Indeed, almost everyone's heard the stories about starving artists. But for engravers with talent—like Tomlin—there seems to be a constant stream of work. "It shocks me that I can stay so busy," says Tomlin, who works on commission only, doesn't advertise, doesn't sell her work in stores or online, and hasn't been to a trade show in years. "I've never had to look for work," she says with wonder.
In fact, there's an 18- to 24-month wait, if you want to commission a Tomlin-engraved knife or gun. But, says Tomlin, "There are a lot of people who are willing to wait."
Is It For You?
Maybe someday there will be people willing to wait for your work, too. If you have artistic ability, are detail-oriented and like the idea of placing your own art on the steel of a gun or knife, engraving may be the "cool job" in your future. Why not check it out?