by
Savannah Sisk, Youth Education Summit Class of '19
posted on February 3, 2020
Editor's Note: The NRA Youth Education Summit is just the beginning of our Summiteers' lives of civic service! After they go home, our Youth Education Summit alumni work in their communities to further explore the lessons they've learned at the Summit. Please enjoy these thoughts from Class of '19 Youth Education Summit alumna Savannah Sisk!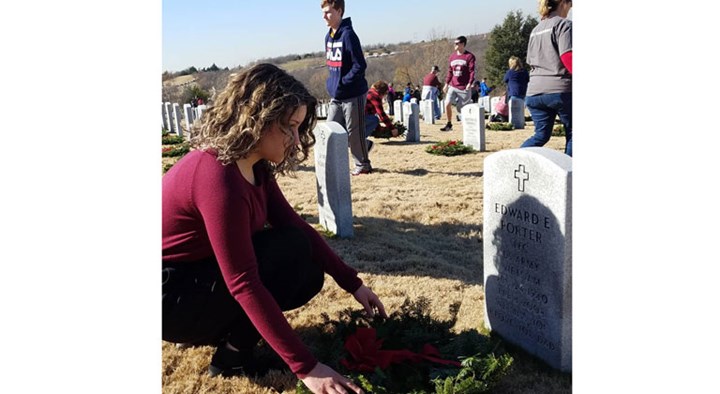 While participating in Wreaths Across America's wreath-laying ceremony last December, I was overwhelmed by the sheer number of attendees. Individuals, couples, families; young, old, and in between: all walks of life were represented. Moreover, all walks of life appreciated and respected the reverence of the event, and demonstrated a true desire to thank those who have sacrificed so much for us.
I bring this up because it is not the narrative we are sold. We are told that those of us who remember our heritage, and who declare our country great because of it, are in the minority. In fact, not only are we the minority: we're outcasts. Refusing to go along with cultural lies strips us of our place as respected voices in society, and instead demeans us to nothing more than a perpetuated stereotype. 'Old-fashioned' values are seen as the downfall of America; valor has no place in the eyes of tyranny.
Despite being a somewhat somber event, the ceremony still overflowed with patriotism and pride. The steep price of freedom compels us to mourn, but it also fills us with great dignity; brave men and women believed our country, our values, were worth dying for, and this alone ensures their lives were not lost in vain. Nevertheless, society and media demand we be ashamed of our military and our country, and proclaim that other countries' affairs are none of our business. By belittling our servicemen and women's contributions to the global community, they render meaningless the sacrifices made on behalf of our safety.
However, the massive attendance at the wreath-laying ceremony stands in validating contrast to the narrative. Every person in attendance at the ceremony proved that the vast majority of America has not forgotten what our country stands for, and the sacrifices made to preserve our freedom.

"I'm here to honor the fallen, and I served for my children," said Tonya Wallace, a retired Air Force Tech Sergeant. "I want them to know the importance of giving back, and to take that value with them to the next generation." 

Another attendee, Jackie Richardson, had over 12 family members buried in that cemetery alone. For her, the ceremony symbolized more than gratitude. But it was first-time attendee Pam Douglas who captured the heart of the ceremony, declaring: "It's just so moving to be here. Each one of these graves stands for a person who gave everything so that I can have anything. And there are thousands of graves in this cemetery alone. To me, there is no greater representation of courage."
On days like the wreath-laying ceremony, we are reminded of both our losses and our liberties. No matter our background or current stage in life, it is our faith in the American Dream that unites us. These kinds of days put into perspective the infinite worth of the freedom we have. Our country is like no other, but maintaining this freedom requires sacrifice. We will never truly be able to repay our debt to those who have laid down their lives, but we can show our gratitude by remembering to honor their memory and instilling the value of their service in future generations.