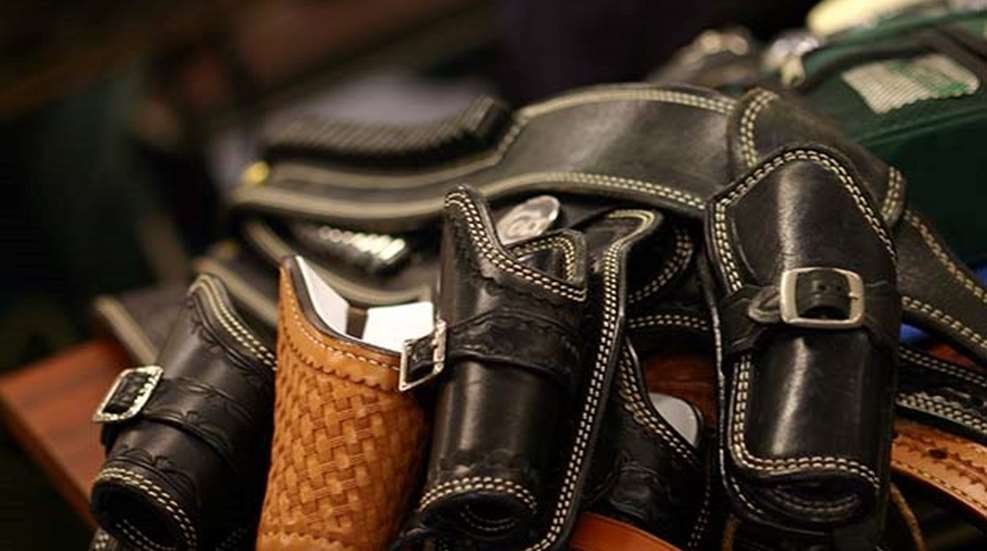 No matter your body frame, preferred carry gun or favorite carry position, there is a holster out that will suit your needs. Our list covers a wide range of on-body holsters, but if your favorite isn't listed please mention it in the comments below. What works for you can work for someone else!
MiniTuck
CrossBreed Holsters
www.crossbreedholsters.com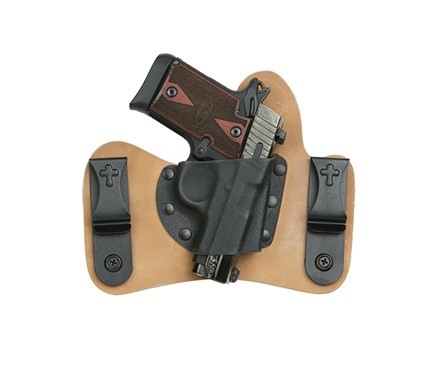 The MiniTuck by CrossBreed Holsters is perfect for concealed carry of compact pistols for those with smaller body frames. The backing of the MiniTuck is made of premium leather, it features a molded and mounted Kydex pocket, and a "combat cut" comes standard on each holster. This versatile holster can be used with your shirt tucked in or out, and the SnapLock powder-coated steel belt clips allow the user to adjust cant and ride height. Along with a two-week "Try it Free" guarantee, the MiniTuck comes with CrossBreed's Lifetime Warranty, and it's available in three different leather selections.
See the long list of guns the MiniTuck is hand molded for, and place an order today!
SERPA
BLACKHAWK!
www.blackhawk.com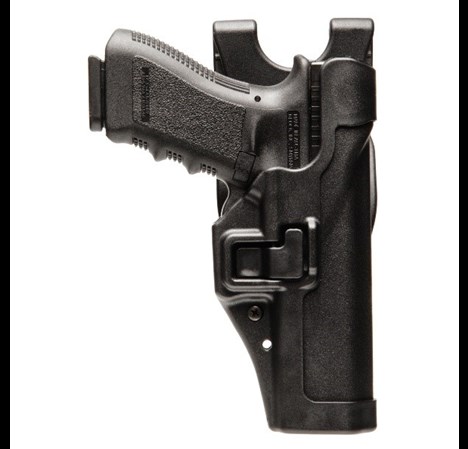 BLACKHAWK!'s line of SERPA holsters has become one of the most popular holsters chosen by law enforcement, military personnel and citizens. The line is in response to a growing number of citizens choosing small, slim-framed guns for self-defense. Each SERPA holster is manufactured with the patented SERPA Auto Lock release. The Auto Lock helps achieve a full master grip by allowing users to draw the weapon normally with their index fingers from the holster body to the weapon frame in one fell swoop. The SERPA models are made in matte finish and available for either right- or left-handed configurations.
Holsters are offered for the following: Glock 42, Smith & Wesson M&P Shield and 3.3-inch Springfield XDS.
For more information on the variety of SERPA options, visit BLAWKHAWK.com
Inside-the-Pocket Holster
Uncle Mike's
www.unclemikes.com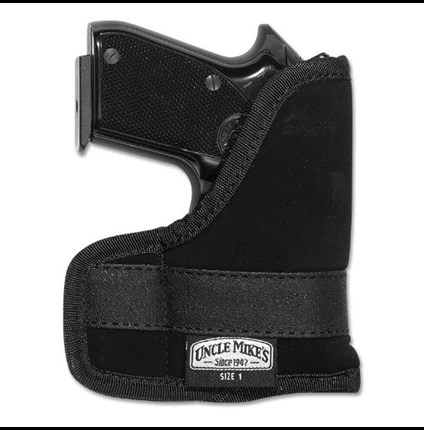 Uncle Mike's Inside-the-Pocket Holsters are great for on-body concealed-carry. It's made of laminate to lessen imprinting as well as to cushion against your leg and to keep perspiration from getting to your firearm. Its open top allows users a grip-ready position and it prevents the movement of buttons, catches or levers. Additionally, while in the Uncle Mike's Inside-the-pocket holster, your gun is protected from collecting lint or other debris, and a non-slip band keeps the holster in your pocket while your gun is being drawn. Uncle Mike's offers this holster in four different sizes from small .22 caliber handguns to sub-compact 9mm and .40 autos.
Click here to order one today!
Pants Holster with Thumb Break
Eagle Industries
www.eagleindustries.com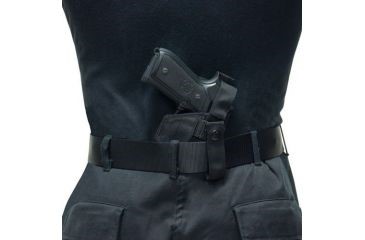 Feel secure throughout your day no matter how much or little you move. The Pants Holster with Thumb Break from Eagle Industries incorporates a rotating snap strap for weapon repositioning while sitting, standing or walking, and it prevents the holster from pulling out when the weapon is drawn. It's made of high-quality nylon and is available in five different models.
For more information, visit Eagle Industries.com.
WalkAbout for Revolvers
Galco Gunleather
www.galcogunleather.com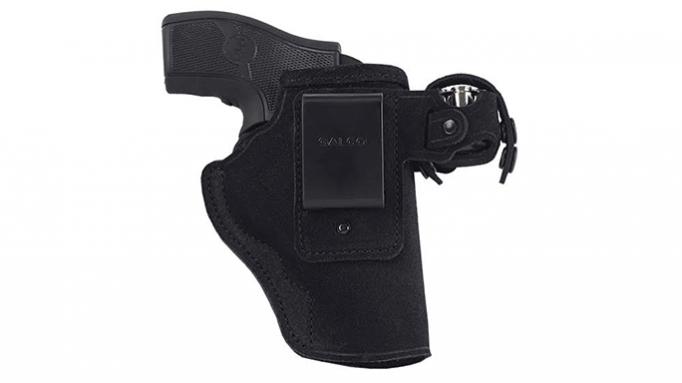 Here's a holster for all you die-hard revolver owners out there. The WalkAbout from Galco is an inside-the-pant holster that carries a revolver in a vertical orientation, with no cant or angle. This allows it to be easily and confidently drawn, and a sturdy injection-molded nylon clip secures the holster to the belt at all times. Returning your revolver is smooth and easy. Additionally, the WalkAbout offers the benefits of the Stow-n-Go, which allows users to attach an ammo carrier or speed reloader to the holster.
For more information and to place an order visit GalcoGunleather.com.
NRA Elite Pocket Holster
The Official NRA Store
www.nrastore.com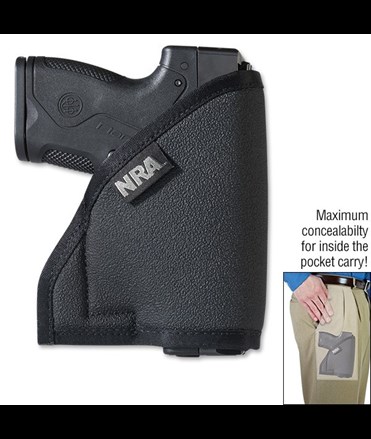 Ever heard the saying, "Keep it in your pockets like Col. Rex Applegate?" No? Well, it's definitely not a saying, but maybe the NRA Elite Pocket Holster will change all that. Inspired by the history behind pocket carry—such as Col. Applegate carrying a revolver in his hip pocket while protecting President Franklin Roosevelt—the NRA Store created a pocket holster for concealed, confident and safe carry. It's made of Toughtek's non-slip material, so it stays in your pocket, and it's lined with soft nylon to protect your firearm. The holster is angled at an upright position to keep your gun free of debris, and it's manufactured with an ambidextrous design. The NRA Elite Pocket Holster will fit most pocket pistols. 
Visit the NRA Store for more information and to place an order today.
IWB Leather Holster for Loaded Glock
IDF Holsters
Idfholsters.com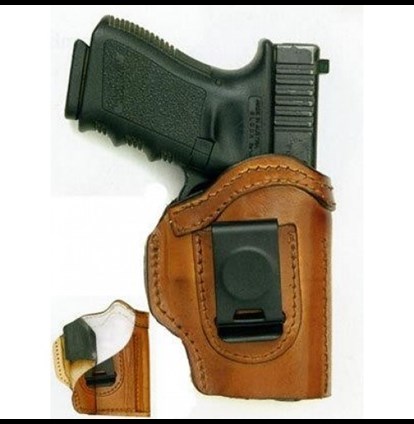 IWB stands for "inside the waistband," and the IWB Leather Holster for Loaded Glock was made for just that—and with carrying-on-the-ready in mind. The holster allows its wearer to have one round in the chamber of their Glock. To prevent an accidental discharge, designers incorporated a special Kydex device which keeps the trigger from moving while it's in the holster. The IWB Leather Holster from IDF is made of natural lubricated leather processed without synthetic additives, and its cut, design and hand-crafted finish was made specifically for Glock model guns.
For more information or to place an order visit IDFHolsters.com
 
Nano IWB Holster
Blade-Tech Industries
www.blade-tech.com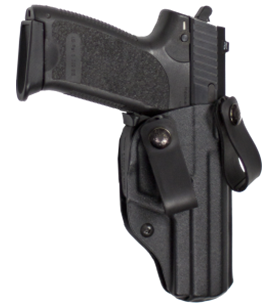 Don't let its name fool you. The Nano holster by Blade-Tech Industries might be ultra-thin, but it's constructed of tough, durable materials. The handmade holster is made of Blade-Tech's narrow .080 material, so while remaining strong it's more comfortable, concealable and imprints less. The Nano features adjustable "Pull the Dot" snap IWB belt loops, and it will not collapse, so re-holstering is quick and easy. One tension screw is found on the holster to help reduce side profiling, yet its tension adjustment feature is just as customizable and secure as other Blade-Tech holsters. With a full-length sweat guard protecting your gun from perspiration, yet ensuring the gun handle is free for a strong and secure hold, the Nano is a confident choice for your daily holster.
For more information please click here.
Quick Slide Micro with Magazine Holder
Versacarry
www.versacarry.com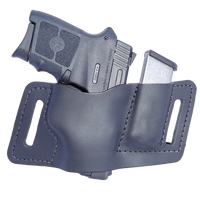 The Quick Slide Micro Series are outside the waistband (OWB) holsters that are made entirely of leather—English Bridle leather to be exact—so they're flexible and durable. Versacarry drum-dye their Micro Series holsters, meaning that the dye penetrates through and through, so blemishes and wear-and-tear won't show. A specially designed relief ensures there are no accidental discharges and it's crafted so the magazine release will not be impeded or affected by the holster. The handmade and finely stitched Micro Series OWB holster is available in black or brown and weighs .15 pound.
Visit Versacarry for more information and to place an order. 
BCA Light Bearing Gun Holster
Bravo Concealment
www.bravoconcealment.com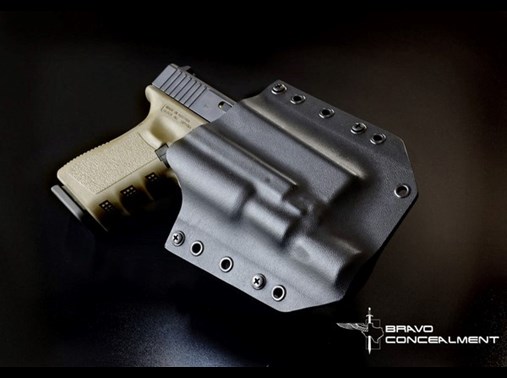 Can't choose between OWB and IWB carry, or maybe you just want both? Well, Bravo Concealment might have what you need. The Bravo Concealment Adaptive (BCA) Holster is designed for OWB carry, however it can be easily converted to IWB by switching out the belt loops. No matter which way you use the holster, it leaves adequate room for a secure grip, which leads to a smooth draw. The holster has a 10-degree cant adjustment; all edges of the holster are rounded for comfort and the holster is curved to fit the contours of the human body.
Custom-made for a long list of gun manufacturers and models, the BCA Light Bearing Gun Holster is available in black, OD green, flat dark earth, coyote brown and grey.
To place and order for custom or rush delivery, visit Bravo Concealment today!