Welcome to NRA Family Favorites for the week of May 21, 2022! Here are some of our favorite stories from this past week. 
Sporting clays is a game of variation. Multiple target presentations, different techniques to break birds and varying opinions about barrel length, choke constriction, shot size and just about everything else. The old adage, "There's more than one way to skin a cat," rings true for the game of sporting clays. Our friends at Shooting Sports USA have five problem presentations, and five ways to bust those clays.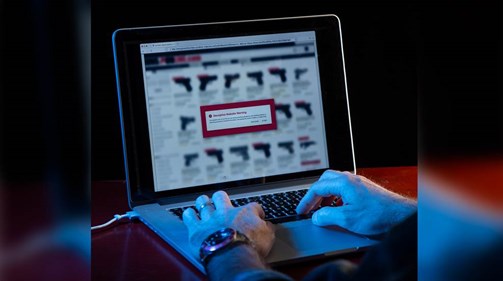 American consumers lost $392 million to online-shopping scams in 2021, according to the latest report from the Federal Trade Commission (FTC). That figure is up nearly $150 million from the previous year. Unfortunately, the firearm industry hasn't escaped the criminal activity. Major firearm brands have quietly launched a variety of efforts to prevent loyal fans from being victimized. Here's what you need to know.
Women continue to be the fastest-growing segment of gun owners. Fortunately, the firearm manufacturers have responded in kind, building guns with features that women appreciate, particularly when it comes to defensive pistols. And one or more of these these fabulous women-friendly handguns can be yours if you submit the winning bid in this year's highly anticipated NRA Women's Leadership Forum Luncheon & Auction. Check them out here!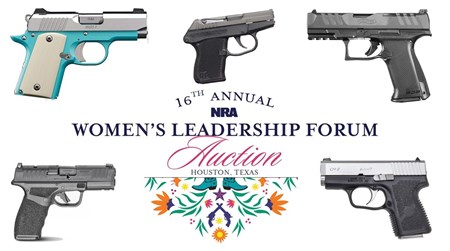 While there are many unique wardrobe items up for bid at the NRA WLF Online auction this year, a number of them are standouts, particularly for NRA Women. If you are a fan of turquoise—both the stone and the color—we've gathered an assortment of eye-catching items that will be sure to brighten any wardrobe. The recipients of these stunning accoutrements will be considered the most fortunate of all the NRA Women's Leadership Forum auction bidders. Check them out here and start placing your bids!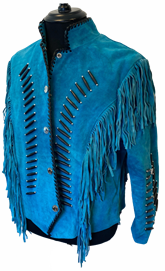 Writes NRA-ILA Executive Director Jason Ouimet, "I am immensely proud to join with Second Amendment supporters across America in celebrating a major milestone reached in April, when Georgia became the 25th constitutional-carry state. Law-abiding gun owners living in the Peach State no longer face the burden of acquiring a government-issued permit before they can carry concealed." Read the excellent news here!
In the world of hunting, there is nothing more exciting than calling up a big tom turkey within shotgun range. To make it more rewarding, try making your own call and tricking one of the most cautious and leery game animals in North America. Wing-bone calls are the oldest form of calls, developed by Native Americans and possibly dating back 4,000 years. During this off-season, why not make your own wing-bone call? Here's how.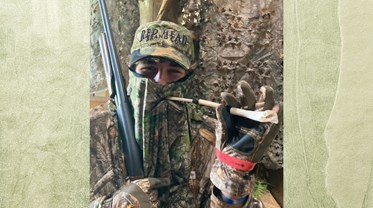 To consistently kill turkeys, and particularly those long-in-the-spur toms, you must defeat their keen sense of hearing and eyesight—particularly the latter. Overcoming their uncanny ability to spot all threats requires melding into the environment. While the newest, snazziest camouflage can help you do so, in actuality, any attire that remotely matches the flora of the locale can do the same. I go the inexpensive route. Why? Camouflage clothing is only one part of what should be a two-prong approach. The often-overlooked component is the use of a blind. The experts at American Hunter have more here.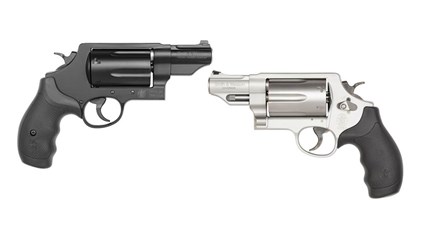 When Smith & Wesson introduced the Governor in 2011, the concept of a revolver capable of chambering shotshells wasn't groundbreaking. The new entry from a legendary maker, however, quickly caught media attention at the SHOT Show that year and for some good reasons. The revolver, built on the firm's Z Frame, is versatile. It safely chambers and reliably runs 2 1/2" .410 bore shotshells, .45 Colt and—with the use of moonclips that come with the gun—it also digests .45 ACP. Our friends at American Rifleman have the scoop.