by
Connor McKibbin
Kristen Voss
posted on February 25, 2018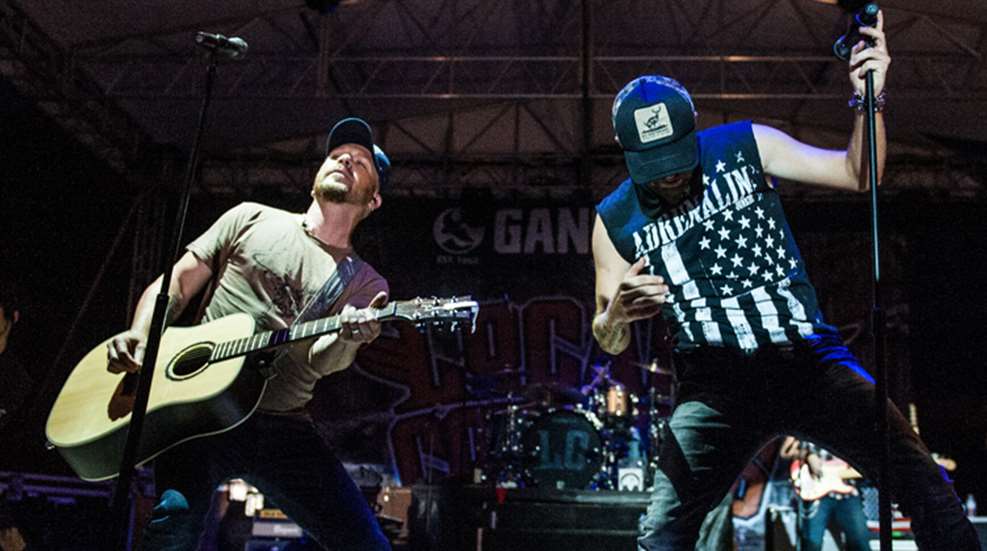 Co-headlining the NRA Country concert with Granger Smith at the Great American Outdoor Show was Locash, a duo who will soon be going on tour. They dazzled attendees with singles spanning their career, including "I Love This Life," "I Know Somebody" and "Ring on Every Finger." Sitting down with NRA Family, the two artists spoke about their unabashed love for firearms and the outdoors.
NRA Family: Obviously the NRA Country concert is about the Second Amendment. When did you start exercising your Second Amendment rights, and who first taught you how to shoot?
Chris Lucas: I was always around hunting when I was little. I'm addicted. I love it. What I shoot, I eat. My uncles did, and now that's what I do. My little boy is seven, and he's involved now, and he can't wait to get his first rifle. We can't wait to kill a turkey this season. Preston got me into it, too.
Preston Brust: I grew up in a house where I was so little, I don't even remember the first time shooting a gun. It was always "cool." We had a gun cabinet in the house, and we were taught to honor the safety of it all first. There's this old .22 that my grandpa had, my daddy had it, and my dad's gonna give it to me. It's just one of those guns that's an heirloom, and it's been passed down generations, and I hope to pass it on to my kids. I remember shooting it with my grandpa, and shooting it with my dad. My dad taught me to honor nature and honor the animals. Hunting and the outdoors has given me so many memories with my dad.
NRA Family: Do you have a favorite animal that you like hunting?
Chris Lucas and Preston Brust unanimously: Turkey!
Preston Brust: I grew up deer hunting. There wasn't a big turkey population in Indiana where I grew up. Now, it's bigger and better.
Chris Lucas: I eat turkey every day of my life. But I like pheasant hunting, too. Seeing the dogs involved is really cool. The next hunt, I'll bring my boy.
NRA Family: Do you bow hunt at all?
Both: Yeah.
Preston Brust: We had a deal with Mathews and a deal with Bow Tech, and they were both great bows. Right now we're in talks to find a new dealer. (laughs) Maybe we'll call it "Bowcash."
NRA Family: Do you have a favorite firearm?
Preston Brust: I think we both have the same gun we love.
Chris Lucas: I have a couple ARs that I absolutely just love. But the Benelli shotgun … you can't go wrong.
Preston Brust: I just got a Browning in .30-06 with a Leupold scope, and that sucker is BA. I love it. It shoots so smooth. I never had a .30-06 before. My daddy had one, and I used his, but now I have my own.
NRA Family: Obviously you've taken Hunter Education, but have either of you taken any other firearm or training courses?
Chris Lucas: My wife has taken a concealed carry course, and I'm going to get my concealed carry permit, too. I highly recommend it for every woman right now in today's world, unfortunately. We have and shoot several 9mms. I just hope to God we won't have to use one, but it's good to have that safety.
NRA Family: Have you taught anyone else to shoot or hunt besides your immediate family?
Chris Lucas: We've done a couple celebrity hunts with handicapped individuals or veterans. Bringing the hunting world to them … it's cool to experience that with them. We love doing that stuff.
Preston Brust: I'm itching to get Chris's son a gun. I'm just waiting for the green light.
Chris Lucas: My son's still a little nervous, but he told me, "Get me the Red Rider BB-gun."
Preston Brust: I think he's ready for a .410 shotgun. I'm ready to go! Let's go!
NRA Family: What's your dream hunt?
Preston Brust: I have a lot! The most realistic one right now would be elk. I think it'd be great to go on a week-long elk hunt. We don't get that much time off, but I'd love to go to a nice lodge and take our families and do it up right, so they get to enjoy the outdoors, too. We've heard if you love turkey hunting that elk hunting is like turkey hunting on steroids!
Chris Lucas: I'm gonna agree with that.
NRA Family: Thanks for your time, and congratulations on the tour.
Preston Brust: Thanks for doing this interview. The outdoors are a big part of our lives.