by
posted on March 2, 2017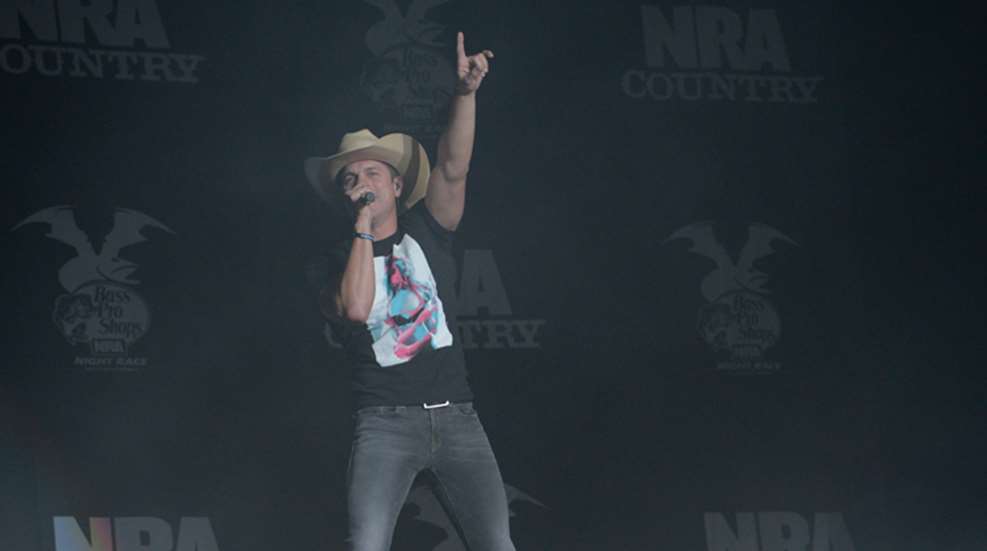 The 2017 NRA Great American Outdoor Show's valedictory was the NRA Country concert, featuring Tara Thompson and Granger Smith (AKA Earl Dibbles, Jr.), and headlined by Dustin Lynch. Lynch, who just released his most recent album, Seein' Red, a few months ago, thrilled the crowd with popular songs such as "One Hell of Night," "Love Me or Leave Me" and "Cowboys and Angels," which he wrote about his grandparents who have been married just over six decades.
Before Lynch headed out to sold-out crowds, NRA's American Hunter had the pleasure of sitting down with him to ask him about his own interest in the outdoors, shooting and hunting.
AH: Being at the Great American Outdoor Show is a huge event, as you know, and the NRA is excited to host it. That said, as an outdoorsman yourself, who taught you how to shoot, and how old were you when you learned?
DL: I started with a BB gun, and then moved up to a 20 gauge at probably five years old, with my dad and granddad. And ever since I can remember, I've been hunting something. My first hunt ever was a dove hunt. I was dad's bird dog. Now, these days, I love to bow hunt as well.
AH: So what have you hunted before?
DL: I've kinda hit this spot in my career now where I have the opportunity to go anywhere. This past year, I got to hunt in Texas, Kansas and Tennessee. I love to deer hunt, duck hunt and turkey hunt. A bucket list would definitely be to go elk hunting.
AH: Do you have any other family that hunts?
DL: Yeah! My brother-in-law who loves to deer hunt. And he's got two kids who are three and six. So, you know, it's a family affair! I love it!
AH: Did you teach them [the kids] how to shoot?
DL: I definitely bought them both BB guns, so in a way, yeah. The three-year-old is still a little too young. He likes to hold it, but he's scared of the pop noise. We'll get there!
AH: Have you taught anyone else to shoot besides family?
DL: My manager, in a sense. He's into hunting, and he's new, so I've been taking him. I got to do that with my brother-in-law way back in the day. It's fun to see that reaction and that adrenaline pumpin'.
AH: Do you have a favorite firearm?
DL: Luke Bryan bought me a Beretta bird gun. It's bad to the bone! It's an amazing piece of art! I can't wait to go bird hunting with it!
AH: Besides hunting, what other outdoor activities do you like doing?
DL: I love to fish! If I'm not working and not doing music, or something related to this, I'm outside doing whatever. Either on the water, out at the farm clearing roads or putting in food plots, so anything to do with the outdoors. I have a brand-new bass boat I've gotta put to use this year at some point. So if I'm not working, everybody knows where to find me: It's either on the farm or on the lake.