by
posted on January 27, 2023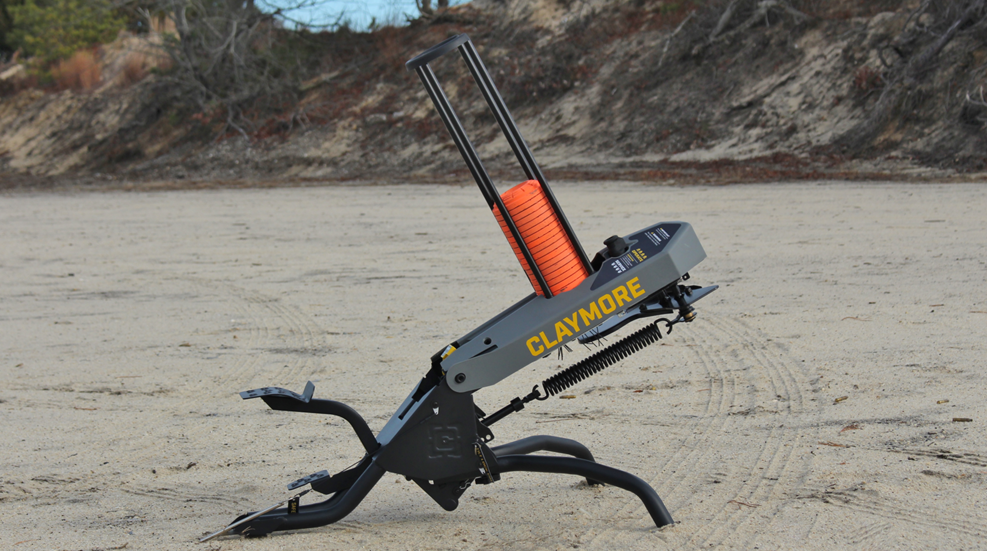 The Caldwell Claymore was created to bridge the gap between battery-operated clay throwing machines and manual throwers, offering the best of each. Traditional battery-operated traps aren't particularly weather resistant and require a quality battery and a charger/tender to ensure that you can shoot whenever the mood strikes you. On the other side of complexity are manual throwers, but most of those require a buddy to toss the clays for you, or manual cocking that is more of a workout than a casual game of clays ought to be. By contrast, the Caldwell Claymore thrower is a foot-operated trap that has just about all of the functionality of battery-operated machines, with the inherent weather resistance that comes from electronic-free devices. This product caught my eye last summer, and I eagerly anticipated a chance to work with it.
Our relationship began when my brown-clad Santa dropped off a package with the word "Claymore" inscribed on the side. After exchanging suspicious looks, I dragged it inside and sat on the living room floor like a kid opening a Christmas present. Anticipating a lengthy IKEA-style assembly process, I was delighted to find that this thing is ready to rock and roll right out of the box.
It arrived in its folded position, which allows it to be stowed away just about anywhere. Getting it range ready only required three entirely toolless steps. First, I had to extend the front legs by loosening the leg knob and rotating them forward. The same knob is cinched back down to hold them in place via the cross bracket. The next step was rotating the head assembly down into position and setting the tilt angle in the process.
Caldwell designed the Claymore with five repeatable positions that range from darn-near flat to almost a straight popup. That's a handy feature for those who enjoy sporting clays, as it offers a wide variety of shot variance. Throwing power can also be adjusted by cranking down on the mainspring knob, similar to most other machines on the market. The last step was simply slipping the magazine assembly over the studs, something that will be familiar to anybody who's ever done any work with a mechanical thrower before.
After ensuring that our curious coonhound was safely out of harm's way, I turned my attention to the Claymore's operation. Something that jumped out at me right away was the two-position knob marked "operate" or "service." This feature allows the user to de-energize the spring with just a flick of the wrist. In the past, this would require firing the thrower or unthreading a hand nut back across several inches of rod; not fun.
Once engaged, pressing the main pedal cocks the arm and drops a clay onto it (if any are loaded). After that, pressing down on the pedal fires it off. Although not advertised, the Claymore also doubles as pet entertainment, as mine went into a prolonged barking fit the minute I released the arm. Coupled with an annoyed look from my wife, the chaos seemed to be my cue to head to the range with my new toy.
My range day brought me a constant 14 MPH wind, which wasn't a bad thing. I figured I could measure the distance thrown both with it and against it to bracket a realistic range. Unpacking took less than a minute, and before I knew it, I was cocking the pedal to toss my first clay. Like shooting, I fired a group of five targets and observed the center of their impact, which measured 41 yards from the machine. This represented my "worst-case" scenario, as I popped them straight into the wind on the middle tilt setting. Turning the machine the other way, I repeated the test and found that the average clay flew 92 yards with a little assistance from mother nature. As this way also happened to be downrange, I left it there and broke out my shotgun.
Excited to work solo, I curbed my enthusiasm and started with single targets and single shots. After cocking the machine, I found that I could easily release the throwing arm without disturbing my shooting position. After breaking a handful of clays, I flipped the switch to flurry mode, which bypasses the release pedal and sends a clay the moment you allow the cocking pedal to return to position. This was a lot of fun, particularly with a semi-auto scattergun.
My range day ended after exhausting 100 rounds, leaving me wishing I had packed more. Leaving the range took less than a minute, and that's just because I opted to take the Claymore with me. If I were home, I'd toss a tarp over it and call it a day. If you pay yourself minimum wage, for the time you save setting up, breaking down, and maintaining a thrower, it quickly becomes a piece of kit that pays for itself. At least that's how I'm going to sell it to the Mrs.—after she calms down a frantic hound dog.
The Claymore is relatively inexpensive when you factor in the savings of a battery and charger. It lists for $329.99 on Caldwell's website but can be found for a good bit less at participating retailers. For more information, visit caldwellshooting.com.