by
posted on September 5, 2022
In most states, it's one of the first hunting seasons to open for the year, and many wingshooters look forward to it like kids look forward to Christmas—maybe even more. If you're such a person, you no doubt hope that one day your kids/grandkids will enjoy dove hunting as much as you so that you can spend more time together outdoors. But how young is too young to get kids started? How do you know when they are ready to begin?
The bottom line should always be safety. It's obvious that youngsters are not ready to dove hunt until they can safely handle and swing a shotgun. But until that time comes, it doesn't mean they can't go on a hunt. Young kids make enthusiastic bird retrievers. Just make sure that even though they are not yet actually "hunting" they wear adequate eye and ear protection while in the dove field.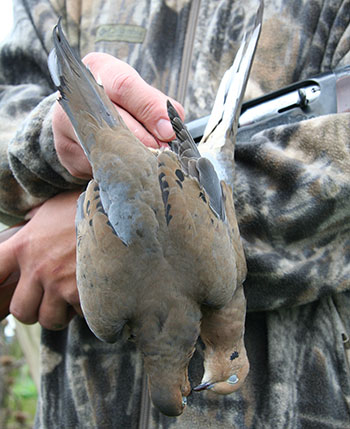 The advantages of starting a young hunter dove hunting, as opposed to say, deer hunting, are many. For instance, there is usually plenty of action. And the season opens when the weather is warm—downright hot down South—so no expensive cold-weather clothing is required. Often just a camo hat and shirt and some dark-colored pants are all they'll need. Add a lightweight shotgun (a 20-gauge is a good choice) that's properly fitted, a couple boxes of shells (# 7½ or 8 shot), a camp stool or five-gallon bucket to sit on, and they're ready to go dove hunting. 
But as most hunters know, dove shooting is no slam dunk. Doves fly fast, as much as 60 mph, and that speed, combined with the birds' twisting and turning flight patterns, makes hitting them a real challenge. This can be discouraging to a new wingshooter, but practice helps. Give kids a leg up on doves by practicing with clay targets a few times before the dove season begins. A dove field is no place for a novice hunter to be firing a shotgun for the first time. And set expectations for that first hunt low, possibly making the goal just hitting one dove.
Another advantage of dove hunting is that you, as the mentor, can literally "call the shots."  Sitting beside the young person, you can alert them when a dove is approaching, when it's within range, and when to shoot. Most young hunters have no idea how far the shotgun they are cradling can effectively shoot, so some coaching will be needed as to distance. It might help to place a yardage marker, such as a dove decoy, at 30 yards and instruct the young Nimrod not to shoot unless a dove flies within that range. 
Teaching a young person when and where not to shoot is just as important. For instance, at no time when dove hunting should they shoot at a low-flying bird, no matter how tempting. All shots should be at a 45-degree angle above the ground or higher. At times, dove fields can be crowded with other hunters, especially early in the season, so safety is always paramount. 
Depending on their overall shooting experience, it might also a good idea to have your young hunter load the shotgun with just one shell. That way, when they take a shot, both of you know their gun is now empty. Loading only one shell also forces them to make their first shot count, a great habit to develop in wingshooting or any other type of hunting, for that matter.
Lastly, know the mental maturity level of the child before inviting him/her dove hunting. For instance, how do you think the youngster person will react to seeing doves shot and killed? Here's an example from my own family. My oldest grandson is now nearly age 12. He enjoys the outdoors, especially bird-watching, but has had only minimal exposure to firearms and hunting. Except for a few fish he has seen his father catch and keep, he has never seen animals killed, as a result of hunting or by other means. 
That said, should I take this particular grandson dove hunting yet? Possibly. But first I'd have a serious talk with his parents (my son and daughter-in-law) to see if they thought the young man was ready. A hot dove shoot can literally be a "killing field," with dozens of doves shot during the hunt. I would not want to expose my grandson to this too soon—especially knowing his love of birds—and possibly taint his impression of hunting and hunters for the rest of his life. Again, know the child.
The decision whether or not to take a particular young person dove hunting comes down to his/her maturity level (both physical and mental) and personal interests. Parents will have the best insight into that and ultimately it's their call. Keep in mind, too, that hunting is not for everyone. Some young people will be naturally drawn to hunting and some will not. It's up to us, as veteran hunters, to make their initial experience(s) as positive as possible. For most kids, that means having fun. Be mindful of their maturity level, keep it safe and fun, and one day you just may have that dove-hunting buddy you always secretly hoped for.
W. H. "Chip" Gross is an NRA member, outdoors writer/photographer, and wingshooter from Fredericktown, Ohio. He can be reached for comment at w[email protected]. His Web site is www.chipgross.com.