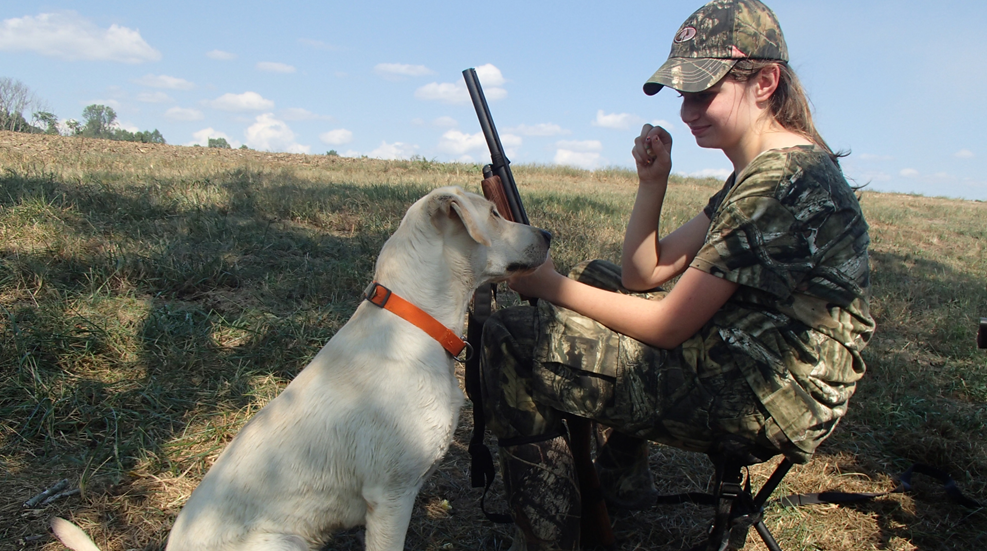 Dove season is the kickoff to the fall hunting seasons nationwide. Typically dove seasons start the first Saturday in September, and this is a great time to get the whole family together. Mourning and white winged doves are some of the most challenging birds that sportsmen and women can harvest due to their speed and acrobatics, coupled with their uncanny instincts to juke or jink just as the trigger is pulled. These tasty birds are the subject of probably the most social hunting event of the season. Many a pig picking, BBQ and picnic has been organized around a dove hunt, and that makes dove hunting a family affair. Here is how to make the hunt itself fun for everyone.
Safety
Safety is paramount to everyone's enjoyment of hunting. Prior to the hunt, gather everyone around and hold a safety brief. Designate safe fields of fire. Explain to everyone where nearby dwellings are and if someone opts to leave the field during the hunt, explain the safe corridor for that purpose. When dogs or young kids go out to retrieve birds, be sure to alert all nearby hunters of this and have everyone hold their fire. Some hunts I have been on, we have marked birds and stopped all firing every 15 minutes or so to allow for retrieval of birds.
Keep it legal
Make sure everyone knows the limit of doves before the hunt begins. Ensure everyone has a license and the appropriate permits and harvest information numbers (HIP in most states) required. Remember that shotguns must be plugged and hold no more than three shells total.
Practice beforehand
Not much gets the family motivated for the dove opener than shooting a round of clays before the hunt. This can occur before the hunt or the week before the hunt. You have less chance of spooking nearby doves by holding your practice session the week before the hunt. A box of clays, a thrower, eye and ear protection and box of #8 shot from your local gun shop is just the prescription to avoid being the joke of the day for total misses on the hunt!
Attire
Dove hunt opener weather is usually hot or at least very warm. If there was a time you could wear shorts on a hunt, a dove opener would be it. However, your attire should reflect the predicted weather and the field conditions. Don't suggest to your family that they wear shorts if you have to walk through an overgrown field to get to the dove field. However, do suggest a selection of clothing that allows plenty of air flow while keeping you as camouflaged as possible. Mesh caps, lightweight boots and shirts with a cape style back with vents or a T shirt, and possibly some sunscreen if you are not going to be hiding the shade. Keep in mind that ticks are out and preventative measures should be taken to avoid tick related illnesses.
Hydration
It goes without saying that if the weather is warm, have plenty of liquids on hand with water at the top of that list. Avoid caffeinated drinks. Sports drinks are OK, particularly if it is really hot out, although water is the best choice. Having a cooler nearby with some ice to keep that water chilled in is a great idea. Avoiding heat related illnesses is key to the family having a great time.
Snacks
Dove hunting is supposed to be fun and part of the fun is not suffering while waiting on the birds to fly. In my area of the country, the birds tend to fly best after 4 PM, but we often set up prior to that just in case and to claim a good spot along the field. During the wait a good snack and some cold water is great to fill the time. Kids in particular will appreciate the opportunity to get snacks. Bring healthy snacks such as homemade jerky, fruit or nuts, and avoid the sugary snacks.
Comfort
Family events are best when everyone is comfortable. Get to your hunting location early and find a spot where the entire family can set up with some shade, whether it be under a tree, among corn stalks or in the shadows of some round bales. Take a good dove stool or chair. Don't forget a cooler that is drab or camo colored for your drinks and possibly your doves too!
Your retrievers
It is imperative you take good care of your retrievers. Hydration and keeping them cool is a priority. Take plenty of extra water and keep a close eye on the dog for signs they are overheating. If there is a creek or stream nearby or even a hose at a barn that be used, note that prior to the hunt. Run cool water over the belly and gums of a dog that is overheating and get them in the shade. Nothing much ruins a hunt more than a dog going down with heat stroke, except maybe a hunter falling out due to heat or someone getting injured.
This dove season get the whole family involved and make a memory together. There is still time to plan and prepare for an awesome dove hunt. Follow the tips above to make this season the best one yet!