by
posted on June 17, 2015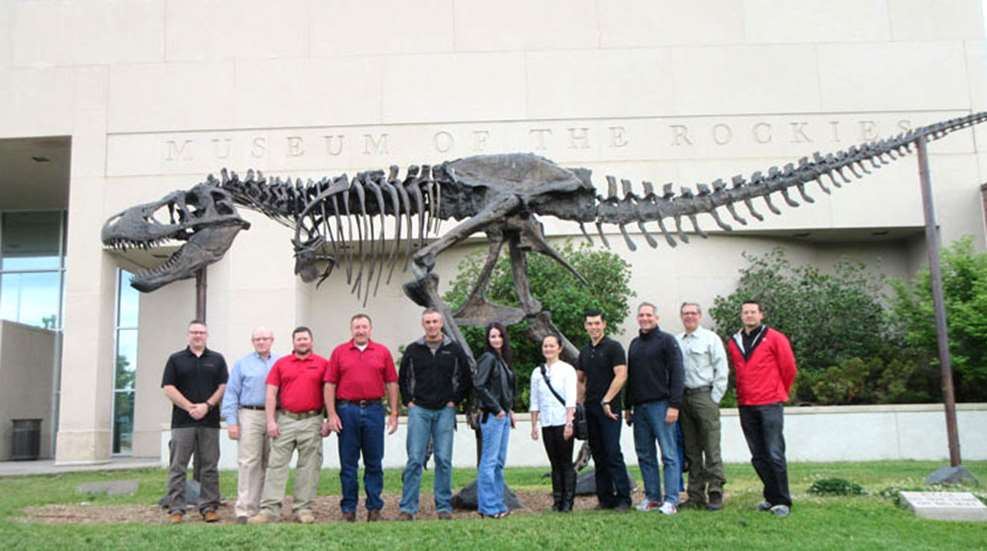 "So what are you doing in Montana?" asked my friend as I held the cell phone to my ear with one hand while desperately trying to stuff one last pair of socks into my backpack with the other.

"Hunting dino-sauuurs," I drawled. Then, just for fun, I whispered, "Shh. Here comes one now. Gotta go," and hung up.

I wasn't lying...exactly. I was in Bozeman, Montana, to attend the world premiere of the new Jurassic World movie—now a worldwide blockbuster—with a group of outdoor writers and representatives from Crimson Trace and BLACKHAWK! Why? Well, you see, all of the guns that you see in the movie being used to hunt down rogue thunder lizards are sporting Crimson Trace lasers. What's more, as long as we were going to be in Big Sky country, we couldn't miss the chance to tour the BLACKHAWK! manufacturing plant, which is located right there.

We started our dinosaur hunt with a stroll through the Museum of the Rockies, which is home to one of the largest and most scientifically significant dinosaur collections in the world. There's a good reason for this: Due to its geological peculiarities, Montana offers some of the richest fossil-hunting territory in the world. It's also home to Jack Horner, famed paleontologist and consultant on all four of the Jurassic Park movies...who would be doing a Q&A alongside the film's producer after the screening that very same night.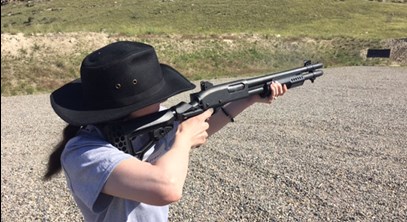 As for the movie itself, I'm not a professional movie reviewer, but I'll do my best to get it across without any spoilers for those who haven't seen it yet. The lasers play a fairly significant role in a couple of scenes, and it's clear that the director made a real effort to depict accurate gun-handling practices (a rarity in Hollywood). The special effects are absolutely astonishing...perhaps too astonishing for very young children. The dino-on-human violence can be quite intense. But for those mature enough to handle it, it's a thrilling two hours of entertainment.

Naturally, a bunch of gun writers couldn't walk away from an experience like that without pondering what sort of ammunition/gun combo we'd have tried against a velociraptor. (Clearly, the T-Rex was going to require something a bit bigger than we, as civilians, could get our hands on.) And just as naturally, none of us could agree. My money was on a 12-gauge shotgun, and I learned I'd have a chance soon enough to re-evaluate that opinion. We would be shooting them the next morning on the range.

Although I'm sure I'd be glad of one should I ever have to face down a real dinosaur, I always have to psych myself up to shoot 12 gauges. For an NRA employee, I'm embarrassingly recoil-sensitive. So it was a relief to learn that the Remington 870 I'd be shooting was outfitted with BLACKHAWK!'s brand-new Knoxx Gen III Shotgun Stock, which should be hitting stores later this fall. The stock features a two-part, recoil-reducing system: A honeycomb buttpad works in conjunction with an internal, inline spring to help reduce felt recoil. This is a completely new system from the previous Gen II stock. Their engineers claim this system reduces the felt recoil by 80 percent. Most of the time I take statements like that with a grain of salt, but my experience was that the stock made the recoil feel more like a slow, rolling push than a sharp kick. It would be much easier to take down a pack of 'raptors knowing that the gun wouldn't hurt me worse than they could, I thought.

Our next stop was a limited tour of the FLIR Systems plant. How does infrared figure into dinosaur hunting? Well, without any spoilers, let's just say that the ability to detect heat signatures is a major plot point in Jurassic World. (To learn more about the Golden Bullseye-winning company, check out this article from our friends at Shooting Illustrated.)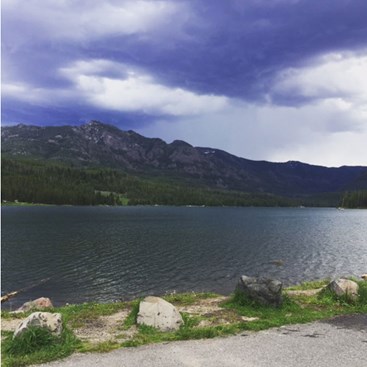 We wound up the day with a trip to the Simms Fishing Products manufacturing facility to learn about how high-end fly-fishing waders are made. You may be wondering how this fits into our pursuit of dinosaurs. Well, it's a bit of a stretch, but...dinosaurs evolved from fish, right? Right. So we were heading out in the morning to hunt modern-day dinosaurs...with fly-fishing rods.

As it turns out, I am not much of a dinosaur hunter. After slipping on some rocks and sinking up to my knees in river silt, I began wondering if I, myself, were about to become a fossil. Perhaps in another 64 million years, I thought, an intelligent race of reptilians will be dusting sandstone off my bones and wondering whether I was warm-blooded or not. Eventually, I gave up and went to sit on the riverbank, gaze at the most beautiful scenery I've ever seen, and contemplate how unlikely it was that I'd have survived a Jurassic World.