by
posted on October 28, 2014
I recently had the opportunity to spend some time in West Virginia at Adventures on the Gorge with Remington for its annual media seminar. A slew of gun writers, editors and bloggers were in attendance to hear about, and shoot, the latest offerings from the legendary gunmaker.
One of my personal favorites was the announcement of the re-assignment of the Remington 783. The mid-level bolt-action rifle will be on dealers shelves for $300 or less in 2015, at the quality level the 783 is known for. This American-made rifle features premium magnum contour button-rifled barrels, an adjustable trigger and comes in the previously offered chamberings, with the addition of .22-250 Rem. and .223 Rem.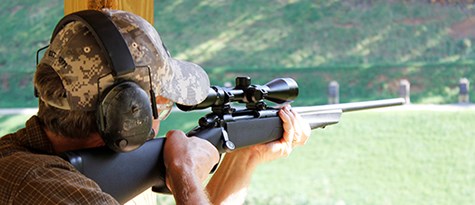 I also had the opportunity to shoot a handful of Remington's newer airguns and BB guns, and let me tell you: These are fun to shoot. My two favorites were the Tactical BB Pistol, which is new for 2015, and the Remington ThunderJet. The .177-cal. break-barrel gas piston air rifle was a breeze to shoot at 1200 fps. It weighs 8.7 pounds, and comes with a 3-9x40 illuminated reticle with a mil-dot scope. The Tactical BB CO2 pistol is made of all metal and features an under-frame accessory rail, skeleton trigger, semi-auto blowback and a fixed-blade front sight and fixed, notched rear sight. Below you can see Karen Butler, founder and president of Shoot Like a Girl, Inc., having some fun with the BB pistols.
The firearm I loved the most, well I can't tell you about it. I was sworn to secrecy until January 1, 2015. At that point in time we will let you know exactly what awesome new offering Remington has for us all.
A big thanks to the Summit Bechtel Reserve, where we got to test all the firearms. The Summit is home to the National Boy Scout Jamboree, and is rightly named thanks to a $50 million donation made by the Bechtel Foundation to help purchase and develop the reserve.