by
posted on March 16, 2023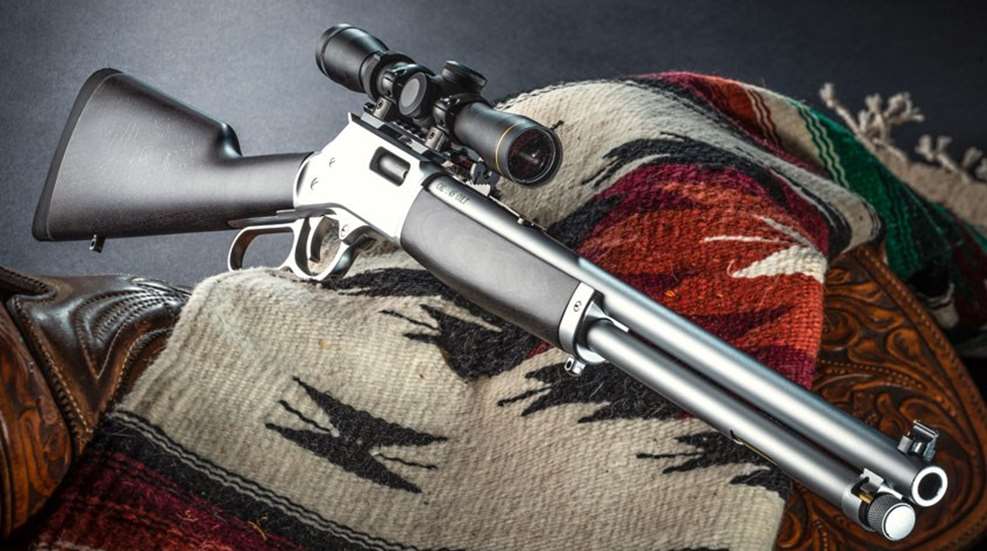 There is no more truly American firearm than the lever-action rifle. After all, what's more iconic than a cowboy with a six-shooter on his hip and a lever-action in his saddle's rifle scabbard?
The gun was developed more than a century and a half ago, in the late 1850s, when a young gunsmith by the name of Benjamin Tyler Henry was hired by Oliver Winchester of the New Haven Arms Company. Henry was tasked with improving an earlier design of one of Winchester's repeating rifles. After three years of tinkering, testing and tweaking, in 1860 Henry produced and patented the rifle that retains his name yet today.
Henry rifles first became popular during the Civil War; some 10,000 of the guns saw service, used mostly by Union soldiers. Of .44 caliber and holding 16 rimfire cartridges, firearms historian Herbert G. Houze claimed that one man armed with a Henry was the equivalent of 14 or 15 men equipped with single-shot muzzleloading rifles. One Confederate officer, Colonel John Mosby, became so exasperated upon first encountering Henrys in battle that he dubbed it, "That damned Yankee rifle that can be loaded on Sunday and fired all week."   
After the war, Henry rifles became more ubiquitous as Americans headed west. The gun even played a role in the Battle of the Little Bighorn, when in 1876, Lieutenant Colonel George Armstrong Custer and his soldiers of the 7th Cavalry found themselves not only outnumbered but outgunned. They discovered too late that many of the Lakota, Dakota, Northern Cheyenne and Arapaho warriors opposing them had armed themselves with Henry rifles.
The Henry rifle eventually evolved into the famous Winchester Model 1866 lever-action rifle. And with the introduction of the new Model 1866, the New Haven Arms Company was renamed the Winchester Repeating Arms Company.  
Today, Henry rifles and shotguns are manufactured by the Henry Repeating Arms Company located in Bayonne, New Jersey, with a second plant in Rice Lake, Wisconsin. The corporation is exceedingly proud of its American heritage, its logo stating: Henry: Made in America or not made at all.
"We are a family-owned business and stand behind every firearm that leaves our plants," said Anthony Imperato, president. "I personally guarantee 100-percent satisfaction for the life of the rifle or shotgun. No exceptions."
Henry Repeating Arms Company was started by Louis Imperato and his son, Anthony Imperato, in Brooklyn, New York, in 1996. There is no affiliation or lineage to Benjamin Tyler Henry or the New Haven Arms Company, who sold the original Henry rifle from 1862 to 1864. Imperato secured the trademark to the Henry name in 1996. The first model produced was the Henry H001 Classic Lever Action .22, and the first shipments were made in March 1997. In December of 2017, while celebrating its 20th Anniversary, Henry manufactured their millionth H001 rifle.             
One of the company's most popular rifles is the award-winning, octagon-barreled Henry Golden Boy, available in .22, .22 Magnum, or .17 HMR calibers. The rifle gets its name from the highly-polished Brasslite receiver cover, Brasslite barrel band and solid-brass buttplate. The rifle is stocked with American walnut, as are all Henrys.  
But Henry rifles are not just for plinking or small game. One of their newest offerings is the Henry Big Boy All-Weather. Available in .45 Colt, .44 Mag and .357 Mag handgun-caliber chamberings, this lever-action makes a good deer rifle, especially as a brush gun. The barrel is chrome-plated steel, the receiver sporting a chrome-satin finish.     
Other popular Henry rifles include their many Tribute Editions saluting military, law enforcement, firefighters, farmers, truckers and others. To see all the many options available, you can order a free Henry catalog by sending an email request to [email protected].
If you'd like to view an original Henry rifle, five are on display at the NRA National Firearms Museum in Fairfax, Virginia. Also on exhibit is Tom Selleck's reproduction Henry from the movie Last Stand at Saber River. 
One special historic Henry, on exhibit at the Smithsonian in Washington D.C., was presented as a gift to President Abraham Lincoln. Richly engraved, gold-plated, and bearing serial number 6, the rifle is considered priceless and a national treasure. Original Henry rifles currently fetch anywhere from $50,000 to $250,000 at auction.