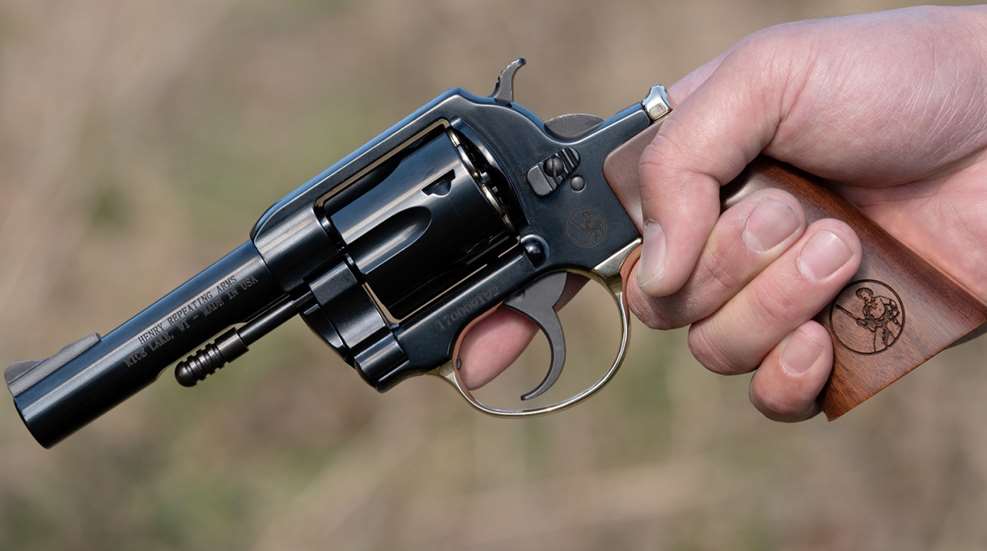 Henry Repeating Arms may be most famous for its "Golden Boy" lever-action rifles, but today's news is likely to change that: The venerable gunmaker has entered the world of handguns with its first-ever revolver. In keeping with naming tradition, Henry's calling this the Big Boy Revolver ... and like the rest of Henry's "boy" line, these fine firearms are sure to enchant wheelgun fans everywhere.
Announced for the first time at the 2023 NRA Annual Meetings & Exhibits in Indianapolis, Indiana, this is big news for two reasons. First, it's a historic release that collectors will relish as an exceedingly rare opportunity to own the first bonafide handgun made by the long gun manufacturer. Second, it's the perfect sidekick for owners of the Henry Big Boy rifle. Chambered in .357 Magnum/.38 Special, the traditional double-action revolver is available in two different grip configurations – the larger, flared Gunfighter style or the more compact, rounded Birdshead style.
The Big Boy Revolver borrows design cues from its rifle counterpart with deep and polished blueing on the medium-sized steel frame, 6-round quick-release cylinder, and 4" barrel, grip panels cut from genuine American walnut, and a polished brass trigger guard that wraps all way around the grip to the top of the backstrap. The fixed notch rear sight and interchangeable front blade sights with different heights provide a traditional revolver sight picture. MSRP is $928. For more information, visit HenryUSA.com!