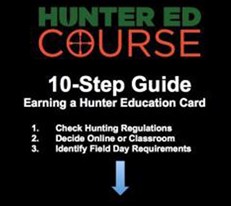 One of the biggest barriers to getting started with hunting is getting the mandatory hunter-education credentials. It can be a little confusing if you're starting from scratch. Well, there's good news: Hunter Ed Course has created a 10-step guide on how to earn your hunter education card. The guide to earning a hunter education card is available here.
Even if a new hunter has someone mentoring them in the sport, the laws regarding the need for hunter education may have changed. The quick 10-step guide makes it easy for mentor and student alike to understand the process and put a plan in place for the new hunter to earn a hunter education card before hunting season starts.
Even better, Hunter Ed Course also offers online hunter education that meets IHEA-USA standards and is an approved course in 13 states across the country. It's available online for only $13 at www.HunterEdCourse.com, and can be a big boon to those whose schedules make attending a traditional two-day classroom course difficult.