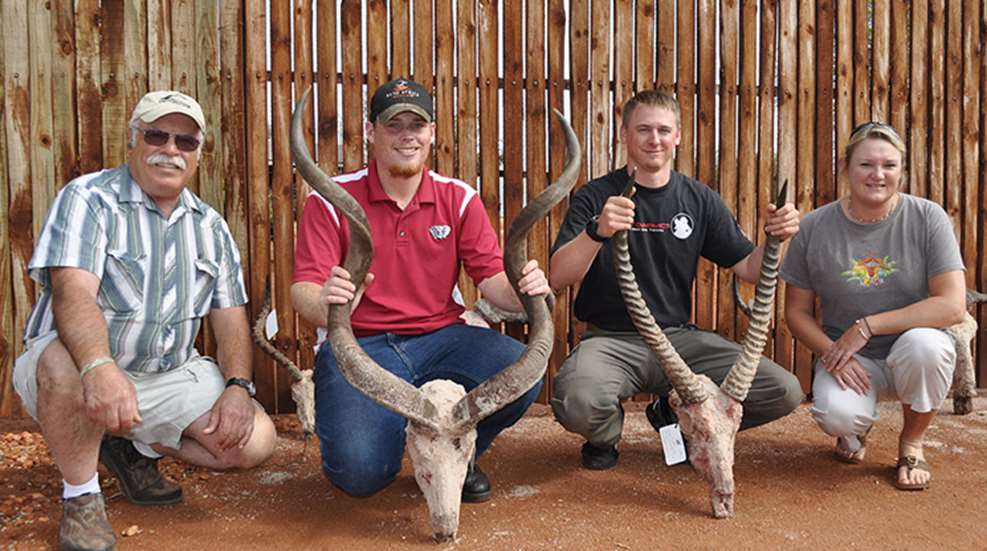 There are roughly 1.3 million Americans who are on active duty in the U.S. Military. During overseas deployments, so many of them spend months, even years at a time away from loved ones. For soldiers returning from these assignments, as well as their families, life often changes in difficult ways.
Thankfully, there are organizations dedicated to supporting these heroes and their families. From local grassroots efforts that send care packages to troops deployed overseas, to national foundations with dozens of programs, they all share something in common: They exist thanks to many dedicated volunteers who simply want to give a little bit back to the men and women who give it their all.
Honored American Veterans Afield
In 2007, a group of shooting sports industry leaders got together and conceived a way to help improve the lives of soldiers returning from overseas deployments. What they developed was the deeply committed, non-profit partnership Honored American Veterans Afield (HAVA).
HAVA's mission is to help disabled combat veterans re-integrate into American life, and rebuild their self-confidence by reconnecting them with the outdoors and the traditions of hunting and firearms. Its hope is for all veterans to realize that so many wonderful things are possible despite disabilities.
HAVA limits the number of events that it sponsors or hosts so that it can concentrate on making sure that each event benefits the veterans in the best way possible. One such event, hosted by HAVA since 2008, is National Family Day. It's for disabled veterans, soldiers and their families. Attendees have a day filled with numerous events and activities for all ages including demonstrations from professional shooters, chances to shoot a variety of firearms, musical entertainment, a raffle and a separate shooting stage for the kids with airsoft guns.
Kieve-Wavus
If you've never seen the sun rise on the eastern shores of Maine, it's definitely worth losing a few hours of sleep on a summer morning. On the banks of beautiful Damariscotta Lake in mid-coast Maine, soldiers and their families learn how to reconnect at the Kieve-Wavus Veterans' Camp.
Kieve, a summer camp for boys since the 1920's, has opened its doors to many deserving people in the last decade. After the events of 9/11, Kieve began hosting a camp to help affected families reconnect in a variety of ways. In 2010 Kieve extended its programs to veterans returning from Iraq and Afghanistan, with its first Veterans' Camp. Successful from the start, this camp has lots of unstructured activities all in an effort to encourage fun and relaxation. There is an outdoor ropes and adventure course, a state-of-the-art indoor climbing wall, day trips and entertainment. Participants can go fishing, take pottery, Tai Chi or cooking classes and in the winter, try out snowshoeing, cross-country skiing and ice fishing. The object is to provide challenging, fun activities and build rapport and camaraderie. Most importantly it gives veterans and their families a chance to get away from home and the demands of everyday life. The non-profit group raises all the money (mostly thanks to generous donations) so that veterans and their families can attend the camp for free. While the Kieve Veterans' Camps don't focus on therapy, it could be argued that all these adventures and opportunities are definitely therapeutic in their own way.
Lone Survivor Foundation
Picture hundreds of acres of wide-open space and clean air under clear Texas skies-the kind of place that leaves your spirit refreshed for new experiences. Such a place is the vision and goal of the Lone Survivor Foundation.
The LSF was founded in 2010 by Retired Navy SEAL Marcus Luttrell. Five years earlier, Marcus was the only Navy SEAL to survive Operation Red Wing in Afghanistan. He recounted his experiences in the best-selling book Lone Survivor: The Eyewitness Account of Operation Redwing and the Lost Heroes of SEAL Team 10. Awarded the Navy Cross for his actions during the campaign, The Lone Survivor Foundation is this hero's way of giving back to those who serve. It's also a great foundation to support and be a part of.
Through short-term retreats, advocacy programs, education, counseling and inspiration the LSF provides unique therapeutic opportunities to help the recovery process for everyone in the family. The foundation emphasizes using natural settings and outdoor activities to promote healing and works with government and other non-profit agencies to give wounded warriors' families the resources for their needs. Support for the Foundation has been steadily growing. Nearly 600 attendees attended the Second Annual Gala in September in Houston, Texas, where country star Jack Ingram entertained and speakers including Texas Governor Rick Perry and Luttrell helped spread the word about the Foundation's positive mission.
The ultimate goal of the Lone Survivor Foundation is a wellness retreat on Texas ranch land. The ranch encompasses numerous outdoor activities, physical rehabilitation and emotional wellness programs geared toward the whole family unit. Until the ranch opens, the LSF helps fund rehabilitation and recovery programs at other donated ranches in Texas.
Operation Second Chance
It all started back in 2004, when Cindy McGrew was browsing the Web for news of an Army friend of hers. When she learned that some soldiers from his unit were being sent home wounded, she felt called to help them and their families. What began as hospital visits, picking up groceries and bringing favorite movies became so much more. As more people volunteered and fundraised, Operation Second Chance (OSC) was born. Now, OSC helps the families of wounded veterans with financial assistance like plane tickets and mortgage payments. But what many vets find most enjoyable are the outings-whether it be a simple barbeque or a cross-country trip, OSC has hosted a number of recovery retreats. Knowing how much many vets relish the chance to get back to the outdoors, this mission evolved further to Operation No Person Left Behind (NPLB). NPLB is staffed by experienced outdoors people, who offer over 20 hunting and fishing outings each year, tailored for the individual needs of the wounded vets.