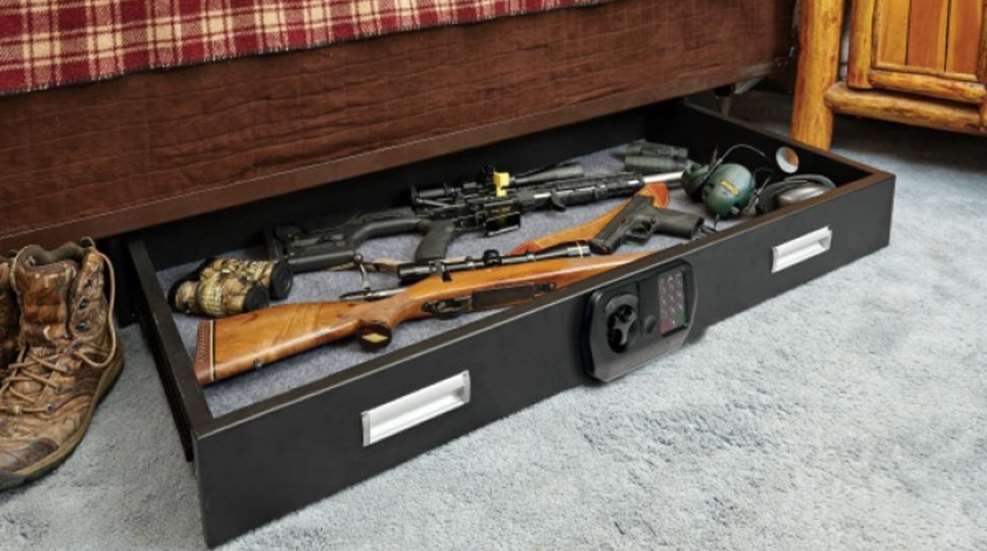 The question of how best to store and secure your firearms is best left to each individual family. Most NRA Families interested in home defense are essentially dealing with two competing needs: The need to keep defensive guns out of the wrong hands while ensuring that they're quickly available to the right ones. It's relatively easy to find a good pistol safe, but a secure storage container for long guns like carbines and shotguns can be a bit tougher. SnapSafe, a company we've covered in this space before, has come out with a new solution: Under Bed Safes. Designed to keep larger firearms, ammunition and other valuables secure, these three right-sized safes allow quick and convenient slide-out access when needed.
One of the coolest things about the SnapSafe Under Bed Safe is a slide-out drawer that allows easy access to the safe's contents. Don't worry if your bed isn't all that far off the floor; all models have a slim profile for mounting below a bed's frame. Large and XXL models are wide enough to hold most defense shotguns and carbine rifles, while the medium-sized safe is best suited to pistols or other valuables like jewelry, documents, data backup hard drives and extra ammunition.
All Under Bed Safes are secured by a digital lock. You program it with a three-to-eight-digit access code, which you can open with a push-button keypad or key backup. The ability to set multiple safes with the same code means there's only one number to remember; this feature ensures quick access in a stressful situation!
Under Bed Safes' pry-resistant door and heavy-duty 14-gauge steel construction blocks unauthorized users. For added security and to prevent safe theft, all Under Bed Safes come pre-drilled for permanent installation or anchored with a rugged 5" cable. MSRP $482-$665 depending upon size chosen; snapsafe.com