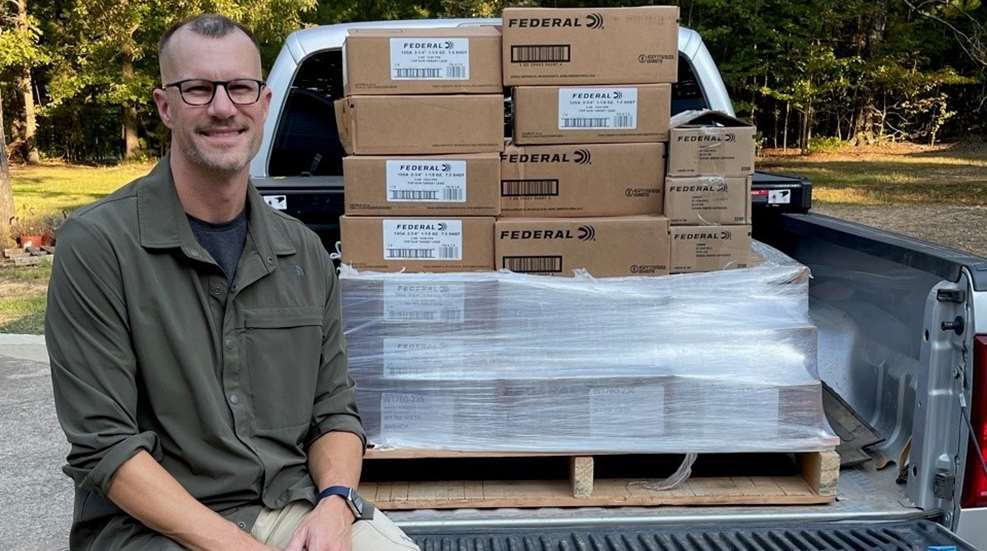 Time flies like a Federal bullet when you're having fun! As we've reported here in the past, Federal Premium Ammunition turns 100 years old this year (although we must say it doesn't look a day over 60). As part of its centennial celebration, Federal partnered with your friends here at the NRA to hold one of the largest sweepstakes in Federal's history, with more than 54,000 rounds of ammunition (valued at over $28K) at stake. Today, the winner has been announced ... and we here at NRA Family couldn't be happier to hear what he's going to do with it.
The winner? Tom from Arkansas, and here's his reaction to the news of his win. "I give my sincerest thanks to Federal Ammunition for this undeserving prize," said Tom. "This ammunition will be a blessing to both my family and friends. But beyond that, it will also be used by my son's high school trap team."
It's always lovely to see someone spreading their good fortune among friends and family, but it's even nicer to see it being invested in the next generation of safe, ethical shooters. "This sweepstakes was a great way to accentuate Federal's 100-year anniversary celebration," said Federal's Director of Marketing, Brian Anderson. "The scope of the ammunition included in the prize package showcases the wide range of ammunition and innovation throughout Federal's 100-year history. This was a fun sweepstakes event, and we congratulate the winner."
There's much more to Federal's 100th birthday than the giveaway. The company's centennial celebration is as much a look into the future as it is an homage to the past. (That's only to be expected from a manufacturer whose reputation has been burnished by 10 decades of dedication to providing the best in ballistics.) Each month, Federal drops more fascinating stories of the last 100 years on its anniversary website, which it's dubbed "A Century of Authority." What's next for Federal? We'll keep you in the loop!