by
posted on June 12, 2023
In all of North America, there is no more spectacular, rugged, awe-inspiring mountain scenery than that found in Glacier National Park. Located in northwest Montana, the park is far from most major U. S. population centers, but its remoteness benefits the park's biology. Glacier is one of only a handful of America's national parks that is nearly biologically complete, home to almost all of its original native plant and animal life.

The park was named not so much for its current glaciers but rather the many giant ice sheets—some more than a mile thick—that sculpted the landscape thousands of years ago.  Formed were U-shaped valleys, glacial cirques (semicircular hollows on mountainsides), arêtes (narrow mountain ridges), and large outflow lakes radiating like fingers from the base of the highest peaks. The result is mountain scenery that is absolutely stunning.

Someone intimately familiar with the park is Tom Ulrich, a long-time professional wildlife and outdoors photographer (www.tomulrichphotos.com) who lives near West Glacier, Montana, the same town where the park's headquarters are located. Originally from Chicago, he first visited Glacier 41 years ago, mainly to photograph the park's official symbol—mountain goats—and decided to stay.

"My favorite spot to photograph is the Logan Pass area," said Ulrich. "I also like the Many Glacier area.  But any place in the park is great; there are photos most any place you care to travel. And even if a person is not a photographer, don't miss the summer wildflowers in the high-country, they are more than worth the hike. "

When asked about grizzly bears in the park, Ulrich said that he has, "…seen quite a few, but fortunately have not had an altercation with one. I have a healthy respect for grizzlies, and try not to put myself in situations where I might inadvertently surprise a bear." (see story sidebar)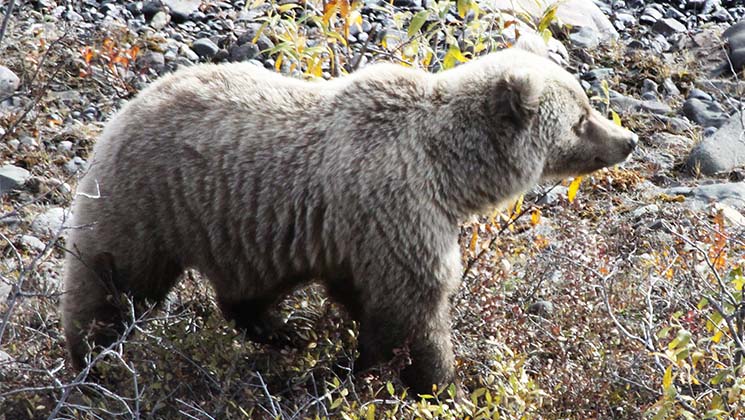 Ulrich said that he's taken some great grizzly bear photos in the park, but did so from the safety of a vehicle when the bear(s) were busy eating berries or otherwise occupied.  There are more black bears in the park than grizzlies, according to Ulrich, but neither species is considered numerous.        

For photographing the more common large species of wildlife at Glacier (sheep, goats, moose, deer, elk, etc.), Ulrich recommends at least a 300mm lens, with 400mm being even better. For scenic shots, bring a wide-angle lens or two. A photo tip Ulrich shared concerning mountain scenery is that he believes there are more options for scenic photography on the east side of the park than the west.
As for time of year to visit Glacier, summer and early fall are most popular. And when planning a visit, keep in mind that the main park highway (Going-to-the-Sun Road) is usually not clear of snow until mid-June. If you would prefer to not drive while at the park—allowing more time for safe rubber-necking—a fleet of restored 1930s
White Motor Company
coaches, called
Red Jammers
, offers sight-seeing tours. 

If you enjoy hiking, 700 miles of trails spider-web the park. For overnight accommodations, several campgrounds are available, and Glacier National Park lodges are legendary for their architecture, atmosphere, mountain views, and cuisine.

Glacier National Park, more than a million acres of wilderness in Montana's Rocky Mountains, is known as the "Crown of the Continent," with ecosystems ranging from prairie to tundra. Established in 1910, Glacier borders Waterton Lakes National Park in Canada. 
Together, the two parks are known as the Waterton-Glacier International Peace Park, designated a World Heritage Site in 1995. For more information about Glacier and to begin planning your 2016 visit, go to
https://www.nps.gov/glac/
.
Sidebar: Bear Safety in Glacier National Park
Glacier National Park is home to both grizzly and black bears—the grizzly being the more unpredictable in behavior. Some 300 grizzlies inhabit the park, and although bear attacks on humans are rare, one or two happen yearly. Ten bear-related deaths have occurred in the park since 1910.    

John Waller, Glacier National Park's bear biologist, recommends making noise when you hike so that you don't surprise a grizzly bear at close range. "Clap your hands occasionally and speak loudly, saying something like, 'Hey, bear, hey…,' which will give any bears within ear shot a chance to hear you and move away." Another of Waller's tips when hiking in the park's backcountry is to always carry a canister of bear pepper spray and have it readily available, not buried in your backpack.  

If worse comes to worst and a bear charges, it might—if you're lucky—be a bluff charge, the bear stopping just short of attacking you. But if you are attacked by a grizzly, interlace your fingers, wrap your hands around the back of your neck, lie on your stomach and play dead. And try to keep your backpack on, as it will help protect you. 

If attacked by a black bear, fight back vigorously, gouging the bear's eyes and whatever else you need to do to protect yourself. Again, bear attacks are extremely rare, but knowing what to do if the unthinkable happens—and taking quick action—will help you survive.