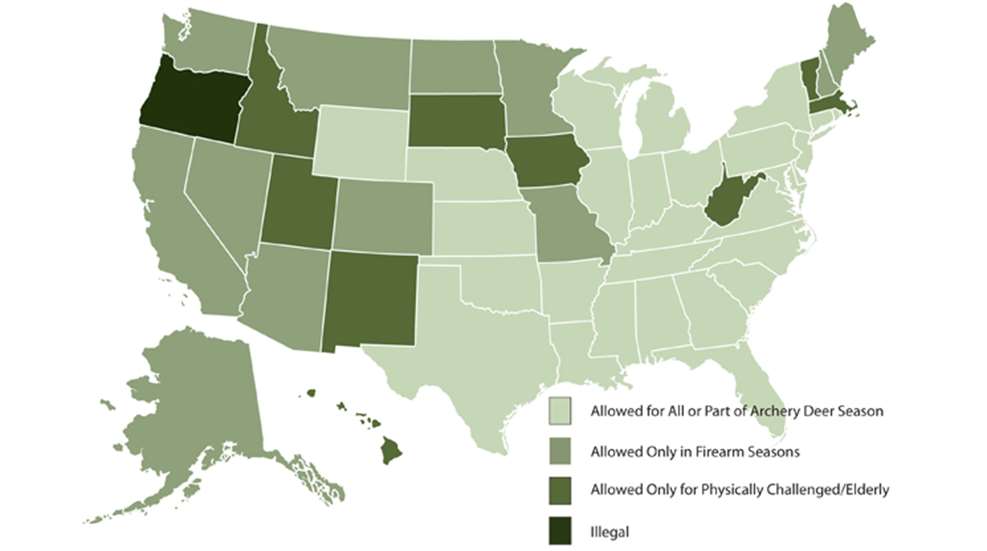 Call it what you want-a tsunami, avalanche, flash flood, tidal wave or runaway snowball-but public sentiment for crossbow hunting has been an unstoppable force since 2007.
In fact, more than half of the United States-specifically, 28 states-will allow bowhunters to use crossbows for at least part of their archery deer seasons this fall. Twenty-four will allow them during the entire archery season.
Few forecast this momentum swing when the century began. The short list of states allowing crossbows during archery seasons in 2000 contained the same three names it held in 1977: Ohio, Arkansas and Wyoming.
Momentum started shifting when Georgia joined the list in 2002 and Alabama followed in 2004. Then Tennessee and Virginia jumped aboard in 2005, as did Kentucky by opening part of its archery season to crossbows.
Although stiff opposition to further expansion by "Xbow" foes kept the crossbow torrent contained in 2006 and 2007, its surge resumed in 2008. Over the next seven years, 20 more states joined the list-all of them in the eastern two-thirds of the nation, otherwise known as "Whitetail Country."
Here's how it breaks down:
24 states allow licensed bowhunters to use crossbows throughout archery season;
4 states allow crossbows for significant portions of archery season;
12 states allow crossbows during big-game firearm seasons;
8 states allow crossbows for physically challenged bowhunters;
1 state (Iowa) allows crossbows for those at least 70 years old;
1 state (Oregon) forbids crossbows for all hunting.
The two states to expand crossbow hunting most recently were Wisconsin and New York. Both of these tradition-bound whitetail states spent decades embroiled in divisive debates over crossbows that pitted state bowhunting organizations against crossbow proponents.
What unleashed the 25-state gain in crossbow hunting the past 12 years? More than anything, it was widespread grassroots support from hunters, politicians and hunting organizations who consider crossbows a viable option for expanding bowhunting opportunities. The NRA, for instance, steadfastly supports crossbow use, as does Safari Club International.
State Rep. Mary Czaja, a Republican from north-central Wisconsin, worked with Democratic colleague Chris Danou from western Wisconsin to push crossbow hunting through the state's Assembly in 2013. Czaja grew up in a hunting family, bowhunts herself and turns her home into "deer camp" each fall.
She said she knew her bill was a winner when her hunting constituents in Lincoln and Langlade counties consistently sighed the same three-word reaction to her legislation: "It's about time."
Czaja agreed. She's heard all the arguments against crossbows, and can rebut each one with data, research and personal experience. For instance, she recalled being irritated when her ex-husband had to jump through bureaucratic hoops to get a disability permit to use a crossbow.
She also recalled how she could not draw her 45-pound compound bow after battling cancer. She reduced its draw weight to 35 pounds, but didn't feel comfortable hunting with it set so low. She said people should be free to use a crossbow without the humiliation of proving a physical deficiency.
Czaja also views crossbows as tools for boosting hunting participation by youths and females. "Crossbows increase opportunities for everyone," she says. "Females are the fastest growing segment of hunters, and crossbows will increase those numbers even more."
Similar sentiments drove the debate in New York the past year. Rick McDermott, chairman of the New York Crossbow Coalition, said "Upstate supporters" helped persuade lawmakers to find a crossbow compromise. In addition to being restricted to specific days of the archery season, crossbows remain banned in Nassau, Suffolk and Westchester counties.
"There were not enough (proponents) engaged (in those counties) to call or write their legislators in support of crossbows," McDermott told David Figura, outdoors editor of The Post-Standard in Syracuse.
Politicians weren't the only ones hearing from their constituents in recent years. Matt McPherson, the Steve Jobs-like guru behind Mathews Solocam, Genesis Archery and Mission Archery, surprised the archery/bowhunting world in August 2012 by unveiling his first crossbow, the MXB, under the Mission brand. He said the crossbow's time had come.
"We invite about 170 retailers to our headquarters (in Sparta, Wis.) every year," McPherson said. "In almost every case, I'd say: 'So, you're telling me you don't like crossbows, right? But I should build one, right?' Yep. That tells me their customers were demanding it. These are retailers who, in the past, never wanted us to build a crossbow. But by not competing in that growing market, they were losing revenue and so were we. If retailers can't stay healthy, they can't stay in business. They were leaving money on the table, and it was somebody else's table."
McPherson says he prefers compound bows, personally, but he also believes crossbows will make bowhunting stronger and healthier.
"The crossbow is here to stay, but no one is forcing anything on anyone," McPherson says. "Nobody will make you sell crossbows, buy crossbows, shoot crossbows or hunt with crossbows. Everyone has different opinions and we must allow people to have their opinions."