by
posted on September 19, 2017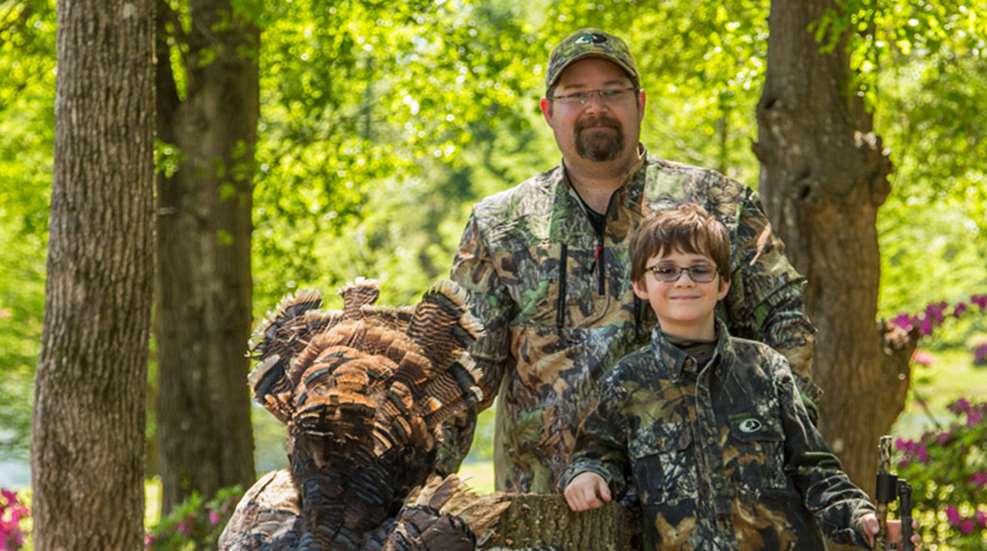 You no doubt enjoy the outdoors or you wouldn't be reading NRA Family. But do you also enjoy writing and photography? If so, you just might be interested in an outdoors career field that fits that skill set perfectly: outdoor-magazine editor. Matt Lindler holds such a position with the National Wild Turkey Federation, headquartered in Edgefield, South Carolina, and shares some of his hard-won expertise about his job in the following interview.  
How long have you worked for the National Wild Turkey Federation (NWTF), and what other positions have you held within the organization that helped you advance to becoming an editor?
This April, I will have worked for the NWTF for 19 years. I started as a Staff Writer and Photographer. I wrote press releases, stories for Turkey Call magazine and The Caller, our member newsletter, and covered all of our events with a camera. After about six months, I was tasked to develop a magazine for our youth members, or JAKES, which stands for Juniors Acquiring Knowledge, Ethics and Sportsmanship. I developed JAKES Magazine (now JAKES Country) from scratch, and we published the first issue in January 1999. At 26 years old, I was the editor of a magazine with a subscription of 45,000 kids across North America. Over time, I worked my way up to Photography Director and finally up to editor of Turkey Country, the NWTF's flagship magazine for its adult membership.
What experiences—outdoors or otherwise—did you have as a kid that helped prepare you for this career?
The first 12 years of my life I lived on an old tobacco plantation that was mostly converted to pecan groves. My friends and I played in the woods and fields nearly every day. While I shot squirrels and rabbits with my air rifle and an occasional rattlesnake with a shotgun, I didn't really start hunting until I was in my teens, when a friend and his father took me under their wings to teach me about hunting doves, quail and deer. But my rural upbringing gave me an appreciation for the outdoors, wildlife and its behaviors. The experiences I gained hunting deer and upland birds gave me a deep understanding of their habitats and how those animals used different parts of their range throughout the day and even throughout the year. Those outdoor experiences gave me a strong foundation in conservation, which is core to the mission of the NWTF: the conservation of the wild turkey and the preservation of our hunting traditions.
How would you suggest a person today prepare for a career as an outdoor-magazine editor?
If you enjoy telling stories, writing and being creative, this career might be suited to you. Start a journal, write about your adventures, create stories that involve the world around you. The more you write, the easier writing becomes. Pay attention in English class, and learn proper grammar. Nothing frustrates an editor more than getting a story from a writer who uses sloppy grammar. I went to college and earned a degree in journalism and photojournalism. You don't have to have a college degree if you have talent, but it does help when seeking a job. Also consider volunteering or interning at a magazine or for a conservation organization over your summer breaks. That will give you as much or more actual experience than a college degree. And volunteer to work on the stories no one else wants to do. But the most important thing you can do to prepare for such a career is to write, write, write! Write about everything. 
What do you enjoy about your job?
I enjoy meeting people from across the country as I travel. I love producing magazines that teach others about hunting and conservation. I feel like I'm actually making a difference in the world by providing knowledge to help people improve habitat and secure the future of wildlife conservation. 
What do you like least about the job?
I'm an outdoorsman, and I love being outdoors. While I do get to travel and hunt all over the country, a lot of my time is spent behind a desk and on a computer. I'm also not fond of preparing budgets and keeping up with paperwork, but it's part of the job that has to be done.
What other things do you do for the NWTF?
I've had the chance to experience many aspects of the NWTF through my job. I work closely with our staff of wildlife biologists to plan stories. I work with our TV producers to help film, write scripts and talk about hunting and firearms on our shows: Turkey Call, NWTF 365 and Save the Habitat. Save the Hunt. I've even appeared on TV shows produced by Mossy Oak, Hunters Specialties and other outdoor companies. Recently, I was part of a web show on the NRA's American Hunter website. I have trapped wild turkeys for release across the country and even traveled to Mexico and Canada trapping and releasing turkeys as part of restocking and research programs. I guess you could say that I have my "Royal Slam" in turkey trapping.
Do you have an interesting story to tell about your job?
You never know what's going to happen from day to day in the magazine world. You also never know who's reading your stories and what influence your work may have on others. For instance, I was editing at my desk one day when the phone rang. It was Sammy Kershaw, the country music star. His son was a JAKES member, and he had received a copy of JAKES Magazine, our youth magazine, in the mail. Sammy was leafing through the magazine, reading the stories with his son, and he saw all of the different things we were teaching kids. He said he'd been overwhelmed by it and felt the urge to call me and thank me for what I was doing for the future of conservation and hunting. I was absolutely floored. Since that time, I've had many famous people stop me at various outdoors trade shows—like the SHOT Show or the NWTF Convention and Sport Show—and say they enjoy reading my columns or stories or just to say they love the magazine. It's both humbling and an honor each time it happens.
What does the employment future look like for outdoor-magazine editors?
The publishing world is changing by the day. More and more people are getting their information from the Internet, social media, YouTube, etc., than they are from print newspapers and magazines. In the outdoor industry, however, people still like receiving a hardcopy magazine, because they save them and refer to stories over and over. But as newer generations of hunters come along, I foresee print magazines becoming less and less relevant. When that happens, editors will have to adapt to either publishing online or changing the way they share their message altogether. I believe we're now on the cusp of a big swing in technology and information gathering, and it's fun trying to predict where it will go. But wherever information comes from in the years ahead, it will have to be written by someone and edited by an editor, so I see a bright future for people who enjoy doing both.