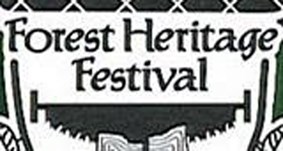 If you live in the Dover, Ohio area and want to support a great cause while educating yourself about the outdoors, don't miss the 19th annual Forest Heritage Festival. This year's festival will be held at the Tuscarawas County Fairgrounds in Dover on Saturday, Aug. 9, from 9 a.m. to 5 p.m., according to the Ohio Department of Natural Resources (ODNR). The festival features entertainment, food, games, craft booths and demonstrations, with proceeds donated to Akron Children's Hospital.
"The Forest Heritage Festival is a great way to showcase the forest resources we have in Ohio," said Robert Boyles, ODNR deputy director and state forester. "Woodland owners and other visitors can take advantage of a variety of fun and educational activities featured at the festival while assisting local families in need."
The festival plays an important role for Akron Children's Hospital. Co-sponsored by the East Central Ohio Loggers Chapter and the New Philadelphia Wal-Mart, the Forest Heritage Festival has donated more than $1 million to the hospital. Last year alone, the festival generated more than $72,000 as part of the Log-a-Load for Kids and Children's Miracle Network programs.
The proceeds are raised through exhibitor fees, a silent auction, donations, food sales, car show entries and a charity auction that will be held at 10 a.m. The auction features many Amish-made furniture items, quilts, autographed photos and sports memorabilia, along with other woodcraft, tools and related items.
The Great Lakes Timber Show will feature an exciting professional logger competition, wildlife and forestry displays and the annual car show. Admission and parking are free. The Tuscarawas County Fairgrounds are located in Dover just off I-77, exit 83. Follow signs to Tuscarawas Avenue and the fairgrounds.
For more information and schedules, visit forestheritagefestival.com.
The ODNR Division of Forestry promotes the wise use and sustainable management of Ohio's public and private woodlands. To learn more about Ohio's woodlands, visit the ODNR Division of Forestry's website at forestry.ohiodnr.gov.