by
posted on April 4, 2018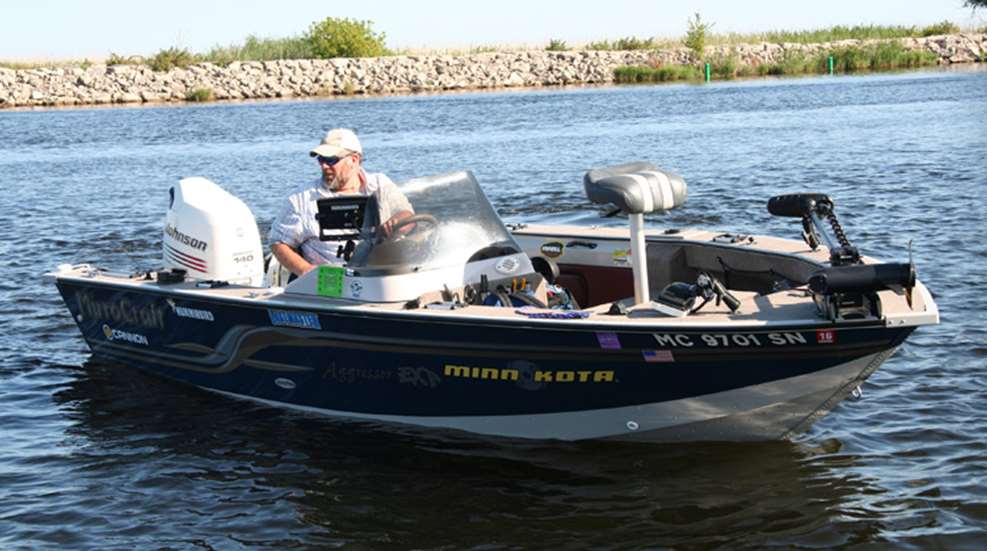 Many fishing guides specialize in a specific species, but Dave Rose is a multi-species fisherman guiding anglers to trout, salmon, smallmouth and largemouth bass, walleye, pike, perch and panfish on inland lakes in northern Michigan—and he's been doing so for some 20 years. Rose lives near Traverse City, attracting most of his clients from that resort town and other anglers within a day's drive. 
How did you prepare yourself to become a fishing guide?
"I've been fascinated by fishing all my life. I can remember, as a 10-year-old kid, going to department stores with my parents, and when they were done shopping they knew that if I wasn't in the toy aisle they'd find me in sporting goods, staring at fishing tackle. So I guess you could say I've been preparing to be a fishing guide most of my life. In addition, it also helps to have an outgoing personality, as you have to be able to entertain clients even when the fish aren't biting." 
Is there anything else you do besides guiding to make a living?
"I'm an outdoors writer and photographer, selling stories to outdoor magazines. I also work part-time for Traditions Media, a public-relations company with several major fishing and hunting corporations as clients. And during the winter, I give fishing seminars. I also host seminar stages at three of Michigan's largest fishing shows."   
Describe a typical guiding day for us?
"A typical day begins the evening before the actual trip. It usually takes me a couple hours to prepare the boat—an 18-foot MirroCraft—with the specific tackle I'll need for the day, including the safety gear. The next day, during summer months, I usually have clients meet me at a particular lake at 5:00 a.m. And I like to get there a half-hour or so earlier to launch the boat and be ready. My typical guided fishing trips last about five hours and are for one or two anglers."
Can you tell a story about a humorous incident that happened while you were guiding?
"I remember one time when I was guiding a father, his young son and a friend of theirs who had tagged along, another adult male. Their friend was a very hyperactive person, even walking around on the gunwales of my boat from time to time when he got bored. And I kept asking him to please not do that, because it wasn't safe. 
"Anyway, it was a warm, sunny early-spring day but the water temperature was still in the 50s, and the guy asked me if he could jump in and take a swim. Before I could answer no, he simply jumped into the lake. Not only did that ruin any chance of us catching a fish at that spot, but with the water being so cold his muscles immediately tightened up and he had considerable trouble getting back into the boat. I think he learned a lesson that day: Listen to the guide and do what he tells you."         
What do you like best about guiding?
"That one previous client aside, I really enjoy meeting different people. I like the camaraderie of fellow fishermen, so if you don't like working with people you probably wouldn't enjoy guiding. Only about half of my clients are experienced fishermen, and it's not easy to get people to catch fish if they know little or nothing about fishing. So if a customer is a newbie, I spend much of our time on the water teaching him/her how to fish. But I enjoy that aspect of the job, especially when guiding a parent and child." 
Can you tell a story about a dangerous incident that happened while you were guiding?
"Some of the summer storms that seem to come up out of nowhere with lightning, hail and high winds present the most dangerous situations. Things are better today now that we have access to cell phones that can warn us of potentially dangerous weather conditions. One of the worst storms I and a client were nearly caught in occurred in 2006. 
"My wife called me on my cell, and she never calls when I'm guiding so I knew it was something serious. She said there was a bad storm approaching with possible tornadic activity associated with it. I thanked her for calling, and when I turned and looked to the west all I could see was this big, dark, ominous sky approaching. My client and I just made it off the lake in time and had the boat back on the trailer when all hell broke loose, with trees literally toppling over on the road behind us as we drove away from the lake."         
What are the downsides of guiding?
"Again, inclement weather. You never know what Mother Nature is going to throw at you. Some days are cold, wet, miserable and the fish just aren't biting. On those days I lower an underwater camera over the side of the boat to prove to clients that fish really are present. But regardless of the conditions, my goal every day is to try and get clients the most and biggest fish they've ever caught. And I work hard to make that happen, every trip." 
What are the monetary costs involved in becoming a fishing guide?      
"Expenses can run pretty high. There is not only the cost of purchasing a boat, motor(s) and trailer, but the cost of maintenance and gas, as well. Add to that an annual guide's license, insurance, rods, reels, bait and other tackle, and expenses really add up quick." 
Anything else you'd like to add?
"Yes, any potential fishing guide needs a fallback plan. For instance, make sure you have a spouse with a real job," Rose grinned. 
 If you'd like to fish with Dave Rose in northern Michigan, he can be reached by email at [email protected]. (And tell him I sent you…)