While turkey hunting in New England the temperatures were unseasonably cold. There was frost every morning, temperatures spanning from 30 to 40 degrees with gray overcast skies and cold, whipping winds. In regard to sitting absolutely still against a tree for hours in this weather, it wasn't the most pleasant experience, but the Cabela's Women's OutfitHER Soft-Shell jacket and pants that I wore made it much more enjoyable.
The Soft Shell line has a hard-faced fleece that is good as an outer layer, and since that was the only pants layer I wore, it felt as if I had a cozy, furry bear hugging my legs. The high collar of the jacket was a great defense from the cold wind that frequently came ripping by me. The Soft-Shell jacket and pants come in Realtree AP.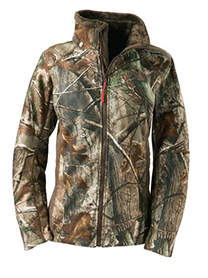 We had an unfortunate run-in with a swamp on my second day hunting, which left my Soft-Shell pants soaked. I opted out for the Cabela's Women's OutfitHER Rainwear pants, which were a great option to wear over my under armour base-layer in the wet weather. Just as comfortable in fit as the Soft-Shell pants, but lighter, the pants come in Mossy Oak Break-Up Infinity or Realtree AP. They are made with soft, brushed tricot polyester with a 100 percent waterproof, breathable and seam-sealed membrane to keep you dry.
Having worn only men's hunting apparel in the past, it was an absolute pleasure to put on this women's hunting line and have it actually fit in all the right places.