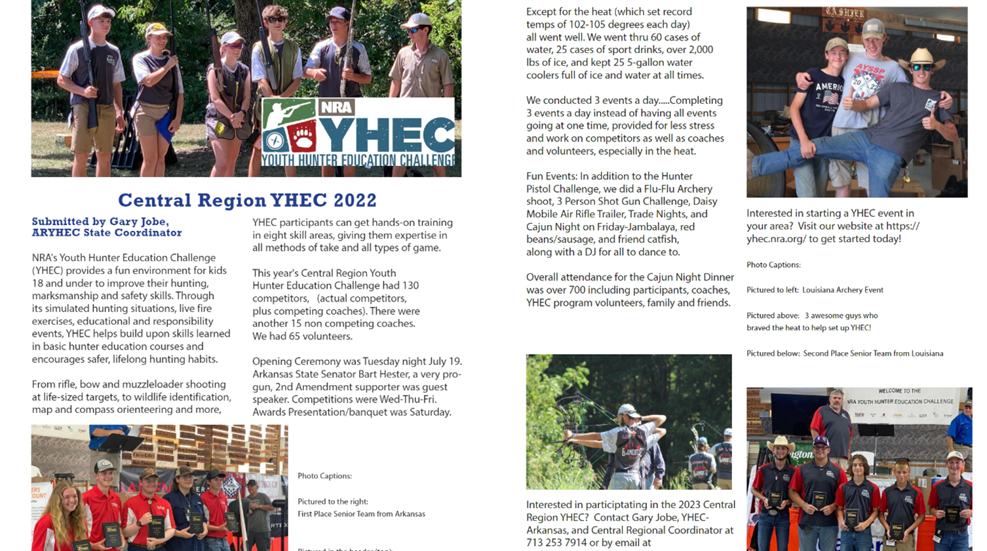 Autumn 2022 has arrived—right along with the crisper air and pumpkin-spice everything—and so has our latest issue of the NRA Club Connection Magazine! NRA Club Connection is NRA's no-charge resource for NRA gun clubs and shooters everywhere. This issue doesn't come with nutmeg or whipped cream, but you'll savor it nonetheless. 
Inside, you'll find some fantastic news for everyone: The NRA National Firearms Museum is open to the public once more! After two long years of pandemic-related closure, our Museum staff has prepared some refreshed, updated displays for you to enjoy. Don't miss the new Doc Thurston gallery, which features over 450 priceless artifacts from America's Old West.
We're also reporting on one of hunting's biggest "little" events: The Youth Hunter Education Challenge! Affectionately known as YHEC, this competition challenges young hunters in eight different disciplines—from archery, to wildlife identification, to orienteering, to marksmanship, and more. 
You'll be pleased to note that we've archived previous issues of NRA Club Connection, so you can catch up on anything you've missed, any time. You can also elect to click here if you like, to be added to our NRA Club Connection mailing list. (Your NRA does not disclose readers' contact information.)

Our grassroots network of affiliated organizations is what keeps the NRA in the forefront of community action to benefit the American public. We honor the hard work and efforts being done at the state and local levels to continue to secure our Second Amendment Freedoms. Click here to enjoy, and from all of us here at NRA, happy reading!