by
posted on October 3, 2014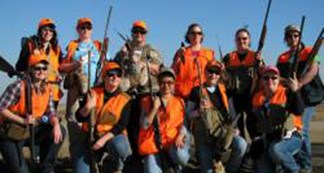 Perhaps you've heard stories about the excitement and sportsmanship of upland bird hunting. Perhaps you're eager to harvest a delicious game bird (or two) for your table. Perhaps you'd just like to meet some new friends who share your interest in the outdoors. It can be intimidating to step out into the hunting fields, though, especially if you've struggled to find a mentor. Well, if you're a woman living in California, Becoming An Outdoors-Woman (BOW), California has an opportunity for you.
The group is collaborating with Hastings Island Hunting Preserve (HIHP) for a pheasant hunt to be held November 7 through 9. This new venue promises to be an amazing hunt, made even more amazing by the fact that all hunting equipment will be provided: shotguns, ammunition and orange vests. HIHP will provide excellent instructors with well-trained dogs.
Participants must have a valid California hunting license with an upland game stamp OR have completed the home study or on-line Hunter Education course. If you want to take advantage of the home study or online course, contact Susan Herrgesell at( 530) 347-0227 to receive a packet of information to help you study. After you register, an e-mail will be sent with directions to the facility and a list of items to bring with you.
Those who need to complete their Hunter Education certification will have the opportunity on Saturday morning. After participants take and pass their tests, the group will take a quick jaunt into Rio Vista to purchase their hunting licenses! Those who already have a valid hunting license will be treated to dog demonstrations in the morning. The group will get in some wingshooting practice Saturday afternoon by shooting clays.
The itinerary will be fast-paced. The group plans to camp at HIHP on Friday and Saturday nights. (Tents and RVs are welcome.) We'll gather on Friday evening for dinner at the HIHP restaurant and a little social time. You are responsible for all of your food for the weekend except Saturday evening, which will include a cleaning and cooking demonstration. The restaurant at HIHP will be open for all meals.
On Sunday morning, participants will have the opportunity to use all of theirnewly acquired skills under the direction of expert instructors, while taking in the vast beauty of this prime upland game bird habitat. The whole experience is fantastic-walking the fields, hearing the crackle of stubble beneath your boots, watching the dogs on the trail of a wily pheasant.
To get the member price, become a BOWCA member today!