by
posted on January 14, 2016
I don't know about you, but I get a little envious when someone tells me about an amazing weekend they spent outdoors. However, if someone told me they spent their weekend ice-fishing, snowshoeing, learning winter survival skills, fly fishing, kayaking, hunting, hiking and camping, I would be furiously green-eyed! So I guess I'd better steer clear of the ladies of NHBOW.
New Hampshire's Becoming An Outdoors-Woman (NHBOW) is a workshop focused on the learning of outdoor skills—such as those mentioned above. The program is designed primarily for women and has an age minimum of 18. NHBOW welcomes all levels of outdoor-experienced participants who want to improve their skills, try new challenges and who are looking for camaraderie of like-minded people.  
For 2016 NHBOW is offering an exciting lineup of different courses, but sign up as soon as you can because they fill up fast!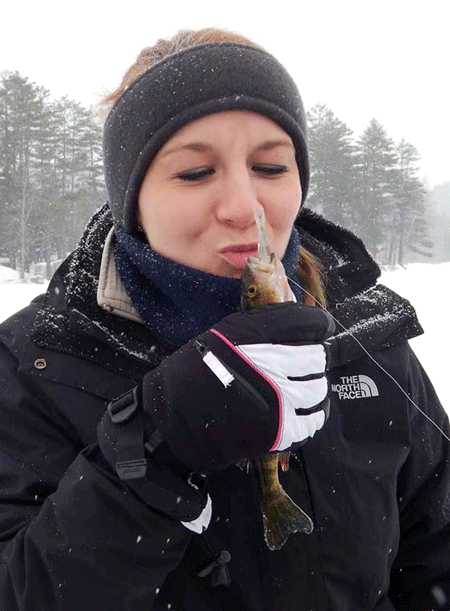 Winter BOW (This workshop is full and registration is closed)
February 20, 2016, 8 am-4 pm. A one-day workshop that allows women to experience ice-fishing, snowshoeing and tracking, winter outdoor survival, or "Shoe and Shoot" (woodland target shooting on snowshoes).
BOW Wilderness Survival (Registration opens April 25, 2016)
June 4th, 2016. Participants will learn how to react to an emergency and survive. N.H. Fish and Game Conservation Officers will teach the necessary skills to build a shelter, make a fire, signal for help, and purify water. Participants will also learn what to pack in a wilderness kit. Cost $55.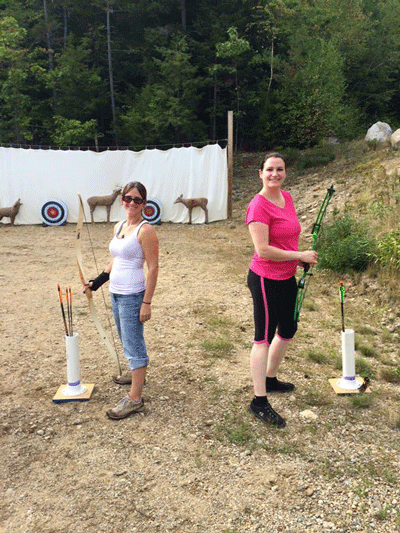 BOW Intermediate Fly Fishing Weekend (Registration opens May 9, 2016)
June 24-26th, 2016. A weekend by the water. Participants learn the basics of fly-fishing such as casting, reading the water, picking a fly and landing a fish. And afterwards, of course, the women are encouraged to become independent fly-anglers! Participants must bring their own rod. Cost $275, which includes five meals and two nights of lodging.
BOW Fall Weekend (Registration opens June 6, 2016)
September 9-11, 2016. This weekend event takes place at the beautiful Rockywold-Deephaven Camps in Holderness, N.H., and it's the biggest BOW program of the year! Participants choose four workshops to take during the weekend. Options include fishing, shooting sports, hiking, outdoor cooking, hunting, map and compass, kayaking and more. For $335 all meals and equipment will be provided, as well as two nights of lodging.
Deer Hunting Basics (Registration opens August 15, 2016)
October 1, 2016. This educational one-day workshop is for the woman interested in hunting whitetail deer. Participants will learn the seasonal habitats of deer, hunting techniques, how to identify sign, game recovery, and the best choice of a firearm for them. Cost $55.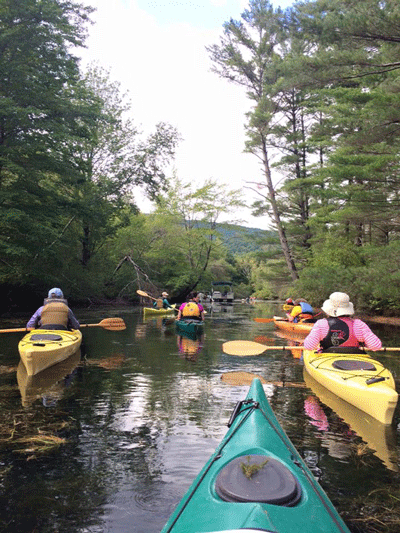 Navigational Workshop (Registration opens August 29, 2016)
October 15th, 2016. After this workshop, participants will find it hard to just "get lost in nature." Instructors will teach the proper way to navigate in the woods, how to use a compass, read a topographic map, how to use a compass and map together, and how to use and read a hand-held GPS. Then participants will get a chance to test their navigational skills in the woods of Holderness, N.H. Cost $55.  
If you're not a New Hampshire resident, there's still no reason to stay inside! BOW is in many states across the nation. They offer more than 80 weekend-long workshops, and a ton of one-day programs. Visit the National Shooting Sports Federation for a list of BOW events near you, or contact your state's wildlife department and request information on BOW programs.
See you in the great outdoors!
Photos courtesy of NHBOW.com. Photos are from the BOW Winter and BOW Fall Weekend 2015 workshops.