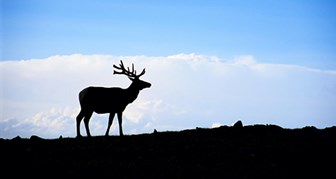 On April 11, 2014, the final group of elk from Kentucky crossed the Virginia border-45 elk, 14 bulls and 31 cows-joined the 30 existing elk in Buchanan County, Va. Out of the 31 cows, 16 were pregnant and have given birth to healthy calves.
In case you haven't followed this story, Virginia used to have its own elk herd until they were extirpated way back in the 1800s. Around the 90s, a big interest grew to restore the elk. Like many other states, previous attempts to restore the population failed. Luckily for us, Kentucky had great success and much of the conservation/management plan Virginia has utilized is from the Kentucky plan.
This weekend, I will be visiting this elk herd, which is currently located on private property. RMEF volunteer Leon Boyd has informed me that they have already begun bugling, and so rather than wait until October, I decided I needed to go as soon as possible. I have never seen an elk in person, nor have I heard them bugle on anything more than a Youtube video. Needless to say, I am beyond thrilled to have this opportunity. You can expect a full rundown of the conservation efforts, the sights, the sounds and lot's of photos upon my return!
Stay tuned!