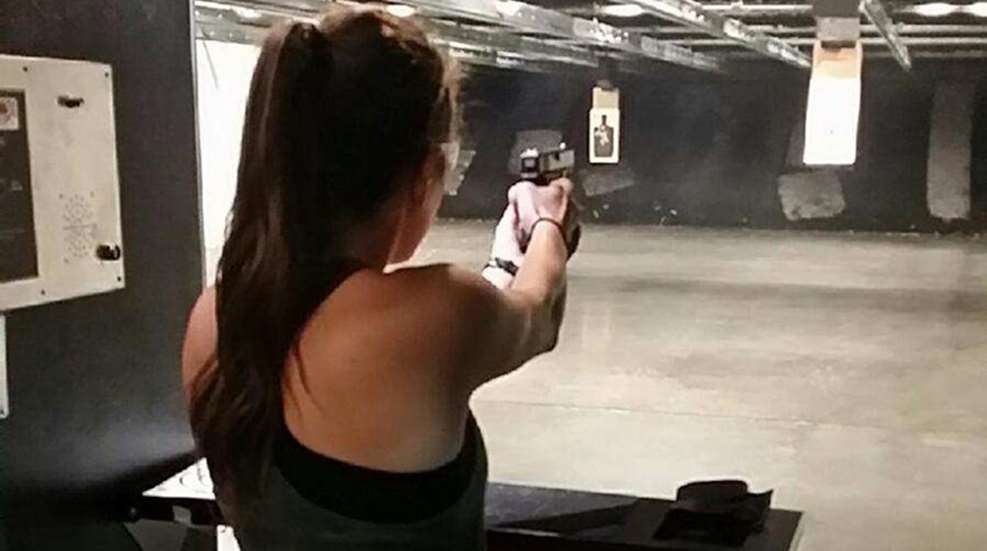 As warmer weather approaches, those of us who carry concealed are always faced with a dilemma: How do I ditch the coat, but still keep my sidearm under wraps? Luckily, folks have been encountering this problem for a while now, and quite a few companies have been hard at work solving its every iteration. Listed below are some of the best solutions we could find (for both men and women), for carrying concealed when it's warm out.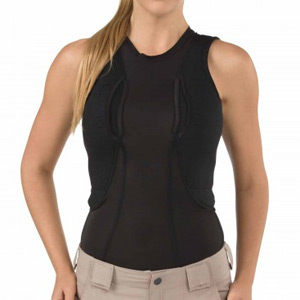 1. The 5.11 women's sleeveless holster shirt is a tried-and-true classic. Form fitting, sheer and breathable, the shirt evenly distributes the weight of your gear for added comfort, and fits easily under most garments. Additionally, the 82/18 polyester/spandex blend is moisture wicking and quick drying, keeping the wearer as cool as possible on even the warmest of days. It is available in both black and white, in sizes ranging from S to 2XL, and retails for $69.99.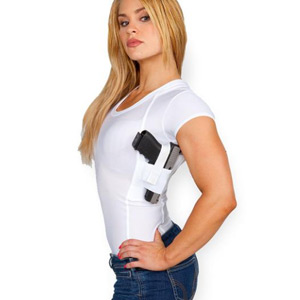 2. Those women requiring a lower neckline for more formal or fashionable wear, should take a look at the Women's Concealed Carry Scoop Neck Tee from Undertech Undercover. The tee features form-hugging material that fits easily under most any top, and two easy-access holsters (one under each arm) to suit each individual's particular orientation. Coming in three colors (black, white and tan), and seven sizes (S-3XL), the Women's Concealed Carry Scoop Neck Tee is priced at $59.99.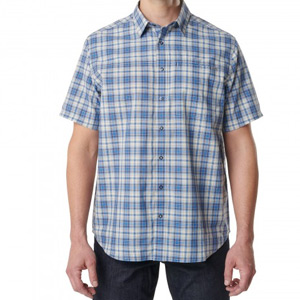 3. 5.11's CCW offerings for men are a little more varied, with new additions to the lineup being added rather frequently. One of these new additions is the Hunter Plaid Shirt. Coming in a variety of plaid colors, the short sleeved button down utilizes 5.11's patented RAPIDraw placket, for quick and easy access to a shouldered sidearm. The shirt also includes a hidden pocket at left chest, and comes in sizes ranging from XS to 2XL. It can be purchased today for $39.99.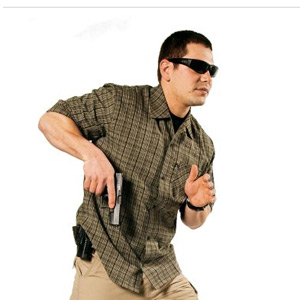 4. BLACKHAWK! Men's 1700 Concealed-Carry shirt is an excellent choice for anyone looking to discreetly carry inside or outside the waistband. The shirts run large to reduce printing, feature a number of chest- and neck-level visual cues to keep attention off the waist, and come in six patterns specifically designed to break up a firearm's profile. Additionally, they are made with a large zippered interior document pocket, a pleated back yoke to increase freedom of movement, and lower side slits to offer better access to the waistband. The shirts run from S to 3XL, and can be purchased for between $59.99 and $64.99 on BLACKHAWK!'s website. (At the time of this writing, however, Cabela's is running a sale where you can pick one up for only $19.88! Just follow this link.)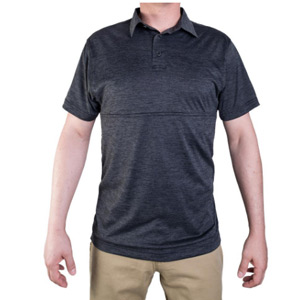 5. The Assessor Polo, from Vertx, is designed with appendix carriers in mind. The professional-looking polo easily blends into a variety of environments, despite featuring a tuck-in compression layer, underarm gussets for increased freedom of movement, a comms loop on the inside of the back collar, and a mic loop on the front placket. It comes in three colors, and can be purchased in sizes from S to 2XL for only $55.95.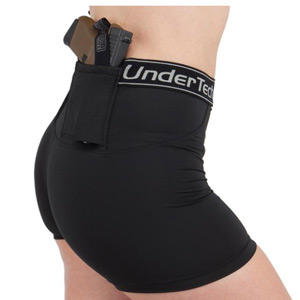 6. With a design based on their popular compression T-Shirt, UnderTech Undercover now offers Compression Concealment 2-inch shorts for women, designed to fit under practically any length of summer clothing. The shorts have two built-in concealment holsters on the back, one on the right and one on the left, to accommodate both right- and left-handed shooters. Because of this, the shorts do not require any belt at all, further expanding the already sizable range of garments they can be worn with. The shorts come in tan, nude and white, from XS to 3XL, and are priced at $59.99.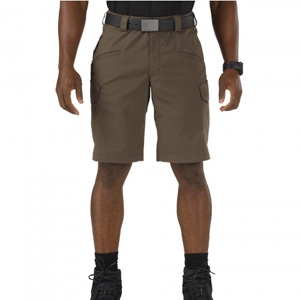 7. 5.11's Stryke Shorts offer men purpose-built shorts for concealed carry. The shorts are durable and flexible, are Teflon finished, and even come with mag compartments in the cargo pockets. Offered in seven colors and a plethora of sizes, 5.11 offers the Stryke Shorts at $69.99.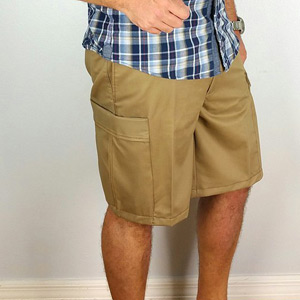 8. Last on this list comes STRYKER Covert Carry, a company offering the first tactical concealed carry thigh holster system. Their pants come in a variety of options: cargo pants, dress pants, shorts and cargo shorts. All of these are designed around the same elastic thigh holster system, accessible through a hook-and-loop slot at mid-thigh, with PVC stitched into the material to virtually eliminate printing. A word of warning though, as I myself own a pair of their cargo pants: Shipping takes a LONG time. It took me close to three months to receive mine. If you are willing to wait a bit, however, they are well worth it. 
Lead image copyright Gregory Yurkanin