by
posted on April 25, 2017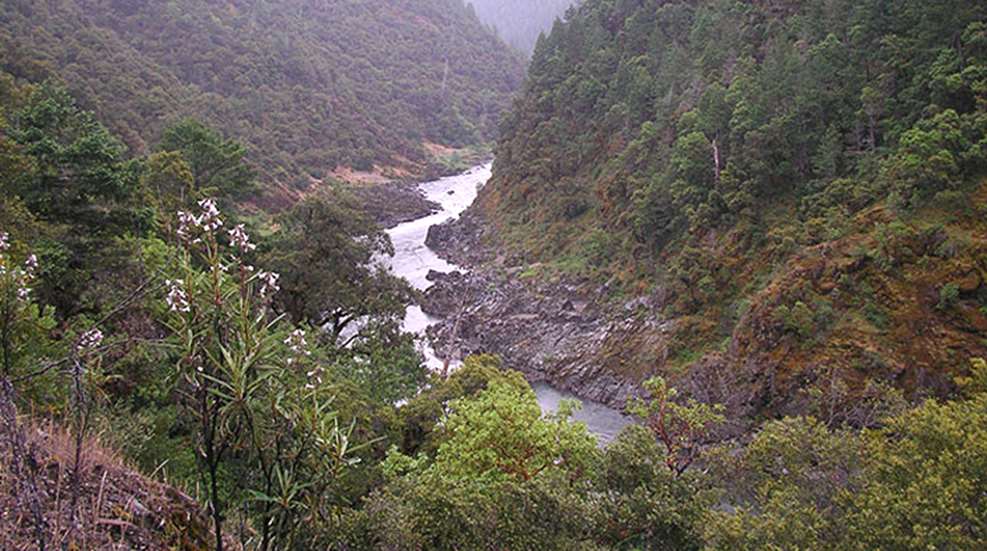 Are you itching to get out and experience the outdoors in a fresh new way? Then grab Mom and Dad and read on about some exciting destinations where you can explore nature, witness places rarely seen and learn about the history of our country and some of the products we still use today. Wherever you go, one thing's for sure-you'll have plenty to tell your friends when you head back to school in the fall!
1. Rogue River, Oregon
Put a little "daring" in your summer plans and visit the Rogue River in southwestern Oregon. The Rogue flows 215 miles from Crater Lake to the Pacific Ocean, and 84 miles of it are designated "National Wild and Scenic." The river is the ultimate place for both whitewater rafting, with Class I (mild) to Class IV (wild!) rapids, and scenic excursions through calmer waters.
Surrounded by forested mountains, rocky banks and steep canyons, the Rogue offers amazing wildlife viewing opportunities. Keep your eyes open for deer, elk, river otter, osprey, kingfisher, bald eagles and, in canyon areas, black bears or mountain lions. On your river journey you'll also float past historic early settlements, mining and Indian war sites. Dozens of rafting outfitters offer half-day to multi-day river excursions. For a truly one-of-a-kind experience catch a ride with Mail Boats-delivering U.S. mail to the remote village of Agness since 1895. If you prefer to stay dry, try your hand at fishing for a champion-size Chinook or King salmon, or hike on part of the 40-mile Rogue River Trail. With abundant camping spots in the region's parks, you'll never be far from an unforgettable river adventure.
2. DeSoto State Park
Get back to nature this summer at DeSoto State Park near Ft. Payne, Ala. Go for a scenic drive through Little River Canyon, practice your photography skills at the 104-foot DeSoto Falls or search for one of several "geocaches" hidden within park boundaries. Interpretive programs are held all summer long at the Nature Center where you can learn about area reptiles, amphibians and ecology or take a workshop on Native American pottery. There are plenty of camping spots, RV sites, a nearby laundry and a camp store in case you forgot the marshmallows. What if you don't feel like camping? Reserve one of the park's chalets, log cabins or a room at The Resort Lodge. On weekend nights from May to November, join in free Campfire Talks in the great outdoors. Cozy up next to the campfire ring and hear about Cherokee legends Granny Dollar and Sequoyah, edible plants, local wildlife and animal camouflage. DeSoto is a perfect spot if you're looking for a weekend excursion.
3. Durango Silverton Narrow Gauge Railroad
There's just something magical about trains. If you're like me, you can't help but look when one passes by. Maybe you've been lucky enough to hop on board as a way to reach your destination. This summer let the Durango Silverton Narrow Gauge Railroad be your destination. The DSNGR has been in operation for 126 years, and today more than 160,000 visitors embark annually for the 4-hour, 90-mile round-trip journey between the railroad town of Durango and Silverton, Colo. Choose from inside seating in coaches or open gondola cars for panoramic views as you travel on the same tracks miners, cowboys and settlers traversed more than a century ago. You'll ride through the remote wilderness of the San Juan National Forest, winding through spectacular canyons and green valleys along the rushing waters of the Animas Rivers.
There are no roads along this route; the only way to witness the scenery is on board this coal-fired and steam-operated train pulled by vintage locomotives. Your destination-Silverton-was founded in 1874 as a center of area mining camps. Both Silverton and the train itself have been the set for quite a few Western movies. The DSNGR also transports backpackers, rafters and visitors to stops for extended hiking journeys and even to a five-star resort that is only accessible by train or helicopter. After this trip, "All aboard!" will take on a whole new meaning.
4. Gold Country, Tuolomme County, Calif.
Do you dream about the days of Wild West, frontier towns and discovering gold? In Tuolomme County, part of California's "Gold Country," you'll feel like yelling "Eureka!" Incorporated in 1850, Tuolumne County stretches along the Sierra Mountains with unique small towns such as Sonora, Columbia, Jamestown and Twain Harte that let you truly experience California history. Search for gold in the foothills-there's still lots to be found! Visit Columbia State Historic Park and be a part of 19th-century life as you sip a cold sarsaparilla at an 1850s saloon, hand-pan for gold or climb aboard a stagecoach. The Stanislaus National Forest has more than 1,100 miles of trails, 811 miles of rivers and streams and 78 lakes-plenty of choices for fishing and hiking excursions.
Plan on visiting the county's outstanding museums for a look at what it was really like during the Gold Rush era-its vigilante justice, pioneer life and rowdy camps-and learn more about early transportation at Railtown 1897 State Historic Park in Jamestown. For a unique diversion, go underground exploring in one of the area's caverns. Of course no visit to this part of Gold Country would be complete without a stop at Yosemite National Park to witness its fabulous terrain, magnificent waterfalls and outstanding rock features.
5. Daisy Museum
Generations of young people have been introduced to the shooting sports with Daisy products. Odds are you have a Daisy in your closet, maybe it was one passed down by your grandfather. If you've been reading InSights regularly, you've probably discovered quite a bit about this company. Why not learn a whole lot more about your favorite plinkers at the Daisy Museum in Rogers, Ark.? Located in the historic Rexall Drug Store building, you'll be amazed at all the unique collections, from antique air guns dating to the 1600s to the complete line of current Daisy products. They even have the first Daisy ever made more than 120 years ago! The whole family will be delighted with the colorful displays of vintage packaging and Depression-era advertisements. But you won't just get to witness Daisy's history. Add to your Daisy collection with limited-edition collectibles such as air guns, medallions and posters only available through the Musuem. And the Daisy Museum is the only place in the world that offers every Daisy product. The friendly folks that run the museum would love to hear YOUR Daisy story!
6. Bob Marshall Wilderness Ranch
Are you looking to get away from it all? See thousands of stars in the night sky and no sound of traffic anywhere? Then head to the Bob Marshall Wilderness in Montana where 2,400 square miles of unspoiled wilderness awaits. Virgil and Barbara Burns, owners of the Bob Marshall Wilderness Ranch, have been outfitting in the area for 37 years and with their experience you are guaranteed a great time in their "backyard." They offer deluxe horseback pack trips for fishing, sightseeing and photography, and big game hunts during hunting season. You'll travel by horseback to places unequaled in splendor...and wildlife! Camps are well-equipped and comfortable and the ranch also has a lodge for before and after your backcountry adventure. Trips can be tailored to your interests: Ride to the fabled Chinese Wall with its amazing peaks, or spend time at beautiful Lena or Koessler lakes. The horses are well-trained and skilled guides and cooks will fill your days with adventure and your bellies with mouth-watering food. Sharing stories around the campfire never sounded so good.
7. The Freedom Trail
Massachusetts is famous for its beautiful fall foliage...and its rich history. For all of Boston's modern marvels, the city is one of the best places to experience Early America. Walk along The Freedom Trail and immerse yourself in a dramatic chapter of American history. Learn about the brave people and events that led up to the American Revolution and shaped our national government. The Freedom Trail encompasses 16 "official" historic sites along a 2½-mile red-brick walking path, that includes museums, churches, meeting houses, parks, burying grounds and other historic markers that will provide you with a greater understanding of our country's fight for its freedoms. You can take a guided tour led by a costumed guide and hear detailed stories about each landmark. Step on board the USS Constitution, the oldest commissioned warship afloat in the world and still manned by the U.S. Navy. Along your journey, walk inside the Old South Meeting House where the Boston Tea Party started and visit the home where Paul Revere lived when he made his famous messenger ride in 1775. Walk the whole trail for one history lesson you won't soon forget!
8. Jamestown Settlement
A history lesson doesn't have to be taught inside a classroom. Discover for yourself the birthplace of America at Jamestown Settlement in Jamestown, Va. Through film, gallery and living history exhibits, you'll hear the story of the original colonists and the Powhatan Indians they encountered. Walk through replicas of the three English ships that sailed here in 1607 and a recreated colonists' fort as costumed interpreters demonstrate early 17th century life. At the Powhatan Indian Village, see demonstrations on how the Powhatan grew and prepared food, processed animal hides and made tools. A special showcase this summer highlights early tools used for hunting, defense, farming and fishing during Colonial times. You'll want to take a side trip to Historic Jamestown, the original site of the Jamestown colony, to watch archeologists excavate the recently discovered site of the 1607 James Fort or walk through the ruins of many original buildings. Just a few miles down the road, the Yorktown Victory Center lets you explore America's colonial roots up close at a recreated 1780s farm and Continental Army encampment. What a great place to find ideas for next year's history project!