Just as there's no such thing as a "one size fits all" concealed carry (CCW) holster, there's no such thing as a holster that will work for every lifestyle and activity. However, there are lots of brand-new-for-2023 holsters that come as close as they can to being jacks-of-all-trades. There are also some terrific new specialized holsters tailor-made for your lifestyle. 
1. The Best of Both Worlds - Versacarry Comfort Flex Deluxe (IWB)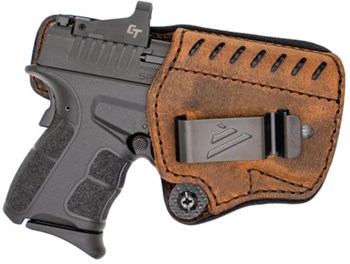 Which is best: 9mm or 45ACP? IWB or OWB? Leather or Kydex? Well, Versacarry has you covered on the latter with their new inside-the-waistband (IWB) offering, the Comfort Flex Deluxe. This holster combines the comfort of leather with the rigidity of polymer, resulting in an IWB holster that serves up the best of both worlds. Sitting comfortably against the skin is beautifully tanned buffalo leather, which extends upwards slightly, providing protection and an additional layer of comfort with its built-in padding. Providing additional structure and rigidity on the inside is a carbon-fiber print polymer. Optics compatible and adjustable for both cant and tension levels, this holster aims to please. For more information visit Versacarry.com.
2. For the Modern Cross-Draw Cowboy- Desantis Roscoe Cross Draw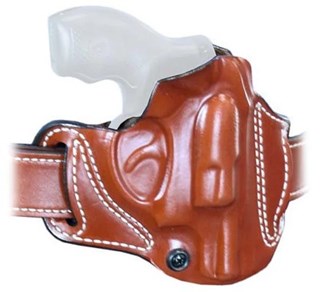 Although semi-autos seem to reign supreme in the world of carry guns, there are some who stick to their guns when it comes to carrying their trusty six-shooter. Catering to this crowd, Desantis has launched the Roscoe Cross Draw, quickly becoming a top seller in the world of revolver holsters. This OWB holster is made from high-end saddle leather in either black or tan and has adjustable tension, allowing you to obtain just the right fit for your firearm. Available in both left- and right-handed configurations to fit a variety of popular 2" small framed revolvers from Smith & Wesson as well as Ruger, the Roscoe is sure to please. For more information visit desantisholster.com.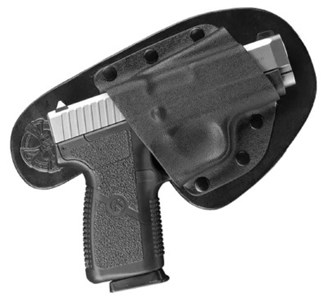 3. Ready Wherever You May Need It – CrossBreed Ohai Modular Holster
From the front, this holster may appear just like any other, but the magic happens on the backside where the Ohai Modular Holster has a built-in hook and loop panel. This panel pairs with additional panels that can be placed anywhere you may find yourself throughout the day, with popular places having been used by previous customers such as the underside of a desk, inside a car console ... even next to the porcelain throne! (Hey, we understand … you don't want to be caught off-guard when you're most vulnerable.) Additional panels can be purchased separately allowing you to plan how to best protect yourself in a wide array of scenarios. For more information visit crossbreedholsters.com.
4. Carry Without Limits – Alien Gear Photon Holster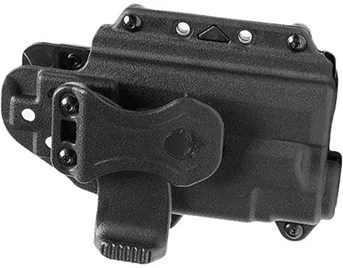 Available in versions accommodating sidearms with and without lights, the Photon holster from Alien Gear checks all the boxes as far as cross-compatibility is concerned. Ambidextrous? Check! Easily convertible between OWB and IWB? Check! Will it fit handguns with lights mounted?  Chickity-check! With these options and many more, such as attachments for a magazine holster, it's no wonder why many shooters now consider this holster the one to rule them all. Additional adjustments for the perfect fit can be made to both the ride height of the holsters, retention as well as the angle at which the gun is canted. For more information visit www.aliengearholsters.com.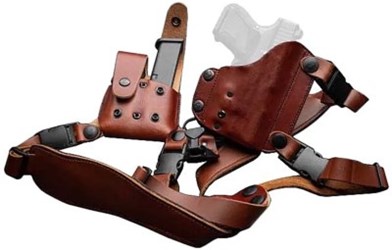 5. DIY Design Your Own Custom Rig – Urban Carry LockLeather Shoulder Holster
Sometimes your job, travel or a myriad of other activities prevents you from carrying your gun the way you may prefer. Having a holster on your hip, regardless of position, may prove to be more of a hindrance as far as comfort and accessibility is concerned. (Sit down for an hour while wearing an appendix-carry holster and you will understand.) The LockLeather Shoulder Holster from Urban Carry solves this issue by providing a system that keeps not only your primary carry, but also backup magazines or even a second gun within easy reach. With comfort and breathability as a top priority, this leather/Kydex hybrid has quickly become a favorite amongst consumers. What's neat about this option is the DIY feature on the Urban Carry website, which allows you to essentially custom-design your rig to best fit your unique needs. For more information visit urbancarryholsters.com.
6. When T-shirts Don't Cut It – Muddy River Tactical Tuckable IWB Leather Holster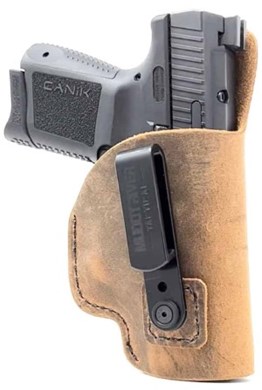 Jeans and a T-shirt have become standard workwear for those who get to work from home, but what do you do when your boss calls a meeting and you must go into the office? Having a holster that allows you to keep your sidearm tucked away while remaining comfortable during long wear times is essential. The Tuckable IWB Leather Holster from Muddy River Tactical does just that. Constructed of water buffalo leather that sits comfortably against the skin, this holster utilizes a special clip that allows for a polo or dress shirt to neatly tuck behind it to conceal to the outside world that you're carrying a firearm. Additionally, if you happen to have an optic on your carry gun, simply let the company know when you're placing your order and they will cut your holster to be optics friendly … free of charge! For more information visit muddyrivertactical.com.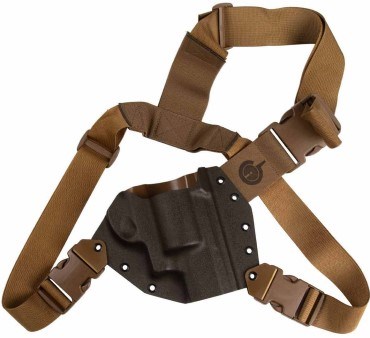 7. For the Avid Outdoorsman – Gunfighters Inc Kenai Chest Holster   
This is a bit of a cheat, since chest holsters are largely not worn for concealment (although it is possible to do it under a jacket). That said ... if a certain way of carrying your firearm is not comfortable, chances are you're simply not going to carry it. Wherever our travels take us and whatever activities we like to partake in, leaving our carry gun at home is not an option. Popular amongst trail hikers, horseback riders, hunters and other adventurers, the advantages of a chest rig are priceless. Comfortable to wear during long hours, this holster allows fully unencumbered movement and ease of access without having to take your eye off the potential threat. Additional options are available for this set up, including magazine holsters as well as carriers for your spare rounds of ammunition. For more information visit gunfightersinc.com.