by
Evan Brune, Associate Editor, Shooting Illustrated
posted on June 15, 2017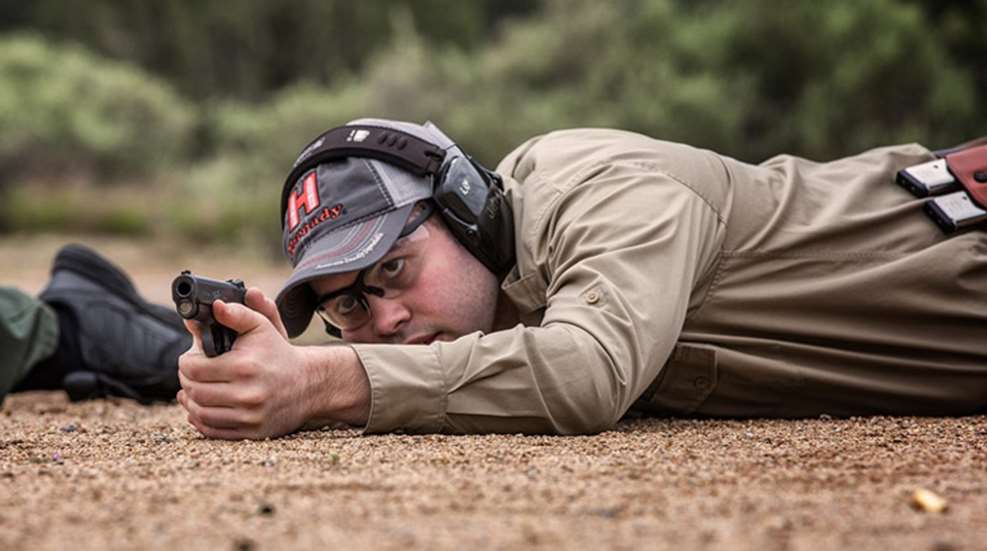 Gunsite Academy is one of the most well-known firearm academies in the world, and for good reason. Founded in 1976 by Col. Jeff Cooper, who developed the "Modern Technique" of the pistol, the school was originally called the American Pistol Institute.
Today, the facility features more than 2,000 acres of training ground, featuring classrooms, a gunsmith shop, indoor and outdoor simulators, pistol and rifle ranges and an on-site pro shop. I attended a weeklong event sponsored by Kimber America, Hornady Ammunition and Galco Gunleather and got a taste of the Gunsite experience. Here are a few things I learned.
1. Gunsite Academy Instructors: The Best of the Best
Gunsite Academy is often considered a necessary pilgrimage for all true gun enthusiasts, and the reasons why became clear early on during the experience. Chief Operating Officer (COO) Ken Campbell and Training Director Dave Hartman oversaw our small group comprised of firearms media.
From the beginning, Hartman and Campbell examined our shot groups, stances, grips, draws and other elements of our pistol skills, and deftly diagnosed shortcomings that led to improved techniques, faster shooting and tighter groups. Their expertise comes from decades of experience and knowledge gained on the front lines of military and law enforcement, and every instructor at Gunsite Academy is required to have a similar knowledge base before being eligible for a position at the school.
Campbell served for more than 35 years with the Boone County, Indiana Sheriff's Office, where, among many roles, he served as SWAT team commander, firearms instructor, armorer and two terms as elected sheriff. Hartman first served in the U.S. Marine Corps and later spent 27 years with the Orange County California Sheriff's Department, where he retired as a patrol sergeant.
2. Movement is Key to Training 
After a few days on the static range, where our technique had improved and our groups had tightened, Campbell and Hartman changed things up. They brought the class to a range ominously called "The Pit." There, a humbling experience occurred for an out-of-practice shooter (Read: me).
The Pit consists of a timed run on a number of steel plates, which are arranged in a way that necessitates a great deal of movement and position changing to engage. Shooters start at a kneeling position, run to a standing position, then run to another stage where prone is required, hop up again to a kneeling to engage more targets, run to another stage where prone is required again and finish up with one simple hostage-rescue headshot.
I won't be rescuing any hostages soon, because the seemingly simple final shot was complicated by heavy breathing, a rapid heart rate and pumping adrenaline. Of course, that was the goal of the course, and it stands as a good reminder that good training forces shooters to perform under pressure, providing a small taste of the stress that comes with life-threatening situations.
3. Kimber Guns Just Run
Kimber brought along a number of its new-for-2017 handguns to the event, including its Micro 9, the Ultra Covert 1911 and the K6s revolver. All of the guns were new in the box, and the guns appeared to have never been cleaned, lubed or fired until we brought them out to the range.
I confess, prior to the event, I was of the mind that Kimber guns were great, but only after they had been broken in and meticulously cleaned and lubed. Putting them through a rigorous, dirty, days-long Gunsite course with a high round count and no cleaning seemed to me to be a recipe for all manner of malfunctions.
However, my experience proved to be quite the opposite! With the exception of a few magazine- and user-related malfunctions, all of the guns performed admirably, despite being covered in dust, grime and powder residue, a testament to the company's commitment to quality.
4. Check Your Cell Coverage 
As a member of the Millennial generation and High Lord of All Things Digital (title pending approval) of Shooting Illustrated, my connection to the world of social media relies heavily on cell coverage, no matter where I am. Unfortunately, in many areas of the American West, cell-phone coverage is spotty, especially when using many of the carriers that are popular on the well-connected East Coast.
If you're one of those socially active individuals who starts feeling a little itchy without a solid cell connection, check your carrier before traveling out. Sprint-covered phones are going to be dead in most areas of the academy. However, Verizon is a popular carrier that works well in remote corners of Yavapai County.
If you're stuck with a carrier that doesn't work at Gunsite, don't fret! The luncheon pavilion features guest WiFi, so you can get connected to Facebook, Instagram, Twitter and all those other vital elements of modern life.
5. Prepare to Return 
The most well-known class at Gunsite is the 250 pistol course, and this iconic class covers the Modern Technique and other basic skills necessary for using a pistol for personal defense. However, in five days on the range, students get to know the instructors and other options available at this famous school, and the wish list for classes starts piling up.
Including the introduction 250 pistol class, Gunsite Academy offers more than 52 classes and special courses. The school also provides off-site training opportunities in Colorado, Indiana, Kansas, Tennessee, Virginia and Washington, as well as private classes.
What about those who've already come and taken classes? According to COO Ken Campbell, a great many of them come back and take the same classes over again. Gunsite Academy is one of those places where true gun enthusiasts just can't stay away. With world-class instructors and one of the best training grounds in the country, who wouldn't want to stick around?