by
posted on July 11, 2017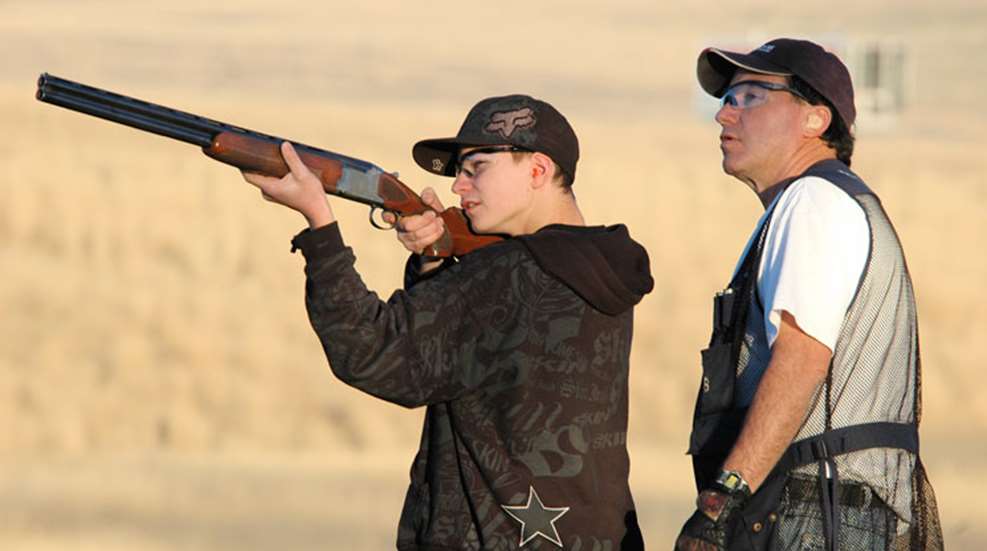 Growing up in rural Ohio, it seemed every family had at least one shotgun. This was due in part to the fact that game laws prohibited the use of rifles for deer hunting, and in part because during the 1980s, quail and grouse populations remained large enough that virtually every fencerow, agricultural field and abandoned woodlot held game birds. Shotguns were used for home protection, to put food on the table, and as a popular form of recreation. It seems logical, then, that many of my friends became involved in shotgun sports. A few of us, myself included, went on to shoot competitively, and most of the articles I wrote when I started as an outdoor writer revolved around shotgun sports and tips to improve wingshooting skills. I've also had the opportunity to introduce many new shooters to the sport, both informally and as a 4-H shooting sports instructor, where kids learn the basic skills of safe gun handling and improve their shooting skills. My wife, who never shot a firearm before we met, is now a very skilled shooter, and most of my friends would rather spend a day on the sporting clays range than the golf course. The shotgun sports can be quite challenging, but that challenge is what draws shooters back to the range week after week. Trap, skeet and sporting clays are also family-friendly sports, and everyone can be involved regardless of age, skill set or gender. Here are five reasons that you and your family need to take up shotgun sports.
                1. It's A Great Way To Teach Safe Gun Handling: I learned to break clays in the back yard with a single-shot .410, and those early sessions were as much a course in safe gun handling as they were about breaking targets. As eager as I was to start smashing clays, my father instilled the basic rules of gun safety with each lesson, and that repetition taught me to respect firearms. I developed a commitment to safe gun handling. At the range, safety is always first priority—actions stay open, muzzles are always pointed in a safe direction, and fingers stay off the trigger until you are ready to shoot.
                2. Kids Can Compete With Adults: One of the first things you'll notice at the trap or skeet range is how many squads are comprised of families—moms, dads, aunts, uncles and kids. This provides a great opportunity for more experienced shooters to help novices improve on every aspect of their game, from stance to sight picture, follow-through to trigger control. Older shooters can help kids learn the ropes, and it's a great way for families to spend time together in the outdoors. And whether your kids are frustrated because they can't break the double at station two on the skeet range, or they're elated that they broke 25 straight at trap, you'll be there to support them.
                3. It Doesn't Require a Lot of Equipment: You'll need a shotgun, some shells, and hearing and eye protection—items that your local sporting goods store has on hand. Some ranges rent guns, and programs like 4-H Shooting Sports can often provide all the equipment young shooters need to get started. To be clear, you can spend a lot of money breaking clays by buying competition firearms, joining expensive clubs, and traveling to competition, but none of that is required to start. There are a lot of affordable guns on the market that work well for kids and adults, such as the Remington 870, Mossberg 500, Stoeger Condor and Weatherby SA-08. 
                4. It's a Challenge For Everyone: Whether you're a new shooter just trying to break a few targets or a seasoned shooter looking for your first 100 straight, there's always something on the horizon. These challenges help motivate us, but they also teach skills like overcoming adversity and the value of dedication and practice. The kids I've taught are all excited when they reach personal goals, which are oftentimes simple—breaking five in a row, taking down their first double, and so forth. Not everyone will become a world-class shooter, but everyone can work on improving their shotgun skills and taking their game to the next level.
                5. Limitless Opportunity: When I was a kid, I didn't have any aspirations of becoming a world-class shooter, but I loved shotgun sports and that passion has afforded me opportunities that I could never have imagined. I've had the chance to shoot competitively on a national stage, and I doubt I would have ever become a professional outdoor writer were it not for the countless hours I spent breaking clays as a kid. My profession has allowed me to hunt and shoot on three continents, and I've made tremendous friends along the way. Whether you want to shoot competitively at local clubs, earn a scholarship for college or aspire to win an Olympic Medal, the opportunities are there. You simply have to give it a shot.