by
posted on August 11, 2023
It used to be that buying bargain guns meant sacrificing quality and craftsmanship. That's no longer the case—heavy hitters in the gun industry are regularly releasing inexpensive yet reliable pistols, many with innovative features and a bit of razzle-dazzle. While the following list is only the tip of the iceberg when it comes to your options, read on for five of our favorite handguns in five different chamberings, all under $500!
1. IWI Masada Slim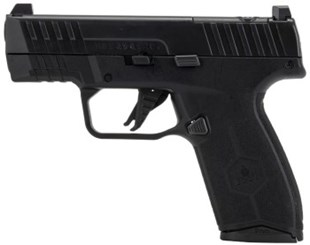 While most folks are fans of IWI for its ever-famous Galil and Tavor rifles, you'd be doing yourself a disservice by not checking out one of IWI's newer offerings, the Masada Slim. Fitting right in amongst the carry guns that seem to be reigning supreme nowadays, this striker-fired 9mm has a slim and compact profile, making concealed carry effortless. The Masada Slim comes from the factory with a white dot front sight and blacked-out rear, and the slide features the RMS Shield optics cut. It's also capable of accepting popular red dots such as the Sig Romeo Zero, Holosun EPS Carry and more. One last feature to note for those who are particular about the bang switch is the flat-faced trigger with built-in trigger safety. Your finger will find the sweet spot naturally along the trigger face, allowing for crisp and consistent shots each and every time. For more information visit iwi.us. MSRP $450
2. Rossi RP63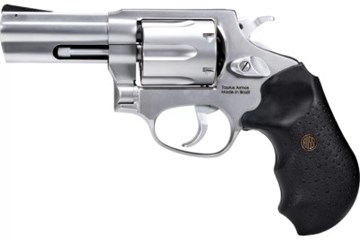 Revolver fans know that the best revolvers can be quite expensive. Rossi took this as a challenge and launched the RP63 at a price point that won't make you grimace as you swipe your card. The RP63 is a DA/SA revolver chambered in .357 Magnum/38 SPC +P, holding six rounds in the cylinder with a bladed sight up front and a fixed sight in the rear. This six-shooter has an overall length of under 9" and a width of under 2", meaning it's not out of the question to carry the RP63 for personal protection. The front sight on this revolver is removable, so if you do plan on carrying it for personal protection, night sights are a definite option to add on as you please. Additionally, the texturized grip on the RP63 aids in optimal recoil management and handling during training. For more information visit rossiusa.com. MSRP $460
3. Ruger LCP Max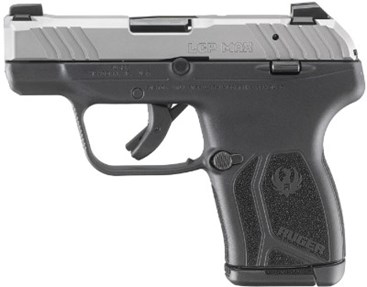 If you worry about easy concealment, take a look at the LCP Max from Ruger. Chambered in .380 ACP, this handgun became a favorite as both a primary and even secondary carry among men and women alike, especially if you happen to be someone who pocket carries.
The overall length of the LCP Max is barely over 5", while the overall width is a smidge over 3/4 of an inch … add to that the fact that the LCP Max weighs in at under 11 oz., and you have before you the little handgun that could! And boy, does it ever. Traditionalists who prefer irons will not be disappointed, as the front sight is a white-outlined tritium sight (making it super visible in low light conditions), and the rear sight is adjustable via drifting it left or right. As far as hand-feel, you have the option for flush-fit baseplates on a 10-round magazine for utmost concealability, with options for 12-round mags as well as baseplates with a pinky extension to allow for a more positive purchase on the gun. For more information visit ruger.com. MSRP $479
4. Springfield XD-S Mod 2 OSP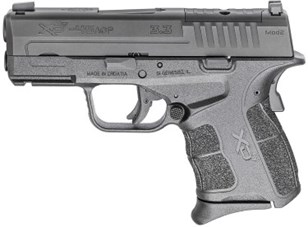 Well, if you aren't familiar with Springfield's XD-S line we invite you to come out from that rock you've been living under to get your hands on the XDS Mod 2 OSP. Chambered in .45ACP, this handgun can do it all: General target practice? Check! Conceal Carry? Check! Fans of Springfield guns and those looking to add another .45 to their collection should give the Mod 2 OSP a run. This single-stack semi-auto is thoughtful in its features when it comes to both safety as well as keeping bulk down, boasting a factory-milled slide for direct mounting of optics without resorting to using obtrusive adapters. It also offers a passive grip safety similar to what you'd find on a 1911. For more information visit springfield-armory.com. MSRP $465
5. Taurus TX-22 Compact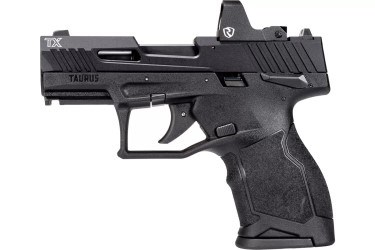 No gun round-up would be complete without the good ol' .22-cal.! Preceded by its big brother, the TX-22, the compact version of this popular rimfire platform is available in an array of options. This includes, but is not limited to, 10 or 13-round magazine capacity, threaded and non-threaded barrels, optics-cut slide (with or without a Riton red dot sight), and more. Chambered in .22 LR, the TX-22 Compact is right at home on the range plinking, on your hip during a walk through the woods or even as a backup gun. Should you choose to forgo the red dot and stick to the stock irons, you'll find a fixed white dot sight up front and a drift-adjustable serrated sight in the rear. Prefer to choose your own optic? The TX-22 Compact ships with the slide already cut to match up to optics such as the Holosun K or Shield RMSc with ease. With these features and more typically packing a much higher price point, choosing this compact from Taurus is a no-brainer. For more information visit taurususa.com. MSRP $400