Your right to carry a firearm for self-defense not depend on the season or activity you've set out to enjoy. While it may take a bit of craftiness and ingenuity on your part, your sidearm can become an extension of you, without major alterations to your lifestyle and clothing. With a little practice and experimenting, you are sure to find a solution that works best for you and your needs, and if at first you don't succeed … try again! When it comes to your comfort, one person's solution is not a "one size fits all" answer to everyone's specific needs. Read on for a few of our favorite solutions when it comes to concealed carry as part of an active lifestyle.
Cycling 

We've all been traveling down the road when we've come across a line of traffic stuck behind an avid cyclist. Now picture the body position of that cyclist as they speed down the roadway, hunched over and peddling like they're in the Tour de France. Now imagine that same cyclist appendix carrying as they traverse the open road. Hunched over and gripping the handlebars while knees are alternating left and right at a rapid pace would leave even the most compact carry gun jammed into the person's body, perhaps even working loose from an ill-fitting holster.
Comfort is key, so instead of leaving your gun at home, consider a concealed carry fanny pack. Make no mistake, this method of carry doesn't mean you're just tossing your gun in any old fanny pack you have lying around, zipping it up, and calling it a day. On the market is a plethora of options designed specifically for carrying a gun, with special design aspects in place for ease of access as well as proper securement of the gun, ensuring it holds up to the same safety standards as your typical IWB holster. Design styles and aesthetics run the gamut, and most fly under the radar as far as anyone knowing you're packing more than Slim Jims and a bottle of water in your pack. For example, I like the Voyager CCW Pack from Tight Chutes Co.
Hiking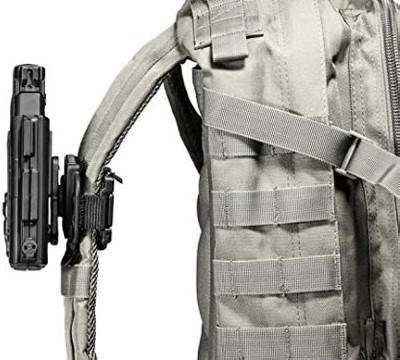 For those who like to take a leisurely stroll through the woods, or for more adventurous trips where you find yourself spending multiple nights on the trail, you may need to reconsider your typical carry methods. Often when spending an extended period of time on the trail, you will be carrying additional equipment that requires proper weight distribution in order to remain comfortable carrying the extra pounds. Many hiking packs have built in "kidney pads," which wrap around your waist from the back of the pack and buckles in front of your stomach area.
While ideal in aiding with weight distribution across your hips, that's also right in line with carrying positions located at the 3- or 9 o'clock position, and in the appendix carry position as well. Chest holsters may seem like the next logical option, but often a chest strap on a hiking pack will inhibit drawing from this position as well.
Where there's a will, there's a way. Alien Gear Holsters has a solution for just this problem, solved by their aptly named ShapeShift Backpack Holster. Fixing to your pack's straps just like a holster would clip onto a normal belt, this solution provides easy access to your sidearm while remaining clear of any clips, straps and buckles you may need to adjust along your journey. This solution is also popular amongst fishermen, hunters, and other outdoors enthusiasts.
Horseback Riding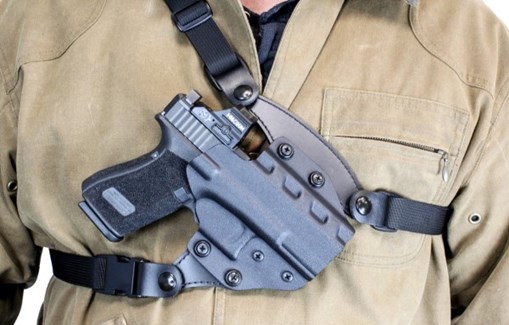 Perhaps you find yourself tackling the trails and open countryside on four legs rather than two. Horseback riding involves a lot of movement, both on the part of the horse and the rider. With your hands and arms constantly on and controlling the reins, coupled with bouncing around, it may seem difficult to find a comfortable solution while retaining access to your sidearm. For these instances, many consider chest holsters to be the best solution for remaining protected while enjoying their favorite hobby. With the handgun secured in the center of your chest, you remain free of any snags and discomfort while not sacrificing protection on any level. Many options are on the market to cater to your specific tastes, with a popular one being the Outdraw Chest Rig from DeSantis.
While these are just three examples of ways to overcome concealed carry hurdles, let them serve as a clear example that you never need to sacrifice your personal safety in order to enjoy the activities you love most!