If there's anything better than unboxing your brand-new firearm and the gear you'll need to make the most of it, it's unboxing your brand-new firearm and gear after noting the price tag of $0.00. That might sound like an impossible dream, but the good news is that there are some really awesome gun and gear giveaways happening right now--and they might just make that impossible dream a reality. Here are three that you really don't want to miss...unless, of course, you don't like getting free stuff.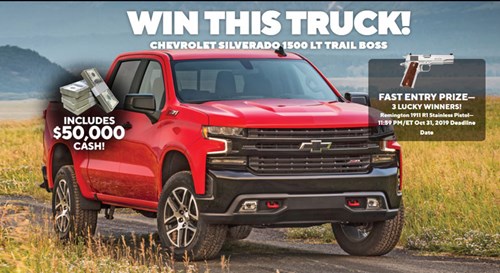 1. NRA Win This Truck Sweepstakes
Now this is a giveaway custom-made for those of us with a little country in our soul...whether we live in the city or not. The NRA Win This Truck Sweepstakes doesn't just include that sweet Chevy Silverado 1500 LT Trail Boss, complete with 5.3-liter V8 engine, 4WD and Z71 Off-Road Package. It also includes an incredible $50K cash prize, a Remington 1911 R1 Stainless Pistol and your choice of three bonus prizes. Trust us, these bonus prizes aren't a board game to play at home. Instead, the lucky winner will choose among three additional prize packages. The Yamaha Adventure prize includes two off-road vehicles: the
 Wolverine X2 Side-by-Side and trail-blazing special edition Grizzly ATV. The Vexus Boat Prize includes an AVX1980 Vexus boat, boat trailer and Yamaha 150 Outboard Motor. The Gun Prize features an incredible 13-gun collection, including a 
FALKOR Petra Rifle in .300 Win. Mag., a Daniel Defense MK12 Tornado Rifle in 5.56x45mm, a Sako 85 Carbonlight Bolt-Action Rifle in .308 Win. with Steiner H4Xi 3-12x56 Scope...and more. The Sweepstakes is going on now, and will end on January 31, 2020.
Click here for contest rules and to enter
.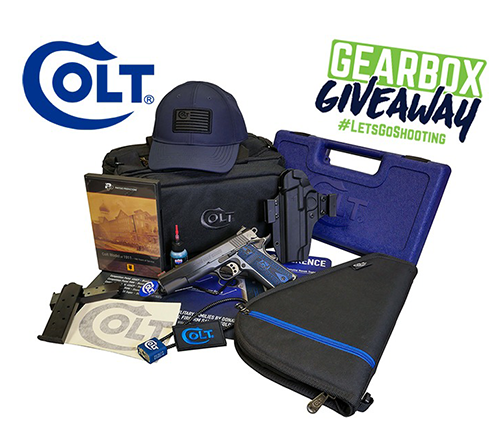 2. Colt Gearbox Giveaway 

This giveaway is perfect for the sport shooter or competitor yearning for a quality competition package from Colt. August is National Shooting Sports Month, and gun legend Colt's Manufacturing is hosting the Colt's Gearbox Giveaway in support of the
National Shooting Sports Foundation
's Let's Go Shooting initiative. 
Colt's Gearbox Giveaway
, valued at more than $1,200, includes:
Colt Competition pistol, blued, in .45 ACP
Two spare magazines
Colt range bag
Competition gun mat signed by pro shooter Mark Redl
Colt ripstop flag hat
Blade-Tech Total Eclipse holster
Colt Kik Stand display accessory
Colt cable lock
Colt soft pistol case
Colt decal and patch
Lucas Oil gun oil
Colt Model of 1911 — 100 Years of Service DVD
Click here for contest rules and to enter
!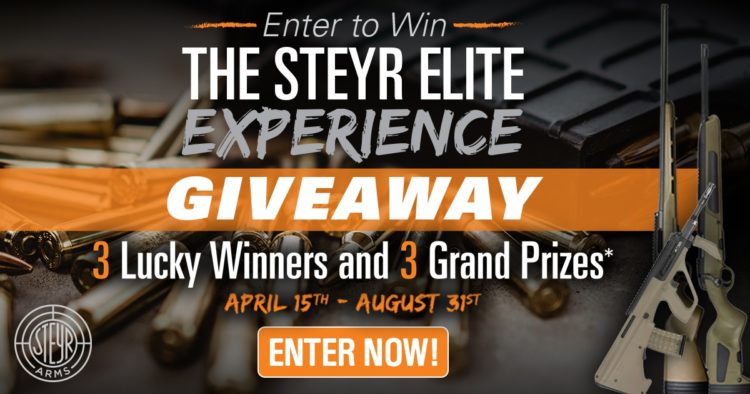 3. Steyr Elite Experience Giveaway
The folks at
Steyr Arms
are doing something a little different with this giveaway; not only are three Steyr rifles up for grabs, they're also giving away an expenses-paid (including travel and lodging) bespoke training course at
Steyr Academy
at the Civilian Marksmanship Program's world-class shooting facility in Talladega, Alabama. There will be three winners and three grand prizes: a Steyr AUG, a
Steyr Scout
and a Steyr THB (Tactical Heavy Barrel) rifle. This giveaway ends on August 31, 2019. 
Click here for contest rules and to enter
!