by
posted on March 30, 2023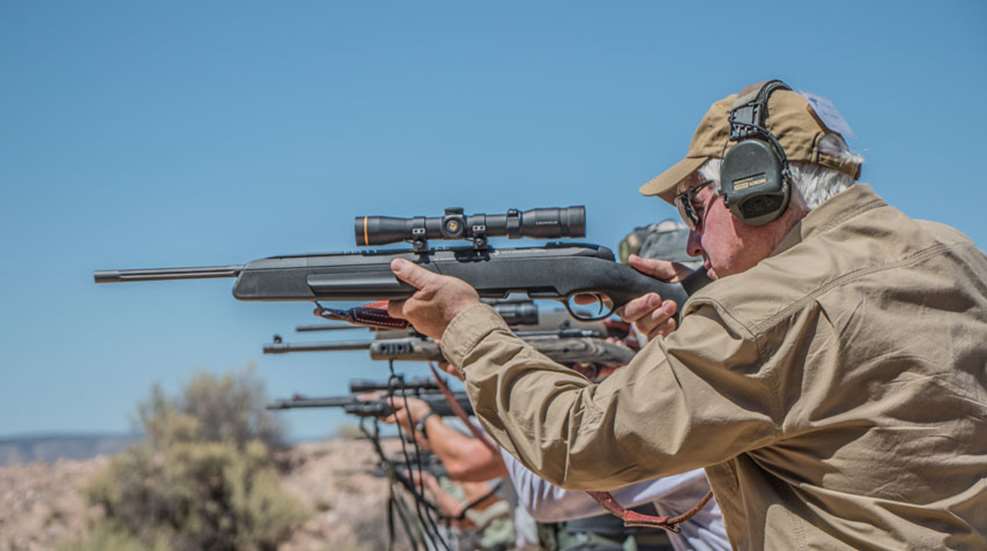 There's nothing wrong with having lots of rifles, but when you know you need just one, but are not exactly sure what you'll need to do with it, which of all those rifles in your safe do you choose? This was a question Jeff Cooper, the founder of the American Pistol Institute—which is now known as Gunsite Academy—wanted to answer. Cooper, a former Marine, was one of the foremost experts on individual weaponry for personal defense and hunting during his time. With a vast well of experience in conflicts and hunting all over the world to draw from, Cooper felt it feasible to configure one rifle that could serve any need. Cooper called this rifle a "Scout Rifle."
With this premise as a foundation, and with inspiration from the exploits of Frederick Russell Burnham, Cooper began to codify what he felt could be the one-rifle answer. His work began with the Remington 600 bolt-action carbine chambered for the .308 Winchester. Cooper was infatuated with the handling characteristics of this compact rifle. He attached a pistol scope to the rail forward of the action and installed a peep sight on the action bridge. He found this configuration allowed him to engage targets—up close and moving—with blazing speed, while still being able to deliver accurate hits at distance.
During the following 20-plus years Cooper worked with his associates and gunsmiths attempting to create a modern and enhanced version of the, at that time discontinued, Remington Model 600. He established a guide—or blueprint if you will—of what he thought the ideal Scout Rifle should be. His ultimate goal was to one day convince a major manufacturer to offer an across-the-counter version of his conceptualized, general-purpose rifle to the shooting public.
Cooper felt a Scout Rifle should be chambered for a cartridge available en masse, worldwide, and capable of launching a 150-grain bullet at 2,700 fps. His choice was the .308 Winchester. He also felt that a Scout Rifle should ideally weigh about 6.5 pounds, and no more than 7.5 pounds, including the optical sight and shooting sling. He was a firm proponent of back-up iron sights because of his distrust of optics. Granted, today's optics offer impeccable reliability, but between the 60s and 90s—while Cooper was formulating his Scout Rifle concept—optical failure was common. Cooper felt the rifle he was envisioning should also be short (less than a meter in length) to maintain that handiness he'd so fallen in love with, with the Remington Model 600.
There were other aspects of the concept, such as an integral bipod, a magazine cut-off to permit single-shot loading, three sling-attachment points, and an option for additional ammo storage on the rifle. However, Cooper considered these elements, while ideal, optional. His main focus was to put forth a rifle design handier and more versatile than any other—specialized only in that it was suitable for just about anything—a true general-purpose rifle.
Cooper's vision came true in the late 90s when after several years of working with Steyr, the Steyr Scout Rifle was introduced. This futuristic-looking rifle met almost every stipulation of Cooper's. Cooper blessed it as a true Scout Rifle, and even considered it the best personal firearm on the planet. Though well received by Cooper's disciples and knowledgeable riflemen, the rifle's drawback was its price; in the late 90s few were interested in spending $2,000 for a rifle.
Ultimately, this led to other companies manufacturing their version of a Scout Rifle. While not holding true to Cooper's definition, these less-expensive options from Savage, Ruger and Mossberg, did embrace the spirit of Cooper's vision. They were indeed general-purpose rifles, but they were also configured with flash hiders, high-capacity magazines, and in some cases other gadgetry which Cooper felt needless, and would not have approved.
Over the last several years we've seen a resurgence in Scout Rifle interest. Yes, most shooters have a safe full of rifles configured for specialized applications, but this overabundance can complicate things. And, while no one is willing to sell all their rifles and return to the days of the "one-man, one-rifle" notion, the appeal of one rifle capable of just about anything is becoming more obvious to the general populace.
The Steyr Scout Rifle as envisioned by Cooper, and all the sorta-Scout Rifles from others, allow a rifleman to be ready for an assault on his home, a deer hunt behind the house, an elk hunt out West, an African safari, and even an "end of days" scenario, no matter how unlikely that may be. What riflemen are learning is that Cooper was right: A lightweight, compact, fast handling, powerful, bolt-action rifle with multiple sighting options, is indeed a fantastic choice for those seeking a true "do-all" gun.
I'd always been enamored by Cooper's Scout Rifle concept. A little more than a half-decade ago I decided I'd seriously investigate its suitability in the modern world. I embarked on a study to see if a Scout Rifle could indeed be used in as many ways as Cooper believed, and if it was a better option for that kind of service than other, more popular, 21st Century options. I worked on the range with every Scout Rifle I could find. I took them hunting in North America and Africa. I held conferences. I attended training. I provided training. I tested, wrote articles, made videos, authored a book, and became what you might call…obsessed.
I discovered three very important things. The first was that no one really understood what a Scout Rifle was. Most think it any rifle with a forward mounted optical sight. Many considered it an antiquated oddity, designed for a time long forgotten. Few at all knew the history behind its creation, or the intention of its design and features. And even fewer had actually spent time shooting or hunting with a Scout Rifle.
The second thing I learned was that as long as a person has need to rely on a rifle for general-purpose service, a Scout Rifle—as Cooper envisioned, or as it has been translated into modern gunmaking—is an ideal solution to that one-rifle question. The third thing was that if you want a Scout Rifle, the now (much more affordable) Steyr Scout Rifle is the best option. It can be the rifle you keep behind the kitchen door, or the rifle you grab when the world has gone to hell. In truth, it can be the only rifle you will really ever need.