by
posted on January 16, 2015
The holidays may be over, but for those of us who love guns and gear, January is truly "the most wonderful time of the year." That's because January is when the Shooting, Hunting and Outdoor Trade (SHOT) Show is held, and it's when every manufacturer and provider of all your favorite guns and gear tend to debut their new lines. It's not open to the public, so your intrepid NRA Publications staff was on the hunt the week of January 20 to the 24th in search of the stuff we thought you'd most like to hear about.
Syren Shotguns, Just for Women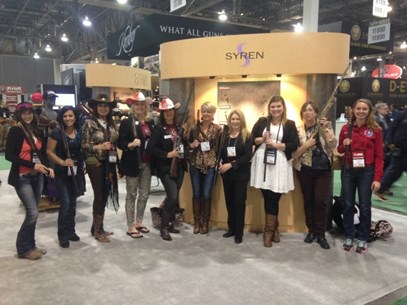 If you haven't heard of Syren shotguns, you're missing out. Other companies have been known to put "pink it and shrink it" to the test on women's guns, others have designed a gun or two specifically for women, but no company exists solely to provide guns to female shooters. Syren is that company. The newest division of Caesar Guerini and Fabarm, Syren has its line of pink-free shotguns on display in all their glory at the 2015 SHOT Show.
At the Syren booth, Caesar Guerini President Wesley Lang spoke to us about some of the major influences of the decision to make a company dedicated to women shooters, noting that his wife played a big role. Lang was attempting to build a gun for his wife, who had trouble with regular shotguns. He quickly realized that cutting the stock down does not a perfect fit make, and ended up having to start from the bottom up. On a larger scale, he realized many women must have a similar problem with firearm fit, and the Syren line fills that need.
You can expect a full review of some Syren shotguns in the near future, but until then it must be said that the light weight made it easy to get up to the shoulder fast, and the stock was perfect for cheek placement, making it that much quicker to align one's eye with the barrel. Another testament to the shootability and fit of the shotguns came from Pro-Staffer Christine Cunningham. She spent the year hunting upland game with the new Syren Elos Venti. The Elos Venti is a fast pointing shotgun that's light enough for a long day in the field. It's a beautifully engraved gun that performs just as well at the gun club, the clays course and on a hunt, according to Cunningham.
Cannon 50th Anniversary C50 Safe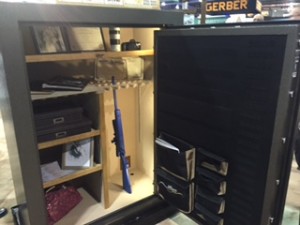 If you're on the lookout for a gun safe suitable both for protecting your firearms and other precious valuables from theft, fire or other natural disaster, you should keep an eye out for the Cannon 50th Anniversary C50 Safe. This powerhouse of a safe holds up to 50 guns, is rated for fire for up to an hour, and has a lock that will continue to work no matter what--even in the event of an electromagnetic pulse. Even better, for each one sold, Cannon will donate $50 to Honored American Veterans Afield (www.honoredveterans.org).
Leupold D-EVO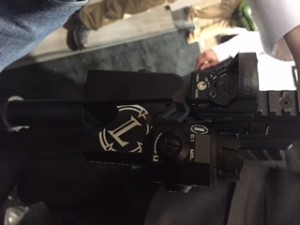 This year's SHOT Show reveals some true innovations in optics, like this Leupold D-EVO Red Dot scope. Designed with the modern sporting rifle enthusiast in mind, this tactical optic allows you to acquire your target using a red dot scope. The shooter then simply moves their eye about 6 degrees down to see an offset reticle, allowing for pinpoint accuracy out to 400 yards. Balancing easily on a tactical rifle, the D-EVO is remarkably intuitive to use. Leupold recommends zeroing at 50 yards for optimal accuracy. This hot new optic will be available to the public in approximately a month, for an unbelievably affordable MSRP of $1,800.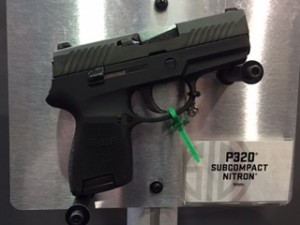 SIG SAUER P320 Subcompact Nitron
One thing we're learning at the 2015 SHOT Show is this: Ask and ye shall receive. The popular SIG SAUER P320 Subcompact Nitron, a favorite of those who carry concealed, is being introduced in .45. Enthusiasts of the SIG have been demanding the powerful caliber since the pistol's initial introduction, and by the middle of 2015, they'll be able to get their hands on it for around $700 MSRP.
Benelli 828U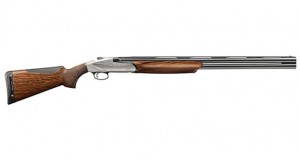 Benelli's breaking news is its first-ever over/under shotgun, the 828U. The "u" stands for "upland," and it's easy to see whyupland bird hunters are going to be excited for this well-balanced, attractive and practical scattergun. It features an auto-safety, easy-operating opening lever and steel lock-plate opening system, paired with impulse-driven ejection. Floating crio barrels and crio chokes, weight-reducing carbon-fiber rib and a high-grade alloy receiver complement the walnut stock and forearm. The steel-on-steel hinges, removable guard and easy-to-remove trigger system make for easy cleanup. The 828U will be available in either a nickel-engraved ($2,999) or black anodized ($2,499) model. Each variant will sport interchangeable 26-inch or 28-inch barrels, and weigh in right around 6.5 pounds.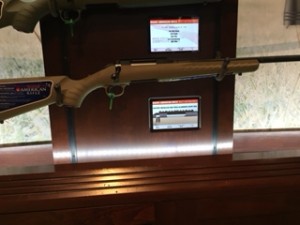 Ruger American Rifles, Now in Compact Size
As you may know, most full-size rifles are created for users who are 5'8" or taller. Unfortunately, some of us just don't quite measure up--but the Ruger American Ranch now does! Each and every American Ranch model is now available in a compact size, suitable for smaller-framed shooters. The rimfire models are also being offered with adjustable cheekpieces, increasing comfort and ease of sight acquisition.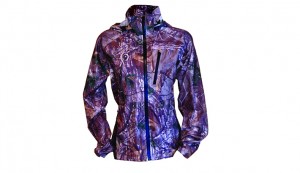 Prois Galleann
Prois, known for its high-quality hunting gear for women, displayed its new-for-2015 products at the 2015 SHOT Show. Our favorite new piece was the Prois Galleann jacket. This premium and technical rain coat is extremely functional, lightweight and durable. Named after the Gaelic word for" storm," the Galleann is constructed from 100 percent polyester, and most importantly is completely waterproof. The material is soft, and silent, which comes in very handy in the field. If it's warm, you can still wear the Galleann, as it's very breathable. The jacket packs into its own pocket, making it a breeze to pack. The Galleann pants that go with the jacket have the same features, but also include detachable cordura gaiters that secure to your boot to reduce any wetness or moisture from entering your boots.
The jacket and pants are available in sizes XS through XXL, are sold separately and come in either olive, Realtree APX or Realtree Max-1 camo.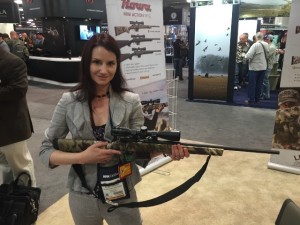 Howa Mini Action Package
Howa's latest innovation, the Mini Action Package bolt-action rifle, is sure to please those of us who like having a bolt that works with us, not against us. The bolt throw is 12 percent shorter than what we know as a short action, and it's unbelievably light. Weighing in at a trim 7.15 pounds, the rifle features a 20-inch hammer-forged barrel, a two-stage H.A.C.T. trigger, and a three-position safety. It's available in .204 and .223, with more calibers to come, in green, black or Highlander camo Cerakote dips. MSRP $753-826, depending on finish.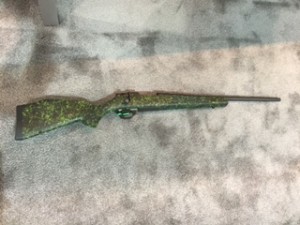 Weatherby WBY-X Volts
Weatherby's latest additions to their hip WBY-X line, the Volt rifle and shotgun, promise to help small-statured shooters of all ages better enjoy their time spent in the field or on the range. The first thing you notice about these guns is their eye-catching green-on-black "spiderweb" dip, sure to stand out in a crowd. Next, you'll note their exquisite balance and proportions, tailored for those of us who find full-sized guns unwieldy. (An MSRP that toes the $600 line definitely helps sweeten the deal.)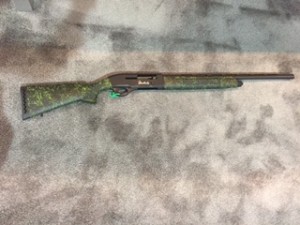 The bolt-action rifle, more precisely known as the WBY-X Vanguard Volt, features a 20-inch cold-hammer-forged barrel, a 12.5-inch length of pull (LOP) and weighs in at just 6.75 pounds. Available in .223 Rem., .22-250 Rem., .243 Win., 7mm-08 Rem. and .308.
The shotgun, the SA-08 Volt, is a semi-automatic available in 20 gauge. With a 24-inch barrel, the scattergun weighs 5.75 pounds, perfect for quick, nimble swings. The 12.5-inch LOP is perfect for shorter shooters. The gun is chambered for 3-inch magnum loads, so it can serve both for hunting and for the shooting sports.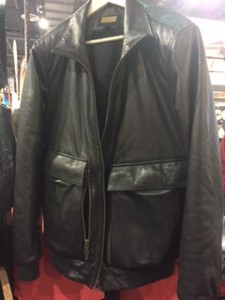 EAA's Concealed-Carry Jackets and Vests
You're probably familiar with European American Armory Corporation (EAA) as a premium manufacturer of handguns (http://bit.ly/15w15Gu) and concealed-carry purses (http://bit.ly/1BMOQn5), but they're getting ready to branch out further into the CCW market with a new line of jackets and vests.
There are three discreet designs, all rendered in high-quality, buttery-soft leather that will take you anywhere you may legally carry your firearm. The first (pictured) offers two separate carry compartments, so it's convenient for both right- and left-handers. Most concealed-carry outerwear offers carry inside the vest, but this jacket's compartments are actually on the outside, so you don't need to do any unzipping to access your gun should you need it in an emergency. The second is a handsome vest--also ambidextrous--for warmer weather. The third is a jacket that features detachable sleeves, so it can be converted for any temperature. These garments will be available mid-year (in time for autumn 2015), and are expected to retail for $174 (for the vest), and $300 (for the coats).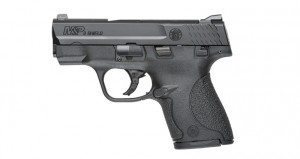 Smith & Wesson M&P Shield 9mm
Are you looking to obtain a concealed carry pistol? Do you need more gripping surface than a pocket pistol like the Smith & Wesson Bodyguard, but want something smaller than a full-sized pistol? Smith & Wesson's M&P Shield in 9 mm comes in four different models, two of which are brand new: one without a thumb safety, one with a thumb safety, one that is strictly California compliant and another featuring a Crimson Trace Green Laserguard.
All four firearms feature a white dot stainless steel front and rear sight, a single side slide stop, a patented take-down lever, stainless steel barrel and striker-fired trigger for a short and consistent pull. The M&P Shield includes two magazines, one which is extended and the other flat. The 18 degree natural grip angle gives the shooter a secure hold on the firearm, allowing for more control when shooting.
Weighing a mere 19 ounces, the Shield is the perfect option for a shooter who wants concealable power in a package that fits their hands and leaves them feeling in control.
For more information, visit Smith-Wesson.com.
Tristar Viper G2 SR Sport Youth Model
TriStar Arms' Viper G2 semi-automatic shotgun is a best-seller for the company. Riding the wave of that popularity, TriStar has added a new 20-gauge youth model to the line for 2015 with the SR Sport series. The Viper G2 SR Sport Youth model weighs 6.2 pounds, features a 26-inch barrel and sports a red fiber optic sight. A flair that the kids are sure to love, TriStar includes a red anodized receiver and end cap.
For a child's ease of use, they also feature an enlarged bolt handle on the Viper G2. The shotgun's stock and forearm are synthetic and coated with a SoftTouch application. The SR Sport Youth comes with a target rib, three Extended Beretta Mobile chokes and has an MSRP of $549. The Viper G2 SR Sport is chambered for 3-inch, 20-gauge shells. It shoots 2 3/4-inch and 3-inch shells interchangeably. Each Viper G2 model goes through endurance tests for a dependable, yet affordable shotgun.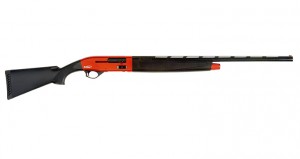 Viper G2 SR Sport Youth Model Features:
• Manual E-Z load magazine cut-off
• Vent target rib with matted sight plane
• Enlarged bolt handle
• Fiber optic site
• 5-round magazine (shot plug included)
• Chrome-lined chamber and barrel
• Swivel studs
• Three extended Beretta® Mobile style choke tubes (IC, M, F)
For more information, visit TriStarArms.com.
Can't get enough new guns and gear? Check out our galleries, here and here.