by
posted on August 14, 2019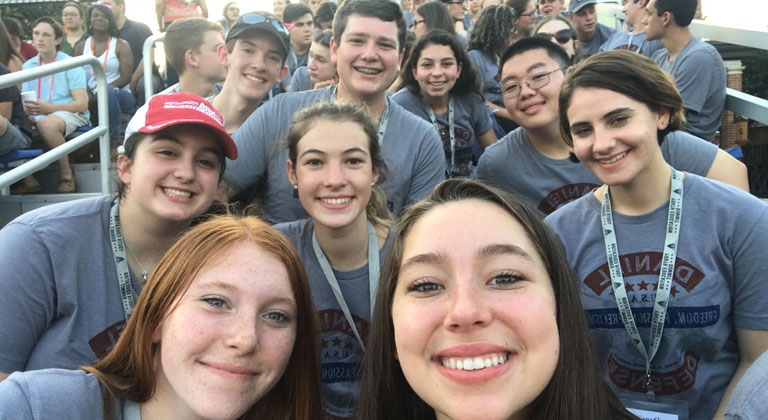 Article images courtesy Ashleigh Moroni

Students chosen to attend the National Rifle Association's annual Youth Education Summit are ones who stand out. This NRA Foundation program brings together teenagers with an interest in history, appreciation for the military, passion for freedom and interest in the Second Amendment from across the United States for a week-long educational and leadership experience.
Dawson Boys, a 2019 participant from Illinois, stood out not only for the unique video he crafted for his application, but in person as well – always wearing colorful, America-themed socks. His interest in politics and vibrant personality led his peers to vote him "Most Likely to Run for a Political Office." Throughout the week students learn not only about America but about one another, voting on superlatives for their class at the conclusion of Y.E.S. week. When asked about the experience, Dawson noted that, "I grew tremendously in my ability to talk to new people and learn about the differences that can grow from our own individual states." He also called the summit "the adventure of a lifetime," advising future applicants to "strive hard and do your best. If you don't get it this year, apply again."
Ashleigh Moroni, a rising junior from Rhode Island heard about the NRA Y.E.S. program from her shooting coach. "I suppose what appealed to me most was that it was national. I would have the opportunity to work with like-minded people from all over the country and see how different backgrounds could get us all to have been selected for this conference." In alignment with this, one of Ashleigh's favorite parts of the experience was the debates, particularly the impromptu ones conducted on bus rides to and from the city. On a deeper, more personal level, Ashleigh found attending the summit transformative. "It definitely changed the way I think, and it also made me realize how much I'm capable of as a teenager in promoting and fighting for my rights as an American. It will influence my way of thinking when it comes to what I can actively do within my community to better it." Ashleigh realizes that she is not alone in this venture, describing her Y.E.S. friends as "chosen family."
Savannah Sisk, born and raised in Texas, connected nearly immediately with Ashleigh Moroni though they live so far apart. Their bond started as they worked together on their debate prior to the summit and has continued beyond Y.E.S. week. Savannah commented on friendships made during the week, "Y.E.S… taught me how important it is to stay connected to other Second Amendment supporters no matter how far the distance or how busy life gets. In fact, I still talk to many of the people I met at Y.E.S. daily, and plan to continue doing so." Coming from a family supportive of the Second Amendment and of the NRA, Savannah describes firearm ownership as "an important part of my lifestyle." She realizes, though, that not every young American feels the same way. "Modern society has done its best to poison young minds against our God-given right to defend ourselves, so it was encouraging and enlightening for me to see pro-Second Amendment students from nearly every state at this summit. I definitely believe that Y.E.S. opened my eyes to the constant, ongoing struggle that firearm owners face, and to the part I can play even now in fighting to preserve our freedoms." Savannah feels "very fortunate" to have won an end-of-week scholarship and plans to apply for the Grand Scholarship, bringing N.R.A. programs into her community.
Brayden Teague of North Carolina recalls that "When I applied, I was very unsure of my own application, and the chances of me being chosen out of so many. Despite this, I gave it my best shot, and was rewarded by an incredible experience that I will never forget, and memories made that will last a lifetime." Brayden was voted Mr. Y.E.S. by his peers and was awarded a $5,000 scholarship at the conclusion of Y.E.S. week. He took both of these distinctions in stride, remaining humble and noting that "each and every one attending was hand-picked from the best and brightest, and to be recognized amongst them means something special." An avid outdoorsman, Brayden applied to the summit hoping to learn more about the United States and its Constitution while surrounded by like-minded peers of the same age. He also found Y.E.S. week an opportunity for personal growth, as it encouraged him to step outside of his comfort zone and to better his public speaking skills, for which he stood out during the debates.
Brayden was one of four attendees to lay a wreath at the Tomb of the Unknown Soldier at Arlington Cemetery. This experience was especially moving for these four, but the ceremony and trips to military memorials contained a different meaning for each attendee. Brayden offers a reminder from his own experience that every American should remember. "Within my daily schedule, it is rare that I take the time to reflect on all of the sacrifices made by our veterans; veterans who have enabled our country to be as prosperous and free as it is today. In going to the memorials, I was truly humbled, and felt a deep sense of gratitude for our nation's heroes, both past and present."
One does not have to visit a memorial to reflect on, appreciate, and remember the sacrifices made every day by military personnel and their families. Let the stories recounted above provide hope for the future as you remember the past and experience the present. 

Editor's Note: Are you, or do you know, someone who would be interested in attending Y.E.S. 2020? Applications for this expenses-paid adventure in citizenship are being accepted now--click here to learn more.