by
posted on August 31, 2018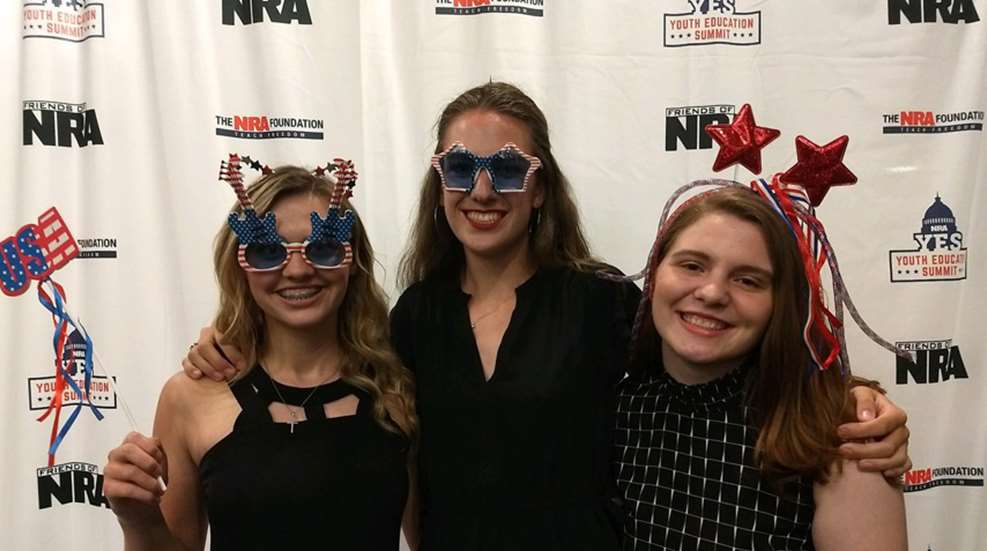 Whether someone is applying for a job, hoping to get into a college, or studying for a test...they may think that they are doomed to failure. Participants in the second session of the 2018 NRA Youth Education Summit (NRA Y.E.S.) proved that you never know unless you try, challenging a common misconception about the Y.E.S. program. Many potential applicants avoid or pass up the application for NRA Y.E.S. because they think that it is meant only for competitive shooters or for those with considerable firearm experience...and that's definitely not the case. The Y.E.S. program seeks to educate and foster leadership among teenagers with an interest in and passion for freedom and the United States. While Y.E.S. often attracts applicants with a background in shooting and hunting or those with military aspirations, neither are prerequisites for applying.
Elizabeth Vaughan of North Carolina captured this perfectly in her advice to future applicants. Vaughan advised, "Be yourself and don't try to be someone else on your application. When I applied I thought for sure that I wouldn't get [accepted]…I was a city kid who had never sho[t] a gun before... If you think that you shouldn't apply because you're different or you don't have something the other applicants have, apply anyway. Don't pretend to be someone you're not, just be you and you may be surprised by what happens." (During Y.E.S. week Elizabeth had the opportunity to shoot a gun for the first time in her life.)
Vaughan is currently in her senior year of high school. She discovered the NRA Y.E.S. program on a scholarship search engine. She at first overlooked the program, but after it appeared in her searches several times she "took it as a sign that [she] needed to apply." Though she had an interest in meeting new people and learning about the United States and its government, her lack of shooting experience made her wonder if she even stood a chance of being selected. Vaughan's greatest joy in attending 2018 Y.E.S. was interacting with all of the other participants. She noted that "We all came from different situations, backgrounds and states, yet we were all there for the same purpose. At the end of the day it didn't matter who you were or how you pronounce "wolf" or what [you call] a carbonated drink [both of which were topics of lively debate and comparison on the Y.E.S. bus]…because at the end of the day we were all there because we cared about our rights and freedoms."
Madeline Blahnik of Wisconsin felt similarly to Vaughan upon applying. She "was originally drawn to this program because of my interest in politics." Though she had only fired a gun a few times in her life, she was incredibly interested in NRA Y.E.S. so that she could learn more about the National Rifle Association and its role in today's fight to maintain Second Amendment rights.
Madeline enjoys singing and musical theater, and competes on both a girls' and a men's golf team. She is very active in a program called Youth in Government and is very close with her family. Madeline noted that she could not communicate all she felt and experienced on the trip. Regarding Washington, D.C., she said that "there is so much incredible history behind every inch of the beautiful city." Attending NRA Y.E.S. changed her; not only did she gain more insight into the NRA and the political scene, but she gained a close network of friends who share similar interests and ideas with her. Though now only a junior in high school, Blahnik and fellow Y.E.S. student Kelsey Coons are currently discussing the possibility of being college roommates. Overall, Madeline indicated that the "experience will cause me to defend the NRA in the future to people who don't fully know what the NRA does. One of the biggest issue[s] I notice involving our everyday citizens is they make judgments without fully knowing the issues and organizations that they are judging. In this case I want to help educate people on what the NRA does." 
Even seasoned outdoorswomen were enlightened on the trip. Payton Virden, a high school senior from New Mexico, said that "after attending the summit I do believe I was changed. I believe I left [with] more knowledge about the NRA." Virden is a competitive shotgun shooter and passionate upland bird hunter. In her small town, spending a lot of time outside is a way of life. Virden's visits to the war memorials really impacted her, leaving her wishing she "could do more to honor those who have lost it all in battle and show them how grateful to them many people of this country are." Payton earned a $1,500 scholarship at the end of Y.E.S. week and plans to present on the Y.E.S. program and her experiences to members of her community. She was one of two representatives from New Mexico to attend NRA Y.E.S. this year. Together they are making plans to "be voices for the youth of New Mexico…to inform the people our age and younger about the NRA and all of its programs."
Jake Witlin, voted "Mr. Y.E.S." by his classmates, came to NRA Y.E.S. with a significant involvement in scouting and generous knowledge of firearm safety. He attributes much of his interest and perspective in politics and current events to Scouting, saying that "Scouting has…had an impact on how I understand and interpret the role of the Second Amendment and its importance to protect as a part of our Bill of Rights." Witlin, a current high school senior from Maryland, earned his Eagle Scout when he was approximately 15 years old, enjoys the outdoors, and is a wrestler on his high school's varsity team. Jake thrives in debates and "lively discussions" and has attended local, state and international conferences as a member of Model UN. Jake was humbled to have been awarded a $5,000 end of week scholarship and felt less alone in his Second Amendment opinions after interacting with the other students.
Early in 2018, Jake attended the March for Our Lives rally in Washington, D.C. as part of a Sunday school field trip. Jake described his experience at the event, and how it differed from how he felt at the NRA Youth Education Summit. "While I thought that this that this march was intended to honor the victims of gun violence, the message became very clear that it was very anti-gun, anti-gun owner and anti-NRA. I almost felt like an undercover agent there, with my NRA card burning a hole in my pocket. The most astounding thing I heard that day was a lady telling me to cheat, when I explained that I was too young to vote in the 2018 mid-terms, when asked if I would vote. To me this showed the lack of integrity on one side of this issue, and it was good to see people of integrity at the NRA Youth Education Summit. I also noticed that there were more adults than kids at the rally."
Jake found companionship and hope in his Y.E.S. classmates. Hope for the future is critical in every day and age and for many Y.E.S. students, families, coaches and other Second Amendment supporters, youth such as those who attend Y.E.S. are their shining light. Current high school sophomores and juniors looking to be a part of something bigger than themselves while learning about the United States and interacting with different personalities should apply for the 2019 NRA Youth Education Summit. 

Photo by Elizabeth Vaughn