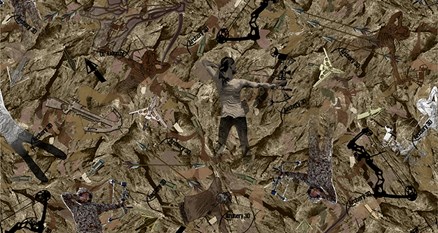 Being a parent means buying your kid a pair of pants that probably won't fit him six months from now. Children grow, and camouflage for hunting is not cheap. When you want your kids to spend time with you in the woods, but don't want to burn a huge hole in your pocket continually buying new clothes for their growing bodies, you might want to consider Youth Extreme Outdoors. The companies patented "Keep 'em in their Camo" Quick Adjustable Waist feature expands the waist and seat up to 3 inches in or out, and 3 inches of adjustment in length. The patterns--Paintball 3D, Archery 3D, Motocross, 3D, Skateboard 3D and more--are designed to connect kids with the clothes through their favorite hobbies.
"When I realized I had five sets of youth camouflage on my back porch and the set from last fall was an inch short of buttoning and showed my son's socks, I knew I wasn't the only parent that had a fast growing teenager that loved to hunt," says CEO Jack Moore. "At the ATA Show we introduced the patented 3-inch outward adjustability feature on the waist, and up to 3-inch length adjustment feature on the pant leg for growing teens and the parents and buyers tore it up because they see longer term value in our product line. This shows we truly care about the consumer and deliver more value to our retail stores' customers."
You can find Youth Extreme Outdoors at the Great American Outdoor Show now, in Harrisburg from February 7-15, 2015 at booth #4114.
For more information, visit www.youthextremeoutdoors.com.